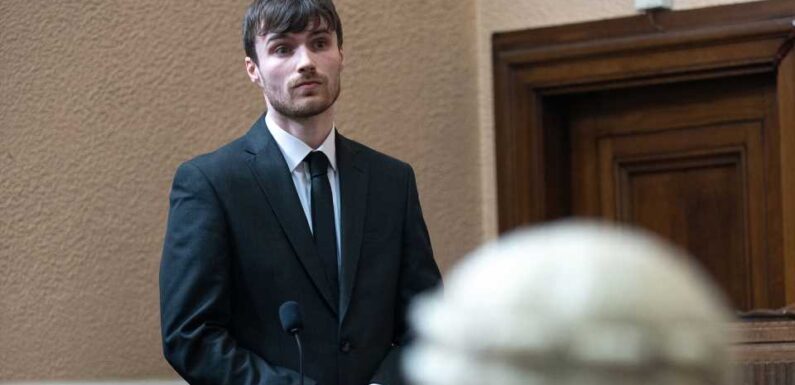 DAISY Midgeley faces Justin Rutherford again this week as the stalker is on trial for his vile actions.
But could he cause further torment? Here's what Coronation Street viewers could expect this week on ITV.
1. Court showdown
Daisy Midgeley (portrayed by Charlotte Jordan) was left traumatised by her horrific stalker ordeal which was taken to a vile level when Justin (Andrew Still) tried to throw acid in her face.
Ryan Connor (Ryan Prescott) stood between Daisy and Justin, leading to him being hospitalised and needing skin grafts.
Justin was then arrested after Daisy lured him to the hospital where the police were waiting for him and the unstable character is waiting to face justice.
Coming up this week, Justin's sister Karen calls at the Rovers, telling Daisy how sorry she is for Justin's attack and how she hopes he'll be sent down.
More Corrie
Coronation Street viewers do a double-take after spotting blunder in Dev's shop
Corrie's Dolly-Rose Campbell reveals designer for Gemma's wedding dress
Daisy is touched by her support, particularly as Karen had tried to warn her about her brother's behaviour, claiming it wasn't the first time he'd become obsessed with somebody.
Unfortunately, not everybody is pleased about Karen's return to the cobbles and when Ryan and Carla Connor (Alison King) spot her, a furious row erupts in the Rovers.
Fuming and throwing insults, Ryan even reminds Daisy how she had once gone out of her way to split him up from Alya.
Ryan later leaves for court just as Karen, who was supposedly on Daisy's side, reveals that she passed on what she gleaned about the barmaid's history of manipulation to Justin's lawyer.
Most read in Soaps
Paul Foreman finds last ditch hope after diagnosis in Coronation Street
Honey takes on Nish as his cruelty reaches new low in EastEnders
Coronation Street star splits from long-term boyfriend
Bernie Winter makes touching gesture to son Paul in Coronation Street
Daisy later calls at the Street Cars flat only to find out from Ryan that Karen had been spying on them all along and she's stunned.
To make matters worse, Ryan is reluctant to face Justin in court due to Karen's involvement and Daisy begs him to reconsider as, without his evidence, Justin could walk free.
Extremely tense court scenes follow as Daisy grows increasingly stressed at the thought of facing her tormentor in court without Ryan to back her up.
Daisy crumbles as she's painted as highly strung and unreliable by the defence team.
Viewers are aware that a lot of trauma will be unpacked for Daisy and things are set to get more tense than ever for her if Ryan sticks to his decision to not get involved.
But could Justin have one last trick up his sleeve for Daisy?
Will he be allowed to roam free in Weatherfield and get revenge on her?
2. Affair suspicions
Knowing Daisy is in need of Ryan's support, Daniel Osbourne (Rob Mallard) takes some action of his own this week and begs the waiter to reconsider.
Ryan eventually changes his mind about not appearing in court and enters the witness box to describe his acid attack.
Ryan attempts to describe the pain he felt at the time of the attack but the defence barrister opts for a shocking strategy.
Daisy and Ryan are horrified when the barrister suggests they plotted the acid attack themselves, hinting that they may even be in love with one another.
With their shared past at the centre of the trial, could Daniel suspect his other half of being unfaithful to him?
Could the trial push Ryan and Daisy together as Corrie dropped several hints they may reconnect?
CORONATION STREET NEWS
Everything you need to know about Coronation Street
New, leaving and returning Coronation Street cast
The filming locations for Coronation Street revealed
All the latest Coronation Street spoilers
Coronation Street's best bits
3. New love for Roy
With Gemma and Chesney's wedding scenes being aired this week, romance is definitely in the air – even for Roy Cropper.
The beloved Roy's Rolls Café owner played by David Neilson has left many viewers concerned for his future in the cobbles after suffering from intense chest pains.
Roy tried to downplay his health issues but he was eventually brought to hospital when his chest pains got out of control.
This week, his pup Freddie goes in for an operation while his niece Nina Lucas (Mollie Gallagher) reveals to Evelyn Plummer (Dame Maureen Lipman) that Roy is sleepwalking again, worrying about his own operation.
During one of his sleepwalking episodes, Roy left the café door open which has led to Freddie stepping out.
Realising his mistake, Roy tells Nina and Evelyn everything and they both go out in search for the dog.
Roy later tells Nina about his operation and hands Evelyn a stack of letters for her to distribute should he die during his operation.
Evelyn later sifts through Roy's letters until she finds the one addressed to her and she holds it up to the light, desperate to know what it says.
While in hospital with Roy, she squeezes his hand and wishes him luck as he's wheeled away for his procedure.
Evelyn then reads Roy's letter and is touched to realise how much she means to him.
She decides to head to the hospital and admit her own feelings but is immediately put off to find Yasmeen Nazir (Shelley King) already at Roy's bedside with a special surprise of her own.
Could this be the beginning of a new romance for Roy?
Read More on The Sun
Outdoor swimming pool in UK with sea views said to be 'like the Caribbean'
I'm a vet and dog owners always make the same five mistakes with their pooch
Will he finally move on from the death of his wife Hayley?
Coronation Street airs every Monday, Wednesday and Friday from 8pm on ITV.
Source: Read Full Article