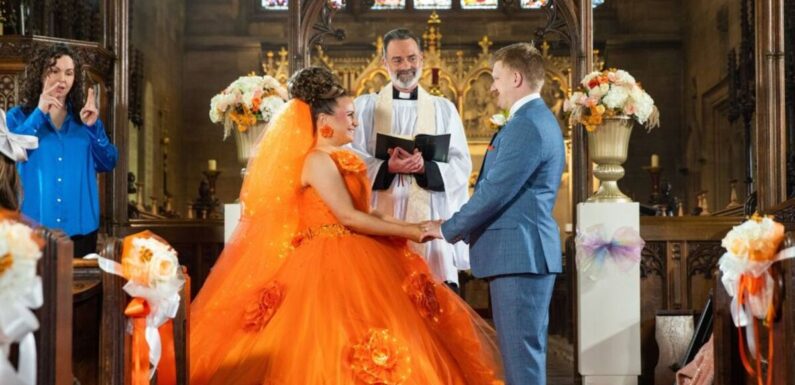 Coronation Street: Gemma and Chesney argue over money
For the past few months, fans of the ITV soap have seen Gemma (played by Dolly-Rose Campbell) prepare for her big wedding day to Chesney Brown (Sam Aston).
From a flamboyant orange gown, with fairy lights sewn in, to her brother Paul (Peter Ash) walking her down the aisle despite battling MND, it's set to be a special day.
As Weatherfield residents attend the celebration, Coronation Street viewers will see Gemma and Chesney's children, Joseph, and the quadruplets, take pride of place next to them.
With one of her quadruplets Aled (Joseph Woods), being deaf, there's an interpreter at the wedding who has a hidden conversation with another guest.
Speaking to Express.co.uk and other media publications, actor Dolly-Rose Campbell revealed people may not notice the interaction unless they know sign language.
READ MORE:ITV News viewers react in disbelief as studio setting ousted as 'fake'
She said: "I don't know if it will be caught, but in the wedding, Cherylee (who plays Izzy Armstrong) can sign as well.
"So she was signing with the interpreter in the background.
"When I looked over, she was telling the interpreter that she had been dyeing the dress in her bath and it dyed her bath orange.
"That was their conversation but I don't know if the whole conversation will be seen or if any, you'd have to know sign to be able to catch it. "
Don't miss…
Britain's Got Talent viewers fume over show 'rule break' as they demand change[REACTION]
Alison Hammond 'set for big pay rise' as she 'replaces' Phillip Schofield[ITV]
Carol Vorderman leaves Dermot O'Leary gobsmacked with 'filthy' pants question[VIDEO]
As the young actor who plays her son is deaf in real-life, the soap star revealed she's been learning British Sign Language to help him on set.
The soap star added: "I'm halfway through my level two at the minute and it's getting quite difficult actually but I'm enjoying that.
"For me, we were going to have a deaf actor on set, as part of our family.
"He can't learn not to be deaf, so it made sense for one of us to learn how to sign so that we can help him when he needs help.
"The actor that we've got, his parents are also deaf so it's nice to be able to talk to them as well when they bring him in for filming and just make them feel included.
"It can be quite difficult sometimes for deaf people because the support they need is not always there.
"The more people that can sign the easier it is for them."
Coronation Street continues Mondays, Wednesdays and Fridays on ITV from 8pm.
Source: Read Full Article