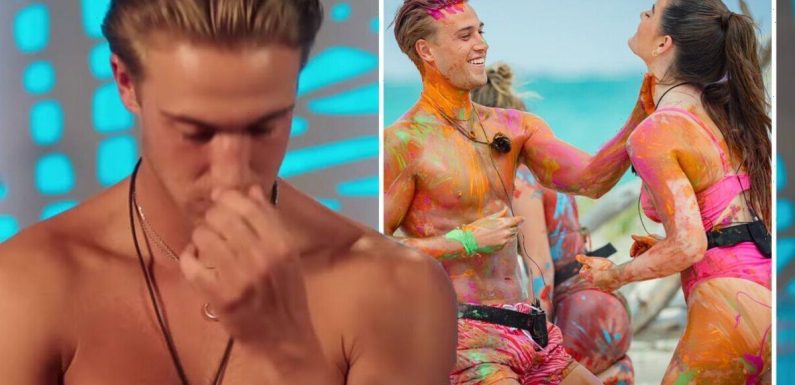 Too Hot To Handle: Netflix releases teaser for season four
We use your sign-up to provide content in ways you've consented to and to improve our understanding of you. This may include adverts from us and 3rd parties based on our understanding. You can unsubscribe at any time. More info
Netflix's hit dating series Too Hot To Handle made its comeback to screens with a dramatic fourth season, which saw 10 contestants battle temptation for a genuine connection. However, Creed McKinnon found himself in a tough love triangle between Sophie Stonehouse and Flavia Laos.
The 10 singles from across the world arrived at the Caribbean villa under the guise of a new dating show, Wild Love and were taken aback to learn they were really on Too Hot To Handle.
Once the contestants began making their steamy connections, the show's virtual assistant Lana was unveiled with a host of new rules.
For the chance of taking home a cash prize of $200,000 (£163,548), the singles were forced to practice abstinence.
This meant kissing, heavy petting, sex, or solo-self-gratification of any kind was not permitted and the cast would be fined for any rules broken.
READ MORE: Carol Vorderman slams Harry and Meghan in fresh rant
Lana wanted the singles to put their temptations aside and build a genuine connection for a chance of the relationship working on the outside.
As the cast was getting to know each other, Creed and Sophie hit it off and were moving forward with real feelings for each other.
This was until episode five brought the arrival of newcomers Ethan Smith and Flavia who were permitted to take any of the singles contestants on a date.
Much to Creed's annoyance, Ethan chose Sophie who turned down a kiss because she had feelings for Creed, while Flavia went on a date with Seb Melrose.
When the newcomers arrived at the villa, Creed couldn't hide his attraction to Flavia, which left Sophie completely heartbroken.
Speaking exclusively to Express.co.uk Creed revealed he was unaware of just how deep Sophie's feelings were for him.
He shared: "It's tough in their emotions ran extremely high. So obviously, everything's kind of 10 times but with the Sophie situation, you kind of saw how it went.
"I was pretty unaware about how deep the feelings were so I kind of acted in a way that I thought was okay, but maybe in the eyes of others that wasn't.
DON'T MISS…
Alison Hammond shuts down This Morning guest over Meghan Markle [INSIGHT]
Too Hot To Handle star Jawahir Khalifa shares regret over rule breaks [INSIGHT]
Too Hot To Handle's Nigel accidentally lets slip his celibacy fate [INSIGHT]
"But at the end of the day, we're in there to kind of have that fairytale ending and if you feel a romantic connection, you kind of move in a certain way."
Creed admitted: "It was crushing to see, honestly, how distraught Sophie was after I did what I did."
After being left heartbroken, Sophie made it clear on numerous occasions that she no longer had any interest in getting to know anyone on a romantic level.
Although Creed and Flavia were together, their connection was also put to the test when Imogen Ewan joined the villa.
She chose to take him on a date where they related to both being Australian while giving her an oil massage.
They continued to flirt in the villa as Creed called Imogen "the female version of him".
However, during the first round of evictions both Sophie and Ethan were eliminated for not building a genuine romantic connection with anyone.
Too Hot To Handle season 4 is available to stream on Netflix.
Source: Read Full Article