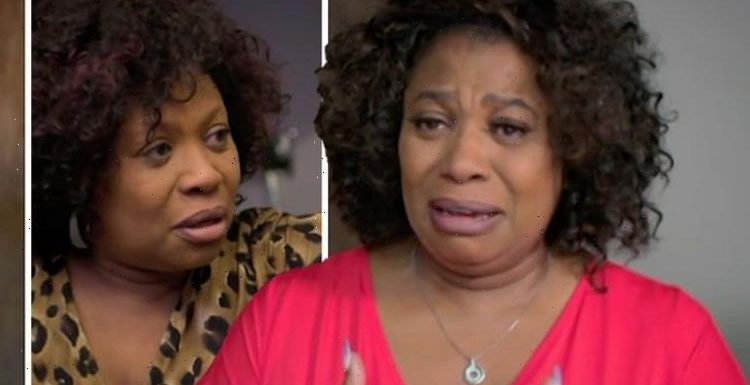 Loose Women's Brenda Edwards recalls her cancer diagnosis
We use your sign-up to provide content in ways you've consented to and to improve our understanding of you. This may include adverts from us and 3rd parties based on our understanding. You can unsubscribe at any time. More info
Loose Women star Brenda Edwards bared all on Tuesday night for Strictly The Real Full Monty. She took part in the charity show and opened up about her own personal experience with cancer in a bid to help others with the heartbreaking illness. She revealed her body, mastectomy scars and her breasts in a special strip routine alongside a group of other celebrities on the ITV show. During the programme, Brenda looked back on her own cancer diagnosis and broke down in tears.
In the hope of helping others going through the same thing, Brenda spoke about her own cancer journey.
She revealed she booked herself in for a mastectomy after discovering a lump in her breast.
The Loose Women star explained: "I can remember all the 'what if's' that were in. My main 'what if' was 'what am I gonna tell the kids?'
"I got a phone call from my doctor saying 'The tests have come back positive and you've got stage three breast cancer.'
"It was everything all at once," she explained, detailing how she struggled to cope with her emotions.
Brenda broke down crying as she opened up about the challenge of breaking the news to her children.
Detailing her struggle, the star explained how she was determined to stay strong for her family.
She said: "There is no right way or wrong way of telling your children that you have cancer.
"It was one of the hardest things I've ever had to do. Just looking at literally the colour just drained out of my children's faces."
The star confessed at the time of her diagnosis she didn't want her children to see her break down.
"I want to cry, but I can't cry. I can't cry," she insisted.
Brenda explained: "I don't want to show you that side because I didn't want them [her children] to then be panicking.
"They always know me as being strong," she added.
After explaining her story to close friend and Loose Women co-star Coleen Nolan, Brenda explained that she eventually chose to have a mastectomy.
She bravely revealed her scars to Coleen, who supportively remarked: "Is that it?"
"I love you for saying that," Brenda replied.
She wasn't the only star stripping off on the show in a bid to raise awareness for cancer checks.
Brenda was joined on stage by EastEnders star Laila Morse, Strictly Come Dancing dancers James and Ola Jordan, singer Duncan James and Homes Under the Hammer star Martin Roberts.
Strictly The Real Full Monty is available to stream on ITV Hub.
Source: Read Full Article