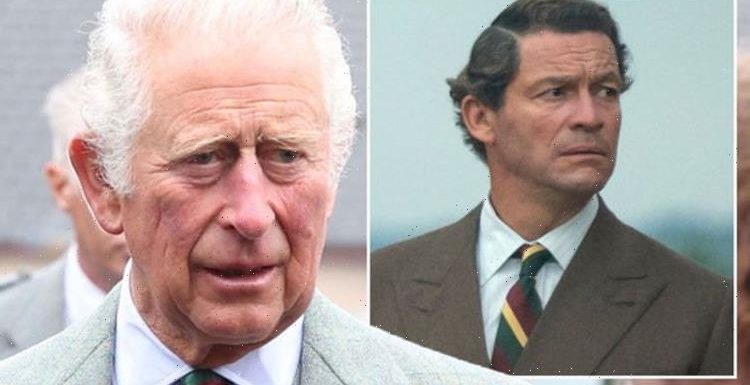 Emma Corrin and Josh O'Connor discuss working together in the Crown
We use your sign-up to provide content in ways you've consented to and to improve our understanding of you. This may include adverts from us and 3rd parties based on our understanding. You can unsubscribe at any time. More info
The Crown season five will continue to delve into the story of the Royal Family when the Netflix drama returns and this time, it brings with it an all-new cast. Last season, fans saw Emma Corrin portray Princess Diana as she embarked on her romance with Prince Charles (played by Josh O'Connor) but in season five, the roles have been given to Elizabeth Debicki and Dominic West instead. Now, Netflix has given a first look at the actors in action, but it's safe to say not everyone is impressed with the new adaptations.
The fifth season of The Crown will transport viewers back to the early 90s as the ins and outs of Princess Diana and Prince Charles' romance continue to be explored.
While season four brought the royal couple's wedding to screens, season five will likely delve into the downfall of their marriage and subsequent separation.
In real life, the Princess of Wales died in 1997 following a horrific car crash in Paris, but it remains unclear whether this will play a part in the season five narrative.
With little else revealed about the upcoming season of the Netflix drama, fans were quick to react when first-look snaps of Debicki and West in character were released.
However, it's fair to say not everyone was impressed with the accuracy and likeness of the actors with their royal counterparts – with many taking particular aim at West's Princes Charles.
"Elizabeth Debicki's Diana nails it," one fan said on Twitter. "Charles – they are being very generous, no?"
A second echoed: "What did you do to Charles? (Diana's perfect tho)." (Sic)
"What happened with the casting crews? Still here for it tho," added a third.
While a fourth blasted: "They didn't do Dominic West right.. Princess Diana looks amazing!"
And a fifth cheekily added to the debate: "They might as well go all in and cast Henry Cavill as Prince Charles."
West has remained relatively tight-lipped about his appointment to step into O'Connor's shoes but Debicki has expressed her excitement at landing the role of Diana.
"Princess Diana's spirit, her words and her actions live in the hearts of so many," she said in a statement at the time of her casting.
DON'T MISS:
'Why would you say that?' Raab takes on Kate Garraway in Afghan row
Jeremy Paxman angers University Challenge fans with 'cutting' critique
GB News' Dan Wootton hits out at Civil Service over Covid pay rise
"It is my true privilege and honour to be joining this masterful series, which has had me absolutely hooked from episode one."
Debicki has also previously opened up on how portraying Diana is a "dream role" for her.
"It's a dream role. She is such a remarkable human being and she really does still live in the hearts of so many people," she told the Mirror.
"I'm overwhelmed, I'm terrified and I'm excited. I can't wait to start."
With these being the first snaps of Charles and Diana in action in season five, more information on the upcoming season will likely follow in the coming weeks or months.
However, a release date on the new season of The Crown remains under wraps.
There is some good news, however, as the royal drama won't be concluding with season five as the show has been renewed for season six beforehand.
The Crown seasons 1-4 are available to stream on Netflix now.
Source: Read Full Article