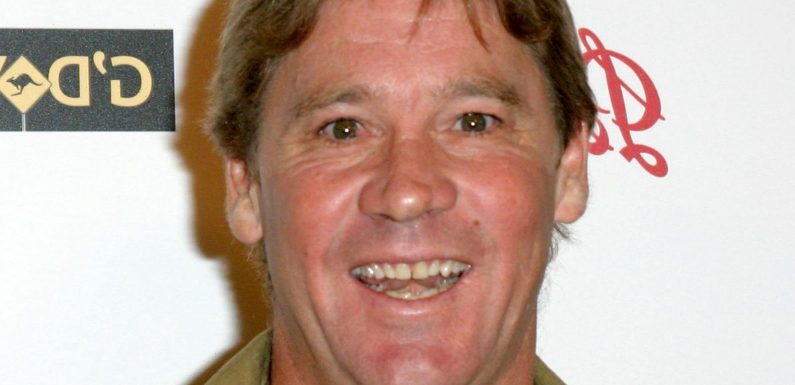 Do you remember Steve Irwin? Of course, you do! That's because he was no ordinary celebrity. While some famous figures win over fans with their acting performances or chart-topping songs, Irwin was the kind of unforgettable star who left a strong impression on the public by wrangling live predators on a regular basis. Known as the Crocodile Hunter — which was also the name of his incredibly popular show — Irwin could handle pretty much any animal around. Granted, it was obviously crocs that he dealt with the most to his fans' horror and delight.
Sadly, Irwin died during a "freak ocean accident" on September 4, 2006, in the waters of Batt Reef, Australia, according to Biography. The star was killed by a "creature … that's not even considered to be all that dangerous" when "a gigantic eight-foot-wide stingray" attacked him with its tail, causing "a two-inch injury right over his heart." Despite the dangerous nature of Irwin's work, the world was still shocked by his untimely death.
However, Irwin wouldn't be soon forgotten. Thanks to his devoted fans, as well as his family — who continued his work and have each become famous in their own right — Irwin's legacy has carried on. That's one of the reasons why people are still so interested in this captivating celebrity. And while you might think that you've learned all about this particular star, keep scrolling to find out what you likely never knew about Steve Irwin.
Steve Irwin's dad unknowingly set him on the way to fame
Steve Irwin wasn't the only animal enthusiast in the family. The star's dad, Robert Irwin (a.k.a. Bob, pictured above), was a "wildlife expert," Steve told Larry King (via CNN) back in 2004. Bob not only supported and encouraged Steve's love of animals, but he also happened to set his son on his way to fame (and fortune, but more on that later) without even knowing it. Before Steve was a famous crocodile hunter, Robert gave his son "a video camera so that he could film himself catching crocs when he was in North Queensland," according to CrocodileHunter.com. Apparently, producer John Stainton saw the footage, and "The Crocodile Hunter" franchise was born.
While Bob obviously had a big impact on his son's life — including the fact that they worked together throughout the years — a situation cropped up following Steve's death in 2006. Honey reports that Steve's wife, Terri Irwin, had an alleged "falling out" with Bob a year and a half after Steve's death. There was supposedly an issue between the two "over the direction of the [family's] zoo." As a result, Bob left, and as of 2021, was "no longer in communication" with the family Steve left behind: wife Terri, daughter Bindi, and son Robert.
Locals claim that Bob is now "a recluse," per the Daily Mail, who lives on a large property that is "set back from a chained-up gate with signs ordering people to stay away."
The Crocodile Hunter wanted to be like ocean advocate Jacques Cousteau
Jacques Cousteau may have died back on June 25, 1997, at the age of 87, but during his lifetime, he was considered the most famous advocate for the Earth's oceans. "Through more than 115 television films and 50 books, Captain Cousteau opened up the oceans to millions of households," the Cousteau Society noted. Along with countless accomplishments, Cousteau was awarded the International Environmental Prize by the United Nations, while also being given the US Presidential Medal of Freedom and the National Geographic Society's Centennial Award, among other honors. That's why it shouldn't be surprising to find out that Steve Irwin looked up to Cousteau.
According to Scientific American, Irwin once opened up about his admiration for the older nature lover, saying, "I've always seen Jacques Cousteau as a hero. He's a legend, like my dad, just a legend." Irwin went on to explain that he thought that "what [Cousteau] did for conservation in the '60s through the '70s was just phenomenal." Because of Cousteau's work and lasting legacy, Irwin told the outlet, "I want to be just like him, you know? I want to have a milestone, you know? I want to create history."
With that inspiration in mind, Irwin set out to "[go] beyond the media" and take his message of conservation and environmentalism "to the nth degree." Unfortunately, Irwin wasn't able to fully see out his plan, but he definitely did leave behind his own lasting legacy.
The star discovered a 'bum-breathing' turtle that's now named after him
Steve Irwin may have been known as the Crocodile Hunter, but he happened to make a very cool discovery that had to do with another kind of reptile. Back in 1990, Steve and his father, Bob Irwin, came across a turtle that they had never seen before and didn't recognize. That's why they sent pictures of the animal to the Queensland Museum. According to Australia's ABC News, it turned out that the snapping turtle "was unknown to science" up until that point. That's right, Steve and his dad discovered a type of turtle!
Because the Irwins were responsible for the exciting find, the freshwater species of snapping turtle was officially named the elseya Irwini. It's also now known as an Irwin's turtle, and is a "rare and remarkable bum-breathing" creature.
On top of that, the same outlet noted that in 2009, three years following Steve's death, Dr. John Stanisic, a scientist at the same museum that identified the turtle that Steve and Bob had found, "discovered a new type of tree snail and named it crikey steveirwini." Fans will remember that "crickey" was the star's signature expression. The tiny critter is apparently quite colorful and boasts "swirling bands of creamy yellow, orange-brown and chocolate giving the shell an overall khaki appearance." Dr. Stanisic explained that the snail got its name because "the khaki color… immediately drew the connection to the late Crocodile Hunter," who was famous for wearing khaki.
Steve Irwin saved at least two men's lives before his death
Steve Irwin not only saved animals, he also saved the lives of two men on separate occasions. 
One incident happened in 2003, when American diver Scott Jones was in the water off the coast of Mexico in the Gulf of California or Sea of Cortez, according to The Sydney Morning Herald. "Jones' friend, 77-year-old Katie Vrooman, died during the dive after a sea surge knocked her twice against rocks," and Jones was unable "to resuscitate her," the outlet notes. Jones then "spent a harrowing night alone perched on rocks." Irwin happened to be filming in the area when a call went out over radios about missing divers. The star not only ditched his work to help, but he also found Jones, and went into the sea to save him.
On top of that, CrocodileHunter.com explained that Irwin once "saved his best mate Wes [Mannion's] life when he was attacked by Graeme the croc during a flood at Australia Zoo!" Mannion is not only still around thanks to Irwin, but he's also still close to his late best friend's family. In fact, he was one of the few people to attend Bindi Irwin's wedding, per the Daily Mail, when she got married in 2020. It was just the bride and groom, as well as the bride's mom and brother, along with Wes, which shows how much he means to the family and how much they mean to him.
People liked when Steve Irwin was attacked (but he didn't carry antivenom)
While Steve Irwin died after being injured by an animal, he knew that people liked to see creatures attack him. "Steve Irwin's all pretty interesting on the telly or in the movie and that, but by crikey, it's great when he gets bitten," Irwin told Australia's ABC television (via Time), while referring to himself and the general attitude toward his dangerous work. He continued by saying that while he did occasionally suffer from an animal bite, he recognized that it was part of "that sense of morbidity that people do have." Irwin added, "There's no use sticking your head in the sand and going, 'Oh, no, they're only here because, you know, I talk well.' Nah, man, they wanna see me come unglued."
Granted, Irwin was usually able to keep his (enthusiastic) cool thanks to his skills. "I encounter some of the worst snakes in the world, but I'm tailing them, handling them freehand. And it's because pretty soon the snake understands that I don't mean to kill it," he told Reptiles, while discussing how he was able to avoid bites. Although he admitted that it "might sound weird," he attributed his ability to "the force." Irwin added, "When I grab hold of them, this karma exudes through my fingertips into the animal and they feel a lot more comfortable, and I don't get bitten."
That confidence is surely why Irwin also admitted, "I don't carry antivenin [aka antivenom], never have, never will."
A painful problem with parrots
Steve Irwin was the kind of person who seemed to be fearless. Thanks to his job as an animal advocate and wrangler, he often found himself going up against crocodiles, snakes, and all kinds of predators. That's why it's pretty surprising to find out that it was a bird that freaked him out. According to Scientific American, he admitted, "The only animals I'm not comfortable with are parrots." However, Irwin also pointed out at the time, "I'm learning as I go. I'm getting better and better at 'em. I really am."
Granted, Irwin had a reason to be wary of these particular birds, even though he had no explanation for the scary situation. "For some reason, parrots have to bite me," he said. "That's their job. I don't know why that is." Frankly, things were so bad that Irwin told Scientific American, "They've nearly torn my nose off. I've had some really bad parrot bites."
While Irwin may have endured his fair share of parrot nibbles, it turns out that they may not have necessarily had an issue with him specifically. "Biting parrots are far more common than you may think," according to The Spruce Pets. While they sometimes bite when they're scared or in an aggressive mood, the outlet notes, "Parrots, as hookbills, use their beaks for a variety of functions: preening, eating, climbing, and playing," as well as "in the place of a hand to grab onto toys, food, perches, and sometimes their owners." And sometimes, a Crocodile Hunter. Ouch!
This TV star was a mixed martial arts fighter
Steve Irwin could definitely handle himself while wrestling crocodiles, but did you know that he also liked to fight humans? In fact, the television star was actually a mixed martial arts fighter. Retired Australian UFC fighter Kyle Noke worked for Irwin as a bodyguard for three years, and during that time, trained with the famous figure. Noke told MixedMartialArts.com, "We'd do mixed martial arts sparring every Wednesday. Tuesday night he couldn't sleep a wink. He'd be down there in the gym with his hands all wrapped, gloves on at two o'clock in the morning shadow-boxing, waiting for us to get there at 7 o'clock."
That kind of dedication is surely one of the reasons why Noke was impressed by Irwin's abilities. "He was super strong," Noke recalled. "Whenever he held you down, took you down, he'd get on top of you and there was no way you could get him off you." Crocodiles could have told you that!
Irwin's fans surely would have loved to see what he could do in the ring, especially if he'd gotten the chance to fight another star. "He loved it that much, at one point, … we came up with the idea of having a charity fight," Noke told The MAC Life. "He originally wanted to fight Wesley Snipes, but then he found out Wesley Snipes was small." Irwin apparently then turned his eye to Vin Diesel, which definitely would have been an interesting match-up.
There's a street and a (skull-adorned) ship named after Steve Irwin
While Steve Irwin was a famous figure around the world — his programs aired in 130 countries, according to Time — he was also famously Australian. The star was born in Upper Ferntree Gully, Victoria, per the Australia Zoo, but his family ended up relocating to Beerwah, Queensland. That's where, in 1970, they opened the Beerwah Reptile Park, which eventually became the Australia Zoo.
Queensland Premier Peter Beattie noted that Irwin was "Queensland's most well-known ambassador ever," according to The Sydney Morning Herald. He explained that the star "and his family have put Beerwah on the map." That's why, in September 2006, Beattie stated that he could "think of no more fitting tribute than to rename the road that runs past Australia Zoo in his honor," while announcing that Glass House Mountains Road would now be Steve Irwin Way.
However, that wasn't the only honor that Irwin received that was related to his name. The M/Y Steve Irwin is a (now-retired, massive, skull-adorned) ship that shares a moniker with the late nature-loving star and conservationist. The ship was named for Irwin in December 2007, and Sea Shepherd founder, Captain Paul Watson, explained, "For over a decade the Steve Irwin was our flagship, taking us to the remote and hostile seas of the Southern Ocean to defend the whales, to the Mediterranean to defend Bluefin tuna, and to the Danish Faroe Islands to defend pilot whales and dolphins."
Steve Irwin had an interesting relationship with money
When you think of Steve Irwin, financial matters are probably not the first thing that pop into your head. However, it turns out that he actually had a rather interesting relationship with money in a few different ways. For instance, did you know that there was a petition to put him on Australian currency? Those behind the campaign even created a creature-filled mock-up of a potential $100 bill — with an image of Irwin holding a crocodile, as you might expect — and managed to gain an impressive 31,052 supporters!
Perhaps the Royal Australian Mint should make that happen. Not only would it show "appreciation to a great true blue Australian," according to the petition's description, but the star also admitted that he loved money. In fact, he explained to "60 Minutes" that he wanted as much money as he could get. Granted, it wasn't for himself. He wanted access to formidable funds so that he could buy up wilderness areas and put "every single cent [he could] get … straight into conservation."
Although Irwin may or may not have been offering up his own money for conservation purposes, he was doing pretty well for himself. According to Celebrity Net Worth, at the time of Irwin's death, he had $10 million. These days, the star's wife, Terri Irwin, is worth $10 million, while his children, Bindi and Robert Irwin, both have $3 million.
The Crocodile Hunter filmed his first documentary on his honeymoon
Most people don't really want to work during their honeymoon —- honestly, there are better things to do — but that's exactly what Steve Irwin and his then-new wife, Terri Irwin, did after they tied the knot. In fact, the newlyweds spent their honeymoon filming their very "first wildlife documentary," according to CrocodileHunter.com.
Instead of lounging on a secluded and tropical beach or enjoying romantic dinners together by candlelight, these two had planned on spending their honeymoon trapping and relocating "rogue" crocodiles. Granted, that wasn't the only unusual thing about the couple's post-marriage, er, celebration. Forget about selfies or the occasional photo taken by a hotel staff member, this husband and wife were accompanied by a "camera crew" that was ready to film all of the (animal-related) action.
However, the original plan quickly went out the window when the pair ended up getting a call about "a crocodile that needed help," Terri later told Scientific American. "We dropped our honeymoon, we went to north Queensland, and we helped this crocodile and filmed a documentary on the premise that the cameraman just chases Steve around." While that surely would have made for an interesting home movie, it became so much more. Terri explained that "from then on, we found that Steve's natural behavior in the wild happens to be fascinating!" Frankly, it was so fascinating that it led to his own show and international fame.
The proud dad was investigated by child services
Steve Irwin may have been a devoted father to his children, daughter Bindi and son Robert (a.k.a. Bob), however, one of his parenting choices ended up getting him in serious trouble. When Robert was just a month old, his father introduced him to the public during a live show. What sparked a major scandal was the fact that Steve decided to do so while holding his infant son and feeding a large crocodile at the same time.
Steve later told Larry King (via Time) that his son wasn't anywhere near the animal, but people were angered by a photo that made it seem like they had been closer than they actually had been. Even Steve noted that when he saw the image he thought, "Wow, that looks dangerous." However, he asserted that his son had not been in harm's way, adding, "I would never endanger my children."
However, Steve Irwin still apologized, telling King that he did so because he had "scar[ed] people." He also found himself under an investigation by child services. Steven recalled, "The authorities came in … [and] did a thorough investigation. There was absolutely no case." The star, indeed, "escaped charges" following "an investigation by the Queensland state Families Department over whether Irwin had breached workplace safety regulations," according to CNN. Despite that, Steve hadn't taken the situation lightly. In fact, he admitted, "I wasn't just shocked, I was absolutely devastated. I was taken to the lowest point of my entire life."
This father-of-two wanted another baby
As we've mentioned, Steve Irwin had two children — daughter Bindi and son Robert — with his wife, Terri Irwin, and it was no secret that Steve loved being a father. Terri opened up to E! in May 2017 while at the Steve Irwin Gala Dinner in Los Angeles about his enthusiasm when it came to welcoming his little ones into the world. "Steve said to me how excited he was when Bindi was born. He said, 'Do you think we could have a boy?'" she recalled, adding, "And then Robert was born, and they're perfect. They're easy kids; they're wonderful to me; they're such a help."
Terri also talked about what made herself and Steve such good parents, saying, "I think the secret is love at first sight. Some people don't believe in it, and then you have a baby and fall in love with this person the way you never knew you could love somebody." That great capacity for love is surely why, before Steve's death, he and Terri had wanted to have another baby. The mother of his two children revealed, "I said to Steve, 'Let's have a third.' And he said, 'You have a girl and you have a boy. What are you hoping for?'"
While Steve wasn't able to become the father of a third child, if he were still alive today, he would be a grandfather. That's because Bindi welcomed a daughter of her own, Grace Warrior Irwin Powell, in April 2021.
The late figure thought 'his life would be cut short'
When Steve Irwin died after being attacked by a usually docile stingray on September 4, 2006, he was only 44 years old. While that's still incredibly young, and the star seemed to have years ahead of him to work toward his conservation efforts, it turns out that he wasn't always sure about his future. "You know he never thought he would have a long life," Terri Irwin revealed in July 2018, while discussing her late husband on "Anh's Brush With Fame" (via Mix96). She continued by saying that Steve had "just always kind of had this sense that his life would be cut short."
That's perhaps one of the reasons why he was apparently thinking of making a change when it came to his life. During the same interview, Terri also recalled that her famous husband had told her, "I don't think I am going to film anymore. I think I am just going to spend time with my kids."
The woman who continued her spouse's work following his death, while also keeping his legacy alive, was honest about the grief she still suffers over the loss of her husband, saying that it "hits you at the most bizarre times." Terri went on to explain, "You don't ever get over grief. It changes, but you never wake up one morning and go, 'Oh, I'm done with that.' That was the challenge in the journey after Steve died."
The footage of Steve Irwin's death wasn't released, but his last words were
Steve Irwin's death on September 4, 2006, came as a heartbreaking shock to his family, friends, and fans around the world. While the nature of his death sparked seemingly endless questions about the circumstances, the stingray that was responsible, as well as the star's fatal injury, certain aspects of what happened were kept private. That includes the footage of Irwin's death.
Cameraman Justin Lyons was filming Irwin "in chest-deep water near Queensland, Australia," according to the Los Angeles Times, when they encountered "a 'massive' 8-foot-wide stingray." The two men decided to go down for "one last shot," which Lyons thought was "going to be great," when the creature attacked. Lyons told the Times, "It started stabbing wildly with its tail, hundreds of strikes within a few seconds." The star's crew member was unaware of what had happened at first, so he "panned with the camera as the stingray swam away." Lyons claimed, "It wasn't until I panned the camera back … Steve was standing in a huge pool of blood."
As Irwin's crew tried to save him and get him to help, Lyons talked to the star. "I was saying to him things like, 'Think of your kids, Steve, hang on, hang on, hang on,'" Lyons recalled. "He calmly looked up at me and said, 'I'm dying.' And that was the last thing he said … those were his final words."
Source: Read Full Article