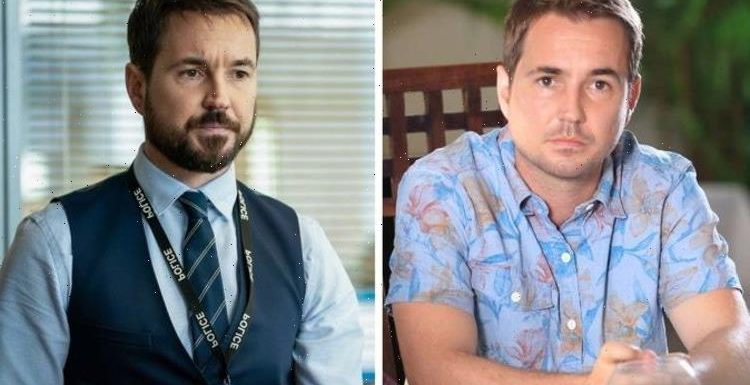 Death in Paradise: Humphrey says his 'perfect match is 'gone'
When you subscribe we will use the information you provide to send you these newsletters. Sometimes they'll include recommendations for other related newsletters or services we offer. Our Privacy Notice explains more about how we use your data, and your rights. You can unsubscribe at any time.
Death in Paradise finished its 10th series earlier this year, welcoming back some familiar faces to the sandy shores of Saint Marie. Every episode consists of a line-up of guest stars with numerous well-known British actors popping up in the long-running comedy-drama. One of which was none other than actor Martin Compston who is best known for portraying DI Steve Arnott in Line of Duty.
When was Line of Duty's Martin Compston in Death in Paradise?
Martin Compston starred in Death in Paradise five years ago when DI Humphrey Goodman (played by Kris Marshall) was in charge.

The Line of Duty actor featured in season five, episode six, entitled Dishing Up Murder.

The synopsis reads: "Chef Robert Holt is stabbed to death following the launch of his restaurant Le Calmar.

"His phone and money are missing but not an expensive watch and initially robbery is suspected.

"His partner Anouk, son Matt, sous chef Dexter and pastry chef Kim all claim to have been in their villa at the time and only his brother Gary, a bankrupt and ex-prisoner has no alibi.

"A street urchin picked up the phone which he says Robert dropped whilst arguing with Matt and indeed Matt, Dexter, Kim and Anouk all claim that the victim was a bully who controlled all their lives.

"To solve the murder and a possible conspiracy Goodman is much helped by footage illegally filmed by a customer on the opening night of the restaurant."
Compston's role in this particular episode of Death in Paradise was the sous chef Dexter.

Speaking before the episode aired to What's On TV, Compston described the relationship between his character and
Robert, played by actor Alun Raglan.

He said: "Robert was a Gordon Ramsay-type genius and, while his talents were undoubted, he was very volatile, so there were lots of grievances in the kitchen.

"Robert wasn't the nicest of men, so anyone who worked for him could have had a motive to kill him.

"While Dexter was grateful to Robert for taking him on as a young chef, he does feel he's been held back.

"But we soon find out that there are reasons why Dexter hadn't left Robert to progress."
Starring alongside Compston in Dishing Up Murder was actress Tara Fitzgerald who fans may recognise from Waking the Dead as Eve Lockhart.

She was also in The Body Farm, Game of Thrones, The ABC Murders and Belgravia.

Other cast members were Cursed's Andrew Whip, House of Anubis' Louisa Connolly-Burnham and The Outpost's Alexander Arnold.

Playing Robert Holt, the victim of Dishing Up Murder was Wolfblood actor Alun Raglan.
DON'T MISS…
Is there going to be another series of Line of Duty? [EXPLAINER]
Death in Paradise: When did Adrian Dunbar star in Death in Paradise? [CAST]
Line of Duty episode 7: Kate caught out as H in 'definate' clue [SPOILER]
Death in Paradise finished its 10th series in February this year, marking a decade of the show on BBC One.

There will be plenty more investigations to come as it is expected to return earlier next year for season 11.

The BBC also gave the green light for Death in Paradise for series 12 during a double renewal.

This means the show will be on air until 2023 at the very least, without anymore seasons being announced.
Compston will be back on our screens this weekend for the Line of Duty season six finale.

DI Arnott and Detective Superintendent Ted Hastings (Adrian Dunbar) have been looking into DCI Jo Davidson (Kelly Macdonald).

She was put in charge of investigating the murder of Gale Vella (Andi Osho) but has she been part of the OCG all along?

Death in Paradise is available to watch on BBC iPlayer.
Source: Read Full Article