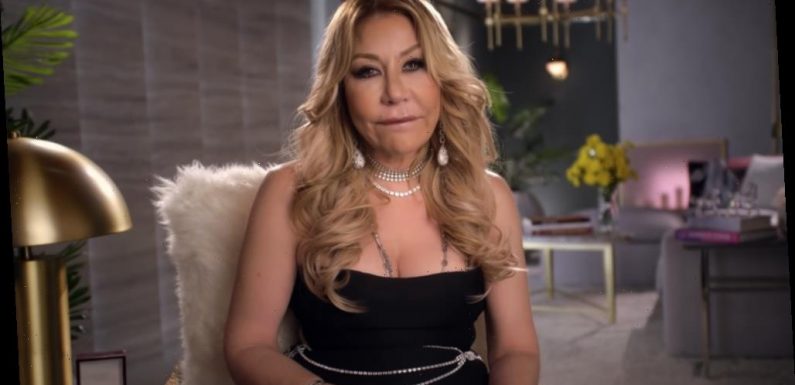 Bling Empire is Netflix's latest reality show sensation — and Anna Shay is its scene-stealing matriarch. The series has been dubbed a cross between Crazy Rich Asians and The Real Housewives, except according to GQ, these stars are far wealthier than even the Housewives. Bling Empire follows a group of affluent Asian Americans living in Los Angeles, providing a peek into their lavish lifestyles. According to Forbes, within two days of the show's release on Jan. 15, 2021, it made Netflix's top 10 list in Canada and Singapore, and the U.S. and U.K. have followed suit as well. 
While Shay currently has a modest following on Instagram, she's quickly garnered attention and become the star of the show. Viewers first meet the 60-year-old when she personally knocks down her walk-in closet with a sledgehammer… while wearing a ballgown. Next, they see her take another cast member to her favorite restaurant, which requires a little more effort than a drive — as it's in Paris. And by episode four, Shay reveals she's been married and divorced four times. Despite a few wealthy marriages, Shay has always lived a life of luxury, thanks to her parents' fortune.
Anna Shay is the only daughter of billionaires
During Bling Empire's first episode, Anna Shay says that her father never wanted her to have a job. Fellow cast member and also billionaire heir Kane Lim said in the show that Shay is half Japanese and half Russian and "super, super wealthy." He then goes on to explain that "her money comes from weapons. Her father sells bombs, guns, defense technology. And it's worth like a few billion."
This "few billion" dollar company is Pacific Architects & Engineers, a defense and government services contractor that Hay's father Edward Shay founded back in 1955. Per the PAE website, the company began as an "architectural and engineering firm assisting the U.S. government effort to rebuild Asia in the wake of World War II." The company is still operating to this day, yet the Shay family sold it to Lockheed Martin an "all-cash, $1.2 billion dollar deal" in 2006, according to Variety. Edward Shay died in 1995, and Anna's mother Ai Oizumi Shay died in 2015. Anna is their only child.
Why Anna Shay has never watched Crazy Rich Asians
In an interview with Oprah Magazine, Anna Shay said she hasn't watched Crazy Rich Asians, explaining: "I was going to say, 'I live it,' but I thought that would be too snobbish." But it's all thanks to her parents. "My dad is from the South Side of Chicago. My mother is from aristocracy," she said. "My mother said, 'You were born in a crystal ball with a silver spoon.'" So much so that when Shay moved from Japan to America at seven years old, her pet monkey was even able to sit next to her on the plane. 
According to the Daily Mail, Shay's net worth is now reportedly $600 million, making her the richest cast member on Bling Empire. In December 2020, she put up her lavish Sunset Boulevard mansion featured in the show for sale for $16 million (via The Sun), having purchased a smaller Beverly Hills mansion for $5.75 million in March 2020, per Variety. Aside from her own lavish purchases, her son also spends big — on bongs. Kenny Kemp showed off his "half a million dollar" collection of marijuana bongs for Buzzfeed News in 2015.
Despite living a life of luxury, Anna gives back to the community as an active philanthropist. She told Gen Luxe Magazine in 2015 that she's a board member for the George Lopez Foundation, which raises awareness about kidney disease and organ donation, and has also worked for the Shay Foundation, the education and arts non-profit founded by her parents.
Source: Read Full Article