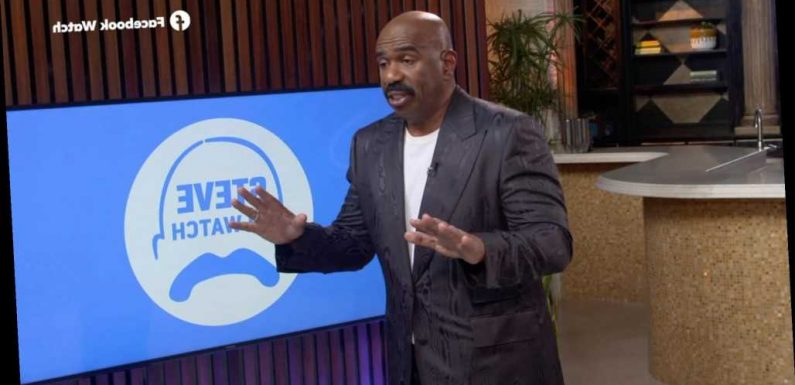 Steve Harvey is offering his perspective on the protests against racial injustice and police brutality that unfolded across the country last summer.
In PEOPLE's exclusive first look at Wednesday's episode of STEVE on Watch, the host shares the lessons he taught his own sons about police brutality.
Harvey specifically references the murders of two Black men, Ahmaud Arbery and George Floyd, which occurred in February and May, respectively, as the COVID-19 pandemic was taking hold in the U.S.
"In light of what's happened with Floyd and Arbery, and because of COVID, I think for the first time, the world was sitting still," he says. "Nobody was on spring break, nobody was at happy hour, nobody was at work, nobody was on vacation and the world was frozen." 
"They actually saw it over and over and over, what it looks like and what actually happens to a lot of people, and I think for the first time ever, non-African Americans — more so than I've ever seen before — have joined in to protest and be outraged of what's happening to people of color," he continues. 
Harvey, 64, goes on to say that the current "upside" in the fight to dismantle racism is that more people are joining in.
"I think that has been the thing that we've needed for a long time," he says. "We needed someone else to be outraged other than us, and for the first time I'm seeing so many non-African Americans just sit there and go, 'Wait a minute, what? You did what to this man?'"
"We now have found out that the world has a lot of allies," he continues. "There's still bad people out there, but it's a lot of really great people out there who, once they are really aware and looking at the situation, can see the injustice as it unfolds."
STEVE on Watch, which premiered in January 2020, marked Harvey's return to TV after NBC canceled his syndicated talk show, Steve. It is currently in its second season, which will conclude this week.
The Facebook Watch series features Harvey sharing his take and unfiltered responses on everyday life and issues affecting his audience, as well as interviews with performers, musicians, viral stars and others.
The next episode of STEVE on Watch drops Wednesday at 9 a.m. ET on Facebook Watch.
To help combat systemic racism, consider learning from or donating to these organizations:
Campaign Zero works to end police brutality in America through research-proven strategies.
ColorofChange.org works to make the government more responsive to racial disparities.
National Cares Mentoring Movement provides social and academic support to help Black youth succeed in college and beyond.

Source: Read Full Article