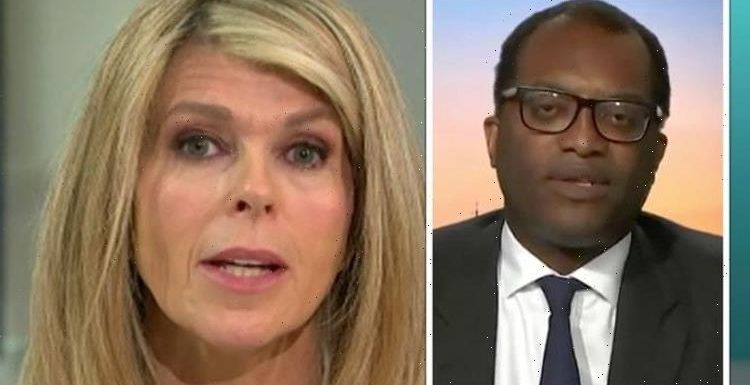 Kwasi Kwarteng defends Matt Hancock during GMB interview
When you subscribe we will use the information you provide to send you these newsletters. Sometimes they'll include recommendations for other related newsletters or services we offer. Our Privacy Notice explains more about how we use your data, and your rights. You can unsubscribe at any time.
Kwasi Kwarteng joined Kate Garraway and Ben Shephard on Good Morning Britain to talk about Matt Hancock's handling of the pandemic following Dominic Cummings' allegations. Kwarteng defended his colleague as he insisted he worked hard throughout the pandemic. However, he did admit politicians did make some mistakes.
Garraway began: "We have talked to you directly and you're always very frank and direct with us and we have a good chat.
"But the sort of inability to make mistakes has kind of caught up on this government hasn't it.
"Now when you're trying to say you're focussing on the vaccine programme and you have got the Indian variant under control, and you're looking at figures, there is a break in trust because of these allegations."
"I don't see it like that," Kwarteng replied. "As you say, I try and speak very directly and frankly.
"All I can do is talk about the experience I have had as cabinet minister and a minister in the government and that has been generally positive."
Garraway cut in: "Have you been tempted since to call Matt Hancock up and say 'What on Earth is going on?'"
"All I know about what I saw of Matt as Health Secretary is he was Health Secretary in an unprecedented pandemic, a once in a 100 year event," Kwartneg hit back.
"He worked extremely hard to protect lives he fought and won a battle to inject huge amounts of money into the NHS.
"We've spent something like £92billion in the course of the pandemic on the NHS.
"Matt was very much a leader in that. He's worked extremely hard and been extremely focussed.
"He's actually had a measure of compassion. He's been deeply affected by the pandemic and he's a greta professional. As far as what I have seen, he's been a positive force.
"Now, no politician in the world can hand on heart say they didn't make any mistakes."
Garraway interrupted: "Why didn't they just admit them? That's the thing because everything you said about Matt Hancock I think we would all go along with.
"He seems genuinely concerned, he seems genuinely hardworking, his brow is furrowed, he's achieved huge things in lots of ways."
Viewers were quick to comment on the interview with one writing on Twitter: "Doesn't matter how hard you work. If your best still kills thousands of elderly, you're not fit for the job."
"What has @MattHancock been working hard at? Now that is the real question," another asked.
A third continued: "@KwasiKwarteng The art of talking without saying anything meaningful."
Another claimed Kwarteng did not answer Garraway's questions.
"You are all working extremely hard to avoid answering direct questions. I think DM will produce evidence and the government are waiting on this to construct answers once they see what DM has," one viewer tweeted.
Someone else shared: "Another poor, weak interview from GMB. Looking forward to the return of Adil."
Good Morning Britain airs weekdays on ITV at 6am.
Source: Read Full Article