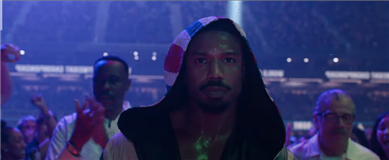 Using new storylines and imagery, star and first-time director Michael B. Jordan blends a healthy set of callbacks to previous films in the Rocky-Creed franchise in "Creed III." The result is deeper than fan service, strengthening our sense of Adonis Creed's place in the world and the kind of legacy he wants to leave. But one of the most powerfully updated callbacks comes courtesy of Donnie Creed's boxing trunks.
The film refrains from putting Creed in the American flag shorts immortalized in "Rocky" by his father, Apollo (Carl Weathers), until the final fight against former best friend and current rival Damien (Jonathan Majors), and when Creed makes his entrance in them, they are not the same shorts he wore in "Creed II." Instead, the flag is angled across the shorts and bleached until the colors are almost gone.
"[Apollo Creed's trunks came] at a time and an era where the American flag meant something else, you know what I'm saying?" Jordan told IndieWire. "With Trump in office and what that felt like. And for me, I didn't know how I felt having Donnie in the flag as much. I had to find another way to reset it. I felt like the world needed to reset, and, for me, having Donnie in all-white was kind of like a clean slate. I needed a clean slate."
"Creed III"
Screenshot/MGM
The clean slate ties into Donnie's arc throughout the film of coming to terms with the trauma and guilt of his past, both of which he tried to bury with boxing. The shadow of the flag serves as a nod to his past, but Adonis goes into the ring to move forward, so the trunks are also a visual signal of what he's fighting for.
But the film directly incorporates Apollo's American flag iconography through the walk-up robe and adjusts it to have a more resonant, 21st-century meaning. It was inspired by visual artist Theaster Gates's "Civil Tapestry 4," constructed out of repurposed fire hoses as commentary on their use against protesters during the Civil Rights movement of the 1960s. According to Jordan, that particular texture and the sense of blood and struggle was important to highlight as being essential to what American freedom really is and means.
Costume designer Lizz Wolf helped transition the robe from red, white, and blue to red, black, and green on the back, showing how the struggle for Black liberation is intrinsically part of the American cloth. "Those were the ropes, the fire hoses, that [Gates] used to make that piece of artwork. It's incredible what [Gates] did with [costume designer] Lizz Wolf," Jordan said. "There's a lot of little symbolism to [show] who Donnie is and how he represents himself getting into the ring, and then also the battle between him and his brother."
"Creed III"
©MGM/Courtesy Everett Collection
Majors' Damien has a much more practical presentation throughout, embodying everything that Donnie could be had his life taken a different track. "I wanted this feeling that they were playing chess, you know. That Damien's the opposite side of the coin, and visually just play with all those little things," Jordan said.
Once the fight begins, that's what Jordan, Majors, and the camera focus on. But the costume subtly informs the stakes of the battle for these two chessmen in the ring, knights each fighting for their version of what's right.
Source: Read Full Article