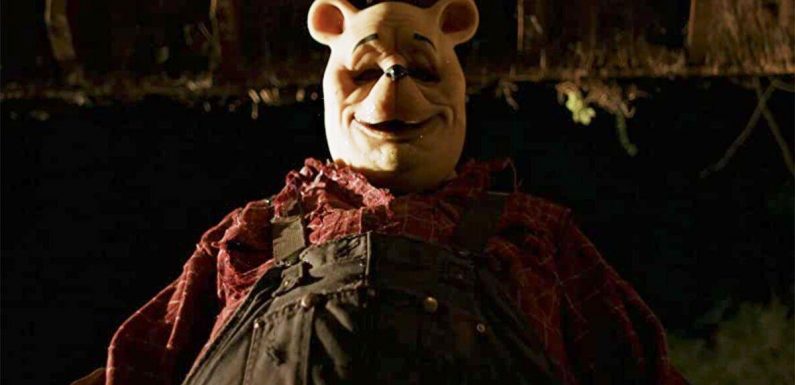 Winnie-The-Pooh: Blood and Honey trailer
We use your sign-up to provide content in ways you've consented to and to improve our understanding of you. This may include adverts from us and 3rd parties based on our understanding. You can unsubscribe at any time. More info
It's the horror movie we spooky fans didn't know we needed. This year saw the release of Winnie the Pooh: Blood and Honey, a dramatic and gory retelling of the heartwarming children's books and TV shows. In this twisted adaptation, Pooh has been abandoned by Christopher Robin, so (naturally) he, Piglet and Tigger go on a bloody rampage. Fans have called it a "childhood ruiner" and the movie's director, Rhys Frake-Waterfield, has claimed viewers have maliciously targeted him.
Frake-Waterfield is a British director who just made his debut with the Winnie the Pooh adaptation. But he was not expecting this kind of reaction.
In a new interview with AFP (via MSN), the filmmaker revealed some fans and viewers have even taken to threatening the star.
He said: "Look, this is mental, I've had petitions to stop it. I've had death threats." The young director added: "I've had people saying they called the police."
Despite the backlash Winnie the Pooh: Blood and Honey has received, it has already smashed box office expectations. The movie was brought to life on a reported $100,000 budget and has already made upwards of $1 million in cinemas.
Frake-Waterfield confessed he only hoped his film "might do a mini theatrical run in certain areas". He was not expecting this kind of success – or retaliation.
He put the film's success on the film's concept. "I really believed in the idea," he confessed. "Other people didn't… and now it's doing all right."
In fact, the gruesome slasher has done so well that Frake-Waterfield is already looking at working on a sequel.
Winnie the Pooh: Blood and Honey 2 was recently announced at the end of January. The news came from the film's Twitter account which released a poster with the caption: "More blood. More honey. #WinnieThePooh2."
Frake-Waterfield has also reportedly "started working" on similarly blood-curdling adaptations of Peter Pan and Bambi.
The English director has confessed producers are essentially throwing money at him to create more films.
"One person literally yesterday was like: 'Do you want a million to make a film? Just tell me the concept and we will just go ahead with it,'" he confessed. "That's really hard to get. It's hard to get funding for any film, but people are starting to really try and engage."
Meanwhile, Twitter is ablaze with people lashing out at the film's use of classic cuddly characters in bone-baring situations.
One sounded off: "Winnie the Pooh was my childhood show and I feel like if I watch that movie I will sob."
Another agreed: "Santa Claus was ruined, Christmas was ruined, Halloween's been sort-of ruined, and now Winnie-the-Pooh has to be ruined. Why not just ruin all our childhood enjoyment all at once! Every cartoon character or children's story ever created or written. Sick!"
Winnie the Pooh: Blood and Honey is in select cinemas now.
SOURCE
Source: Read Full Article