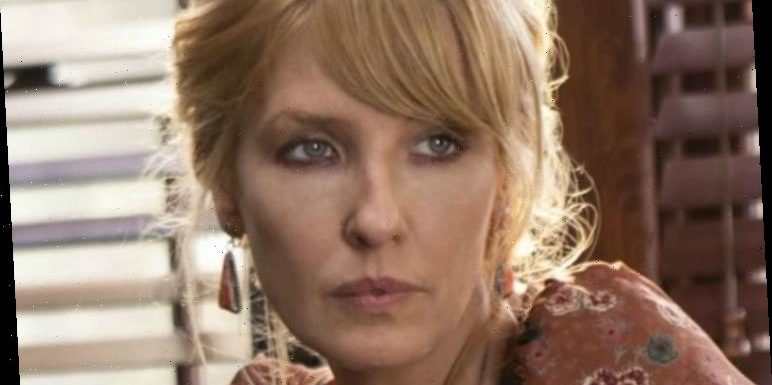 Yellowstone: Cast discuss sacrifices to save John Dutton's ranch
When you subscribe we will use the information you provide to send you these newsletters.Sometimes they'll include recommendations for other related newsletters or services we offer.Our Privacy Notice explains more about how we use your data, and your rights.You can unsubscribe at any time.
Yellowstone season four will be airing on Paramount Network in the near future and fans are keen to see which of the Duttons survived. They were all caught up in attacks by anonymous suspects and an explosive device had been sent to Beth's (played by Kelly Reilly) place of work. Fans believe she may have survived initially, but she could die from her injuries later down the line.
Will Beth Dutton die in hospital?
Yellowstone season four will be airing soon and the premiere should clear up what happened to the Dutton family.
The head of the family, John Dutton (Kevin Costner), was severely injured in a drive-by shooting.
Meanwhile, Kayce (Luke Grimes) was targeted by a group of gunmen and he was severely outnumbered.
While they are both expected to survive, some fans are worried about Beth's future.
Fans have taken to the online platform Reddit to discuss their thoughts on whether she will live.
One fan said: "In my opinion, the writers would have been stupid to kill her character so early if there are to be at least 2 more seasons."
Another said: "I reckon she's alive and the explosion would cause the windows to shatter which would allow Beth to get forced outside landing on the road badly wounded but alive. I think it would be stupid for them to kill such a powerful character."
Some viewers have suggested Beth planted the explosive device herself as part of a wider setup.
She is a fan-favourite character who is admired for her fearless and feisty nature.
One fan suggested she may die from her injuries, as her partner Rip Wheeler (Cole Hauser) is expected to go off the rails.
They said: "I would say she's probably alive but hurt badly, which causes her to pass, which pushes Rip to go off."
Another said: "Maybe the writers felt like she had exhausted all of her storylines? Her falling in love with Rip, the story about her hysterectomy, she was fired from her company. Maybe she really is dead…"
Many viewers believe she will survive as she has been such a pivotal character throughout the melodrama series.
She is expected to adopt a child with Rip, so fans are hoping she pulls through without life-changing injuries.
Either way, Rip is expected to go on a "warpath" in the upcoming season.
DON'T MISS…
Where does Y 1883 fit in the Dutton timeline? Taylor Sheridan explains [EXPLAINER]
Yellowstone: Who is Melanie Olmstead? What happened to her? [INSIGHT]
What happened to Rip's family in Yellowstone? [EXPLAINER]
Actress Reilly has kept quiet regarding her character's ultimate fate, and whether she will be a part of the fourth season.
She confirmed the season had been filmed and she revealed it would be "mind-blowing" and "extravagant", according to Country Cast.
One Reddit user carried out a poll to see whether fans believed she survived the explosion.
A total of 239 people voted 'yes', with 50 believing she did not make it through.
One viewer said: "She's such a strong part of the show I would think she's not dead. I like the coma or badly injured idea. But if they want to come back with a strong shock it's definitely not off the table."
While many are confident she will live to see another day, others feel it would make a great plot twist if she died.
One added: "Part of me thinks her character is too strong and she's got plot armour. There is no other female lead on the show even in her league.
"With that said, killing her off would be incredibly ballsy and would really shake things up dramatically for the series.
"It would fundamentally change both Rip and John Dutton, and would be interesting to see how Jamie reacts presuming he wasn't behind the whole thing. I can see the pros for either scenario."
Yellowstone airs on Paramount Network.
Source: Read Full Article