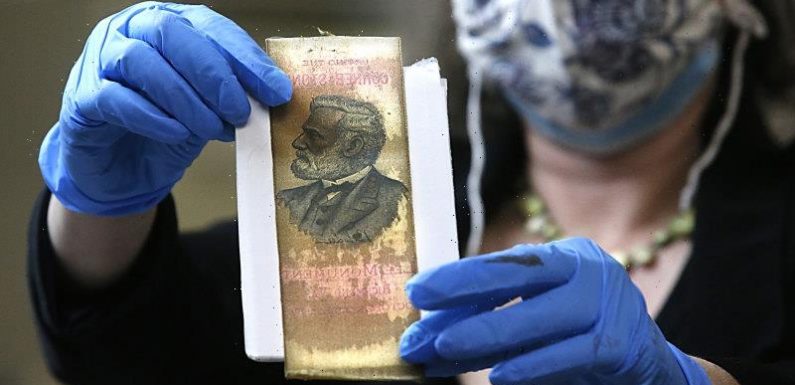 New York: An air of expectancy hung over the gathering: Virginia historical conservators, state officials, reporters and a digital audience of more than 5000 reunited to see if a century-old time capsule held the treasures they anticipated.
"It does appear to be the box we were expecting," Kate Ridgway, a Virginia state conservator, said of the copper container they were about to open, the second found below a Robert E. Lee statue erected in 1890.
Not Lincoln: Gretchen Guidess holds up a ribbon with the likeness of Robert E. Lee, one of the artefacts inside the copper box time capsule.Credit:Richmond Times-Dispatch/AP
A rare photograph of a deceased US president Abraham Lincoln in his coffin was speculated to be the prime treasure nestled in the capsule. "We won't know until you know," Ridgway said.
A team of experts pried open the mottled rectangular box and carefully removed its contents, just as they had six days earlier with a previously discovered time capsule. Over the next two hours, conservators gently unearthed miscellaneous items and Confederate memorabilia hidden from view since 1887.
There were silver coins, their lustre gone; a waterlogged Bible; a compass; paper money; bullets; and yellowed newspapers long out of print. Various items were consistent with donations from past residents of Richmond, Virginia, according to historical records for the capsule's inventory.
The lead conservator for the Virginia Department of Historic Resources, Kate Ridgway, in black, works with other conservators on the time capsule.Credit:AP
But there was no Lincoln photo. Instead, there was a very damp issue of Harper's Weekly, dated April 29, 1865, showing a printed picture of what appeared to be an individual next to Lincoln's body.
"It was not an original," said Sue Donovan, a conservator at the University of Virginia. "There was no photograph, per se."
Julie Langan, director of the Virginia Department of Historic Resources, said that the question over the capsule from 1887 could now be "put to rest". She added she "never necessarily expected" it to contain the original photo of Lincoln.
Finding not one, but two time capsules was the more interesting tale, she noted.
A Minie ball, a type of bullet, included in the time capsule.Credit:Richmond Times-Dispatch/AP
The search for the capsules was prompted by the September removal of the Lee monument. Governor Ralph Northam had ordered the statue to be taken down as a divisive symbol of a system that enslaved human beings. A first box was found and opened last Wednesday, revealing sundries like a damp book of fiction and a photograph of the stonemason who worked on the 680-kilogram granite pedestal.
The random assortment perplexed experts, although its contents fuelled further intrigue and anticipation for the second box, which was found on Monday.
It turned out to be a "fun thing by the people who built the structure," said Grant Neely, a spokesperson for the governor. Northam had avidly chronicled the capsule excavations and openings on social media.
Experts will now work to stabilise the artefacts and dehydrate them, a process that generally involves packets of silica gel but differs depending on the material to be treated.
The artefacts were "more waterlogged than we had hoped but not as bad as they could have been," Ridgway said, adding that the time capsules were actually cornerstone boxes placed in pedestals, since they lacked an intended opening date.
The dual discoveries now leave an open question about ownership. Final ownership of the capsules is still to be determined, one state official said, while noting that it would likely be the state of Virginia.
As for the elusive Lincoln photo, it could still be out there, Langan said.
"That's part of what makes history so interesting," she said. "We don't have it all figured out."
This article originally appeared in The New York Times.
Most Viewed in World
From our partners
Source: Read Full Article