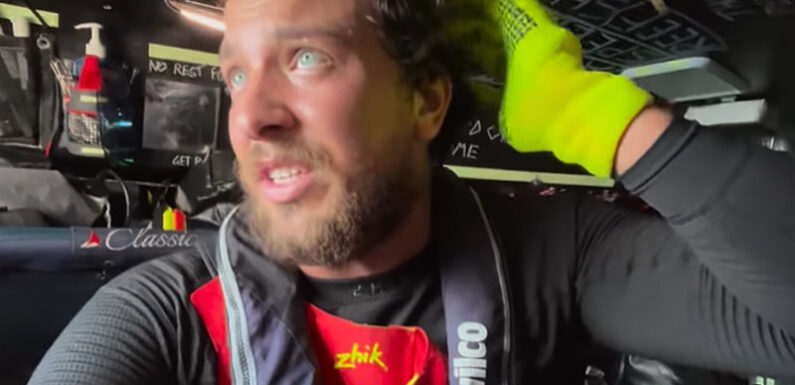 Save articles for later
Add articles to your saved list and come back to them any time.
A young sailor who was attempting to break a solo Australian circumnavigation record has been rescued from rough seas in the Great Australian Bight after he was injured and feared for his life in the Southern Ocean.
Xavier Doerr, a 22-year-old from Queensland, activated his emergency rescue beacon at 4.50pm on Friday after he was hurt in large ocean swells about 630 kilometres west of Kangaroo Island, which is off the South Australian coast.
Xavier Doerr has been rescued from off the South Australian coast.Credit: Instagram
Winds gusting at more than 100km/h and six-metre waves were expected to make any rescue attempt difficult, the Australian Maritime Safety Authority (AMSA) said, even after two merchant vessels were diverted to the yacht's location.
Aerial footage showed the stricken yacht being tossed around by large waves, with its sails bundled on the deck.
At 4.30pm Saturday, Doerr was taken on board the Indonesian freight carrier Theodore JR, which had responded to AMSA's emergency broadcast.
"AMSA is currently providing medical advice and will make plans to transfer the sailor ashore once their condition has been assessed," a spokeswoman for the maritime authority said.
In an Instagram post, Doerr's support crew confirmed he had been rescued – with the sailor pulled onto the freighter – after two earlier failed attempts. His yacht and its contents have been abandoned and left to drift in the Southern Ocean.
Lee Randall, from Doerr's support team, said on a video post to Instagram earlier on Saturday that an air and sea rescue was initiated after the team lost communication with him for an "extended period" on Friday afternoon.
"During that period of time, Xavier undertook the decision to trigger his PLB (personal locator beacon)," Randall said.
"He had sustained some injuries and there had been some water ingress into his boat, and he genuinely feared for his safety.
"It's been a hell of a 24 hours."
Doerr got into trouble while at the helm of his 6.5-metre yacht Waterline as he tried to circumnavigate Australia. The full journey around the country by water is about 7500 nautical miles.
Doerr was about two months into his voyage, but his hopes of completing the fastest non-stop, unassisted circumnavigation of Australia were dashed in June, when his sails were ripped apart by a severe weather system off the West Australian coast and he was forced to dock in Fremantle.
With AAP
Get the day's breaking news, entertainment ideas and a long read to enjoy. Sign up to receive our Evening Edition newsletter here.
Most Viewed in National
From our partners
Source: Read Full Article