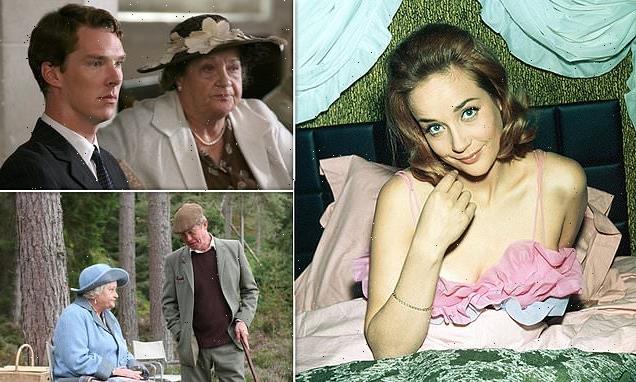 Sylvia Syms dies at age 89: Actress who starred in Ice Cold In Alex, Victim, The Queen and EastEnders passes away 'peacefully' at a care home, her family reveal
The former Eastenders actress 'died peacefully' early on Friday, her children say
The 89-year-old was living in Denville Hall, a care home for entertainment stars 
Actress Sylvia Syms, best known for the films Ice Cold In Alex and Victim, has died at the age of 89, her family said.  
The former Eastenders star 'died peacefully' early on Friday at Denville Hall, a care home in London for those in the entertainment industry, at the age of 89.
A statement from her children, Beatie and Ben Edney, said: 'Our mother, Sylvia, died peacefully this morning. She has lived an amazing life and gave us joy and laughter right up to the end. Just yesterday we were reminiscing together about all our adventures. She will be so very missed.
Sylvia Syms, 89, (pictured) has died, her family has announced 
'We would also like to take this opportunity to thank everyone at Denville Hall for the truly excellent care they have taken of our Mum over the past year.'
Born on January 6, 1934, she was educated at convent schools before receiving dramatic training at the Royal Academy of Dramatic Art. 
She had a huge career, which began in 1954 when she made her stage debut in a production of 'The Apple Cart' in 1954, at the age of 20. 
The talented star went on to feature in more films, including Ice-Cold in Alex, The Moonraker and Woman in a Dressing Gown. 
Sylvia also featured alongside the likes of Sir Cliff Richard in Expresso Bongo and before later working with Dame Helen Mirren in hit film The Queen, where performed alongside the Oscar-winning actress as the Queen Mother.
Sylvia worked alongside some of the biggest stars in the world including Benedict Cumberbatch (right) when they appeared on 'Miss Marple' – Murder is Easy together in 2008
She is pictured with Adam Ant in Joe Orton's Entertaining Mr Sloane at the Manchester Royal Exchange.
Other huge star Sylvia has performed alongside include Benedict Cumberbatch in the 2008 rendition of 'Miss Marple' and Cara Delevingne in short film Timeless.
And she also turned her hand to soap acting, appearing as Olive Woodhouse in Eastenders from 2007 to 2010.  
Sylvia was married to Alan Edney from 1956 until 1989. The pair had two children, daughter Beatie, 60, and son Benjamin. 
Source: Read Full Article