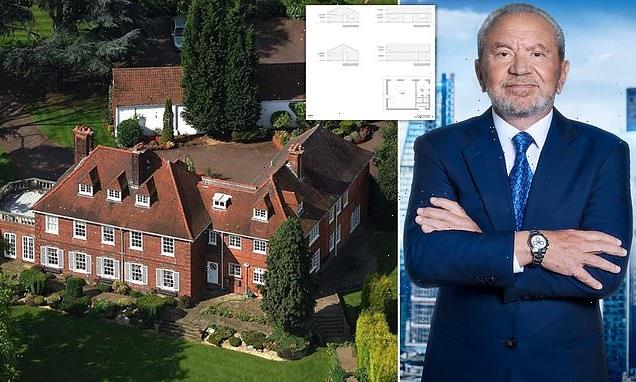 EXCLUSIVE: Lord Sugar prepares for fresh council battle as he submits new plans for a security suite with a cinema and games room at his £8.5m Essex mansion
Lord Alan Sugar has recently submitted several plans for his 10-acre Essex estate
The 75-year-old is arguing that the council wrongly rejected his previous plans
Lord Sugar is preparing to fight council officials once more after submitting new plans for a security suite with a cinema and games room in the grounds of his Essex mansion.
The 75-year-old Apprentice host is arguing that his previous plans for an outbuilding featuring a gym, study and bathroom were wrongly rejected by council chiefs who ruled it was big enough to be a two bedroom house for four people.
He has now drawn up plans for a single storey 'garden room' which his agent describes as a security office with toilet and kitchen facilities, a services cupboard, cinema and 'games entertainment room'.
The new plans have been submitted to Epping Forest District Council, along with a report by Lord Sugar's agent which criticises the council's decision to reject the earlier proposal.
Lord Alan Sugar, 75, has submitted a new plan for a security suite with a cinema and games room in the grounds of his Essex mansion
The single storey 'garden room' is described as a security office with toilet and kitchen facilities, a services cupboard, cinema and 'games entertainment room
 Several other planning applications for the historic Chigwell mansion (pictured) have been submitted – with Lord Sugar arguing some were wrongly rejected
The application is the latest in a series of proposals to carry out major works at the business tycoon's rambling home set in ten acres of grounds with a tennis court, swimming pool and walled garden in Chigwell, Essex.
READ MORE: Lord Sugar's daughter begins renovating £8.5m Essex mansion he gave to her to build a spa, yoga studio and DOG ROOM for the family pet 
Plans were drawn up in 2021 to demolish his 115-year-old house and build a new one with a swimming pool, yoga studio, hair salon, cocktail bar and even a room devoted to his dog.
The proposal, submitted in the name of Lord Sugar's daughter Louise, was dismissed by planners who ruled that the house was too big and would cause significant harm to the green belt land.
Chigwell parish council also opposed the plans, describing them as 'inappropriate' and an 'over-development' of the area.
Council bosses later approved a plan to demolish an existing conservatory and build a two storey rear extension with a 70 square metre footprint and a single storey side extension on the house with a footprint of 48 square metres.
A plan for another outbuilding at the other end of the garden, around 30m from the main house, was also approved.
But Louise's application for a second outbuilding with a gym, study and bathroom around 100ft from the main house was rejected due to the size of the rooms, the facilities and its position being 'some distance from the main house'.
Apprentice star Lord Sugar gave his Essex mansion to his daughter Louise (pictured together) in 2021. She has since started renovating the home
Louise's plans to revamp the home will see the mansion increase in size by a third. Pictured: Proposed plans on ground floor (left) and first floor (right). The ground floor even has a spa area
On the second floor (pictured) there is space allocated for 'sons Suite' which includes a dressing room, ensuite, L-shaped sofa and a personal study
Lord Sugar's London-based agent Firstplan is now trying to argue that the 70 square metre outbuilding should have been permitted under planning rules as it was 'required for purposes incidental to the enjoyment of the main dwelling'.
The agent described the reasons for the council's refusal as 'somewhat vague' and argued that highlighting the distance of the outbuilding from the house was 'irrelevant'.
Firstplan has submitted its arguments in a document accompanying the planning application for the security office outbuilding which is slightly nearer to the house, being just 25m away from it.
The statement says: 'The council's primary concern in relation to the proposed outbuilding seems to be whether it will be used as separate living accommodation.
'There is absolutely no intention of creating a separate dwelling house in this building.
'If the building was used for purposes not ancillary to the main dwellinghouse, including as an independent home, the council would have the power to take enforcement action.
'With regard to the security office – this is very clearly and indeed can only be considered as incidental to the main dwellinghouse because its very existence is related to the security of the main dwellinghouse and property.
'Quite simply, the intrinsic relationship between the two is emphasised by the fact that were the dwellinghouse not there, there would be no need for a security office. The property is very large and the occupier is a well-known person.'
Lord Sugar's sprawling home will have a gross internal area of 951 square metres once refurbishment and the extensions are complete.
The plans, which can be seen on Epping Forest District Council's documents, show a room dedicated to the family dog. Initial plans that were rejected by the council last year also featured a dog room for Lord Sugar's Bernedoodle dog called Winston (pictured)
His agent said that the proposed security outbuilding finished in cedar shingle cladding and roof tiles would simply be 'ancillary accommodation', equal to just seven per cent of the total floor area of the main house.
Firstplan added: 'This is clearly not out of context with the scale of the dwelling – indeed, an outbuilding of this size is entirely in keeping with a dwelling of this size, with large relaxation and entertaining areas and, importantly, a security office.
'Garden outbuildings are very common – increasingly so since the pandemic. Indeed, very substantial garden outbuildings incorporating private swimming pools or indeed staff/family accommodation are common across the UK in dwellings of this size and nature.'
Lord Sugar was given planning consent three-years-ago to bulldoze his existing home, which dates back to 1908, and build two new ones in its place, but the plans were never proceeded with.
A year later his daughter, thought to be acting on his behalf, submitted the ill-fated plans for a single new build with a garage block with four bedrooms as staff accommodation above.
The new house would have boasted an entertainment hall, TV room and even a room dedicated to Lord Sugar's Bernedoodle dog called Winston, a cross between a poodle and a Bernese Mountain Dog.
As well as Winston's Room, there would also have been a new swimming pool, basement steam room, a gym, cinema and yoga and free weight studio.
But planners threw out the plans, saying they would cause 'significant' harm to the Metropolitan green belt land.
The original 17th Century manor house on Lord Sugar's land was once owned by Sir Eliab Harvey Nugent, commander of HMS Temeraire at Trafalgar.
Following his death, it was left to his daughter Elizabeth who married Thomas William Bramston of Skeens Hall Essex.
The property then passed to his son, Thomas Harvey Bramston, until 1881 when it passed to Alfred Savill.
His son Lawrence Savill, a chartered surveyor and one of the founders of the estate agents Savills, demolished the manor and replaced it in 1908 with the house which still stands today.
Epping Forest District Council is set to rule on the new outbuilding plans next month. No neighbours have so far objected.
Source: Read Full Article