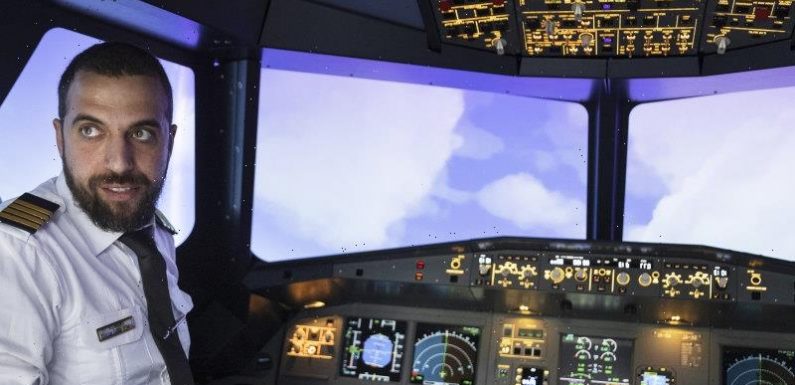 Ahmed Abdelwahed, the aviation electrical engineer who assembled a flight simulator at the rear of his city convenience store, may have to leave Australia after his visa application was turned down.
Mr Abdelwahed has been swamped by the interest in his self-assembled flight simulator since the Herald last month published the unlikely story of its installation in an EzyMart store. His Facebook page grew by 1000 followers in a single week. His website was not prepared for the sales.
Ahmed Abdelwahed fears he will have to return to Egypt after his application for a global talent visa was turned down.Credit:Brook Mitchell
But just as sales are taking off, it appears his hopes have been grounded. The Department of Home Affairs advised him last week that he had not met the requirements for the Global Talent Visa program. Specifically, he had not demonstrated that he had an internationally recognised record of exceptional and outstanding achievement.
His current visa will expire in a month.
"I think my application was very strong, but I know they have hundreds of thousands of applications," Mr Abdelwahed said. "It may be because my application was a year ago, they didn't get the updated information."
Mr Abdelwahed repaired all types of European and US aircraft when he was employed by Egypt Air and travelled the world signing pre-departure safety forms. Since lodging the original visa application, he has been offered a job from an aircraft consulting firm that provides airworthiness reviews and audits to aircraft operators.
Just as sales are taking off, it appears Ahmed Abdelwahed's hopes have been grounded.Credit:Brook Mitchell
He has sent a new expression of interest, highlighting the job offer and seeking an urgent review of the decision.
"I don't want to challenge anyone, I just need my application to be checked as I am a perfect fit for that visa and my time is very critical. Australia needs immigrants and I will pay tax and hire people in the business."
Mahamoud Mohamed, a station maintenance manager with Qatar Airways at Sydney Airport, said it was a difficult time to find work in the aviation industry, as most airlines had laid off staff. He met Mr Abdelwahed through aviation engineering circles in the Middle East and nominated him for the Australian visa.
When Mr Abdelwahed announced last year that he planned to invest in a flight simulator, Mr Mohamed thought it was a crazy plan. The equipment cost $100,000 and had to be ordered from Britain, arriving in 2000 parts that Mr Abdelwahed then needed to assemble himself. The world was also in the grip of a pandemic.
"Everybody was hesitant to do anything at that stage and nobody knew what would happen," Mr Mohamed said.
"I said to him, 'Are you sure you want to do this?' But he was definitely sure because he was passionate to do this. I really admire him for what he did."
The federal government is considering a hike in the migration rate to fuel the post-pandemic recovery and NSW Premier Dominic Perrottet has been pushing for a "big NSW".
Mr Mohamed said it was likely that the migration officials had not noted Mr Abdelwahed's job offer. "He's going to be a good asset as a taxpayer and he's already doing his own business."
Mr Abdelwahed's business partner, Alaa Moaz, who worked with him at Egypt Air and encouraged him to move his family to Australia in the first place, said they were continuing to explore visa options. Mr Abdelwahed was a highly skilled engineer, he said.
"It's a very stressful job," Mr Moaz said. "All those people up in the air – on your signature."
The Morning Edition newsletter is our guide to the day's most important and interesting stories, analysis and insights. Sign up here.
Most Viewed in National
From our partners
Source: Read Full Article