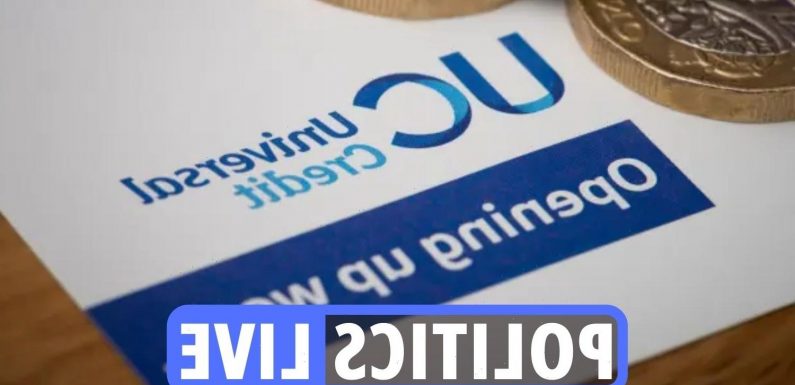 HUNDREDS of thousands more Brits will be entitled to Universal Credit amid a massive expansion of the welfare state's reach.
Single parents paying the higher rate of tax will be entitled to the benefit for the first time as the Government extends help to the middle classes.
It comes after Rishi Sunak's Budget shake-up – which will mean a greater number of workers earning more than £50,000 can now claim the state support.
Some 600,000 extra families will be entitled to receive support, according to the Institute for Fiscal Studies.
Mr Sunak reduced the Universal Credit taper rate at the Budget.
It means those who apply can keep more of their benefits, even as their earnings rise.
Read our politics live blog below for the latest news & updates…
Louis Allwood




Bill passes on sewage

The government's Environment Bill has been approved by Parliament, following a lengthy battle over the amount of sewage released into rivers.

The House of Lords had proposed putting a legal duty on water firms to reduce untreated sewage discharges.

Ministers rejected the amendment, but following pressure from peers and campaigners, the government put forward its own alternative.

MPs and peers have now voted for the plan but some say it is not enough.

Louis Allwood




More than 11,600 people DIED after 'catching Covid in NHS hospitals after visiting due to other illnesses'

MORE than 11,600 people died after catching Covid in NHS hospitals, shocking data reveals.

Figures show thousands of patients who went into hospital for unrelated illnesses contracted the bug, with fatal consequences.

Data shows 11,6888 people who died on wards after testing positive for the virus were likely to  have caught it there.

The shocking figure accounts for one in eight Covid deaths in hospital.

MPs branded the numbers a "scandal" as they sparked fresh calls for compulsory jabs for NHS staff amid fears of a winter surge.

Former Health Secretary Jeremy Hunt MP, now chairman of the health and social care select committee, told The Telegraph: "These numbers are truly shocking."

Louis Allwood




What role does lobbying play in politics?

Lobbying is a major part of politics, with some MPs being approached by lobbyists hundreds of times a week.

But what exactly is lobbying and how can Brits lobby their MP? Here's all you need to know…

Simply put, lobbying is any attempt by individuals, charities, organisations, pressure groups and businesses to influence the decisions of government.

According to the UK Public Affairs Council it is: "In a professional capacity, attempting to influence, or advising those who wish to influence, the UK Government, Parliament, the devolved legislatures or administrations, regional or local government or other public bodies on any matter within their competence."

To prevent corruption, and people using Government ties for personal gain there are rules and codes of conduct for lobbying.
Louis Allwood




MPs outside earnings

Top earner Sir Geoffrey Cox unveiled a new £400,000 a year gig with a law firm, while Health Secretary Sajid Javid raked in £366,000 during a brief spell on the backbenches.

Ex-PM Theresa May has earned £760,000 from after-dinner speeches since quitting No10.

The Sun probe revealed 11 of the dirty dozen are Tories, with Lib Dem leader Sir Ed Davey in 12th spot.

MPs' outside earnings have been thrust into the spotlight after Boris's attempt to save Mr Paterson from a 30-day suspension after he lobbied for private companies that paid him more than £100,000.

Raging Labour leader Sir Keir Starmer accused the PM of leading his party "through the sewers and the stench lingers".

He added: "Enough is enough. We will not stand by while he trashes our democracy."

Read more here.

Louis Allwood




 Israel's UK ambassador is mobbed by hard-left students yelling 'smash her car for free pints'

THIS is the moment Israel's UK ambassador was mobbed by pro-Palestine students as she was forced to flee from a university.

Tzipi Hotovely was evacuated by bodyguards from the London School of Economics (LSE) campus as a crowd of hard-left activists swarmed towards her.

Dozens of protesters tried to storm the building, where the diplomat had been invited to take part in a debate.

A baying mob are heard booing and jeering as one protester yells "aren't you ashamed" while a line of police officers holds them back.

Ms Hotovely, clutching bouquets of flowers, was bundled into a Jaguar and whisked away moments before a protester who surged towards her car tried to break through police lines.

A Land Rover carrying the ambassador's security guards was forced to drive through the crowd of protesters.

Louis Allwood




How can I watch Boris Johnson's announcement?

It will be streamed on The Sun's YouTube channel and across all major new channels this afternoon.

Louis Allwood




What will Boris Johnson announce?

Boris Johnson set to update the public on the negotiations taking place at the climate summit.

It is understood that a draft document that sets out a goal of net-zero emissions is being scrutinised.

However, the press conference is likely to be dominated by the furore over Tory sleaze and MPs' second jobs.

Boris is set to face difficult questions about ex attorney general Sir Geoffrey Cox voting from the British Virgin Islands.

He also faces being pressed on the fact he has refused to personally apologise for his handling of the Owen Paterson case.

Tory vice-chairman Andrew Bowie has reportedly resigned because he's no longer prepared to defend the Government.

Louis Allwood




Boris Johnson announcement

Johnson's speech is set to take place at 16:30 pm from the summit in Glasgow, Scotland.

His appearance will wrap the 26th meeting of the UN Climate Change Conference of the Parties, which started on Sunday October 31, 2021.

This year's meeting has been attended by over 100 world leaders who have pledged to play their part in tackling global environmental issues.

Johnson's speech will take place in front of members of the UK media.

Louis Allwood




Guidelines for safe lobbying

Guidelines are in place to ensure that Parliament offers a safe, secure and equal opportunity for all those wishing to lobby their MP.

Here are the guidelines according to the Parliament website: 

Lobbyists may bring in literature relevant to the subject that they hope to discuss. They may offer this literature to the Members of Parliament that they meet but should refrain from delaying Members of Parliament or parliamentary staff from their duties. Certain items are not permitted on the parliamentary estate, see a list of prohibited items.
Lobbyists may be requested to remove or cover items of clothing with political slogans especially if these are offensive.
Lobbyists may not use Central Lobby as a platform to protest.

Louis Allwood




Carer, 36, who sobbed after losing her job for refusing Covid vaccine defends decision

A CARER who sobbed as she finished her final shift when she lost her job after refusing the Covid vaccine has defended her decision.

Louise Akester, 36, had worked in the care sector for 14 years but was fired from her three-year role at Alderson House care home in Hull last month.

According to new government rules, all care workers in adult care homes who do not have medical exemptions must be double jabbed against the virus from November 11.

In a clip filmed on Friday afternoon, Ms Akester is seen in tears minutes after finishing her very last shift.

Now she has defended her decision because she "doesn't trust the vaccine yet."

She told Good Morning Britain: "I feel lost. I don't know what to do with myself. I've done it for such a long time. I don't know what I'm going to do now.

"I don't trust the vaccine yet. I think I want to wait until we've got long term data and evidence coming back ."

Louis Allwood




Commuters and shoppers face Christmas chaos as rail union may STRIKE

COMMUTERS and shoppers could face Christmas chaos in the capital as a UK rail union consider striking over the festive period.

Almost 99 per cent of Tube drivers voted in favour of taking industrial action as they rise up against plans to change pensions and working conditions.

Members of Aslef are backing a walkout during the busiest time of the year as they rally against the proposals by Transport for London (TfL).

They said "slashing" their pension pots is a ploy by the Government and TfL to "plug" a funding deficit brought on by the pandemic and the subsequent reduced number of passengers.

A staggering number of members voted to strike if the plans are pushed through without negotiation as the union said they would be "tearing up our agreed working conditions".

No specific dates have yet been pinned down for the potential industrial action, but it is reported that Aslef may be considering the Christmas period in a bid to ramp up the pressure on TfL.

Louis Allwood




New Covid infection 'clusters' emerge as 65 areas see cases rise

CORONAVIRUS infections are still rising in 65 areas in the UK and this map reveals if your local authority is one of them.

Small clusters of infections have started to emerge in parts of both Scotland and Wales in the last week.

There are 377 local authority areas in the UK with 308 having seen a fall in cases in the seven days up to November 5, with the map above showing most recent infections.

Torfaen in Wales has the highest rate in the UK, with 663 new cases in the seven days to November 5 – the equivalent of 699.1 per 100,000 people.

This is down from 756.1 in the seven days to October 29.

More infection rates can be found here

Louis Allwood




Brits set to need booster jab to count as 'fully vaccinated'

SAJID Javid today confirmed ministers will look at updating the definition of fully vaccinated to include booster jabs.

The health secretary said the waning effectiveness of the vaccine over time means the change may be needed "in due course".

His remarks raise the likelihood over 50s will need to have had the top up shot if they want to travel abroad next summer.

He said: "In due course we will have to look at what constitutes vaccination. It's something we have to keep under review.

"I can't rule that out and we know now that the vaccines do wane and it's important that where necessary people get a top up."

But he added: "We're not looking at that yet. We are very focussed on our booster programme."

His remarks come after it emerged Brits who fail to get the third Covid jab will face renewed travel restrictions.

Louis Allwood




UK daily Covid deaths

UK DAILY Covid deaths hit 262 yesterday – which is the highest rise in a week.

But coronavirus cases across the UK are still holding steady at 33,117 as brave Brits continue to get their third jabs in the battle against the virus.

Monday, the number of Covid deaths was 57 as figures continued to decline this week.

But the number of fatalities linked to Covid has shot up again yesterday – with 262 deaths reported.

The total number of Covid deaths since the pandemic began now stands at a grim 143,124.

Louis Allwood




Almost 32,000 completely unvaccinated care home workers face SACK from tomorrow

THOUSANDS of care home staff have until tomorrow to get double-jabbed — or be fired.

The number of unvaccinated workers has dropped from 88,000 to 32,000 since the mandatory vaccination policy was announced in the summer.

But bosses yesterday warned social care could be plunged into crisis if those unjabbed staff walk out.

They said hundreds of homes could be forced to close due to mass staff shortages — with one saying around 15,000 residents would be left homeless.

And Mike Padgham, who runs Saint Cecilia's Care Group, in Scarborough, North Yorks, called it the "worst crisis I've seen in 30 years in the sector".

He said: "Several hundred homes may have to close their doors because they don't have enough staff to operate safely. Where will those thousands of residents go?

"They can't go into hospitals and they can't live in their own homes without care.

"Why not let us get through the winter and give people a little longer to choose to be vaccinated?"

Louis Allwood




UK politics round up

UK DAILY Covid deaths have hit 262 yesterday – which is the highest rise in a week
Boris Johnson's slap down of Emmanuel Macron over fishing 'helped prevent trade war with France'
NHS staff will be forced to get Covid vaccine with deadline for BOTH jabs by spring, Sajid Javid confirms

Britain sparks a new row over vaping

BRITAIN has sparked a fresh row with nannying bosses at the World Health Organisation – who are trying to ban VAPING.

Anti-smoking charities have taken aim at the controversial global health chiefs for trying to outlaw the safer alternative to smoking – after the WHO said they consider them as harmful as cigarettes.

Action on Smoking and Health UK chief Clive Bates said the WHO will "protect the cigarette trade from competition."

Britain will be able to stand up to the health officials for the first time thanks to Brexit at a crunch smoking summit on health next week.

Who will be able to claim Universal Credit?

A quarter of all working-age families can now claim.

And a single parent with two children who pays a monthly rent of £750 can now earn just under £52,000 before losing their ability to claim the benefit.

That's a huge rise from £44,500 before the Budget.

A couple with just one earner in the same circumstances can make almost £59,000 in income before being cut off, a rise from £49,300 previously.

600,000 more Brits entitled to Universal Credit under Chancellor's welfare shake-up

HUNDREDS of thousands more Brits will be entitled to Universal Credit amid a massive expansion of the welfare state's reach.

Single parents paying the higher rate of tax will be entitled to the benefit for the first time as the Government extends help to the middle classes.

It comes after Rishi Sunak's Budget shake-up – which will mean a greater number of workers earning more than £50,000 can now claim the state support.

Some 600,000 extra families will be entitled to receive support, according to the Institute for Fiscal Studies.

Mr Sunak reduced the Universal Credit taper rate at the Budget.

It means those who apply can keep more of their benefits, even as their earnings rise.

The Telegraph reported yesterday that some seven million households will be entitled to Universal Credit after the Chancellor's tweaks.

Best ways Brits can lobby their MP

There are many ways Brits can lobby their MP or a member of the Lords.

Parliament's website list the four best ways of lobbying as the following:

Sending emails or letters
Organising and presenting a petition or survey
Providing information or research to back up your case
Inviting an MP or a member of the Lords to a meeting or event where they can find out more about the issue

Macron fresh humiliation

Emmanuel Macron faced fresh humiliation in his fishing crusade against Britain.

The French leader's bid to hijack the NI border talks was slapped down by fellow EU states.

He demanded Brussels use the tense negotiations over Brexit red tape to turn the screw on Boris Johnson.

Paris wants tariffs on UK fish exports and our trawlers banned from EU waters if No 10 rips up the NI Protocol.

But other capitals roundly dismissed the plan. One source branded the plot "absolute nonsense".

Peace talks between Brexit chief Lord Frost and French minister Clement Beaune will continue later this week.

Louis Allwood




Germany vows to prevent trade war between Britain and the EU

GERMANY has promised No 10 it will prevent a trade war erupting between Britain and the EU.

Berlin has given "assurances" the bloc won't bin the Brexit deal over rows on fishing and Northern Ireland.

Poland and Greece are also said to have ruled out tit-for-tat tariffs, according to sources in Brussels.

Negotiations on NI border red tape are going "extremely badly" according to a diplomatic note seen by The Sun.

The bloc is split with one camp favouring a "proportionate" response if the UK unilaterally scraps checks. But others, including Ireland and France, want to see the entire trade deal canned in that scenario.

Louis Allwood




Sir Geoffrey Cox slammed for siding with 'those accused of corruption'

SIR GEOFFREY Cox was slammed for siding with "those accused of corruption" last night after it emerged he skipped Parliament to work for a Caribbean government being probed for a slew of crimes.

The embattled Tory ex-Cabinet minister is under fire for raking in hundreds of thousands of pounds for legal advice dished out to the British Virgin Islands.

He took advantage of lockdown rules to vote remotely so he could stay in the overseas territory dishing out lucrative advice to the government in an inquiry over allegations of criminal activity.

The shocking revelations has seen the knives came out for multi-millionaire Sir Geoffrey back home. 

A senior diplomatic source told The Sun: "Cox has spent his time in the Caribbean trying to hinder an investigation systemic corruption, cronyism, jury intimidation and misuse of public funds.  It's shocking he's chosen to put himself on the side of those accused of corruption."

Louis Allwood




PMavoids Tory party woes

The PM was last night accused of fleeing his Tory party sleaze woes by bolting back to the COP26 summit.

His dodge came hours after he was branded chicken on Monday for swerving a Commons showdown.

Last night, the PM canned plans for a Cabinet away day tomorrow at his country retreat of Chequers and will instead host an emergency Downing Street get-together.

Louis Allwood




Boris Johnson to hold press conference at 4.30pm TONIGHT

BORIS Johnson will hold a press conference from Glasgow tonight as he faces a whirlwind of Tory sleaze allegations.

The PM will update the nation after dashing back up to Scotland for the final few days of the COP26 climate summit.

He will look to bang heads together and urge world leaders to sign up to even more ambitious climate aims.

But his 4.30pm press conference is likely to be dominated by the furore over Tory sleaze and MPs' second jobs.

Boris is set to face difficult questions about ex attorney general Sir Geoffrey Cox voting from the British Virgin Islands.

He also faces being pressed on the fact he has refused to personally apologise for his handling of the Owen Paterson case.

Source: Read Full Article