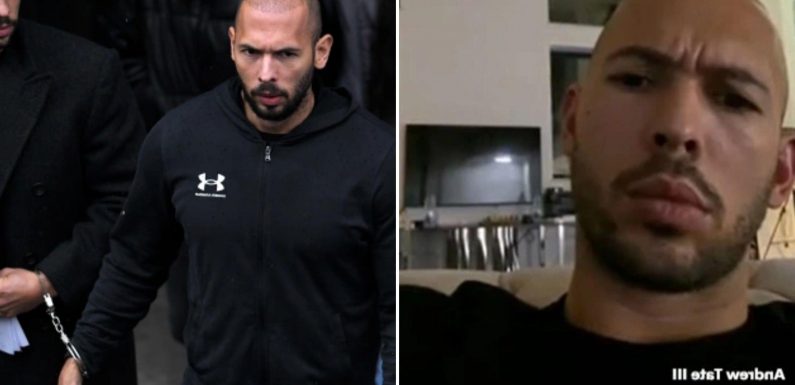 ANDREW Tate is still flogging online shout-outs to fans for £4,000 a pop on Cameo despite being locked up in a Romanian jail.
The disgraced influencer is being held as part of a probe into human trafficking, rape, and organised crime – but he is still listed on the celeb-messaging site.
It claims he is available to film clips that would be perfect gifts for "birthdays, graduations and even the holiday season".
According to the site, fans who fork out £4,100 can even get a "pep-talk" from Tate – who is currently in a "hellhole" detention centre.
It's thought his whopping fee makes him the second most expensive celeb on the personalised video site – behind only Floyd Mayweather who charges a hefty £12,267.
It comes after The Sun revealed YouTube is still promoting Tate's business despite him facing the horrifying charges.
MORE ON TATE
Andrew Tate got his 'name tattooed on trafficking victims & called them slaves'
What we know about Andrew Tate's religion
Adverts for the disgraced influencer's programme, The Real World, were seen on the video-sharing platform this week.
Tate has spent years creating a warped empire promoting toxic worldview which has infected legions of fans through TikTok.
Masquerading as lifestyle advice, much of the content is actually highly sexist and promotes violence against women.
His influence has had a worrying spread amongst teenage boys, with one UK MP saying he is "brainwashing" children.
Most read in The Sun
Much-loved comedian dies aged 44 after six-year ALS battle
Mark Wright in tears as he recalls moment he fought to save man's life
Body of teen boy was found buried in makeshift grave with 20 stab wounds
90s pop hunk unrecognisable in panto after beating drugs – do you know who?
Andrew and his brother Tristain, along with two female suspects, were detained in Bucharest by Romanian anti-organised crime prosecutors pending a criminal investigation last month.
One of the brothers was reportedly rushed to hospital while in custody earlier this month.
Andrew and Tristan are accused of recruiting women on social media platforms and persuading them to travel to their £600k villa on the outskirts of the country's capital.
The brothers would allegedly falsely claim to be in love with the young women, before making them perform sexual acts on webcams.
Women were forced to film porn videos in the compound and were kept under 24/7 house arrest, according to Romanian investigators.
Prosecutors also said one of the brothers raped one of the victims in March of last year, which is when the investigation started.
Court transcripts reveal how Tate would try to force women to get his name tattooed on them – claiming that at least two already had done so.
If the court decides the investigation needs more time, prosecutors can seek approval for further extensions of up to 180 days of detention under Romanian law.
comes after one of the brothers was reportedly rushed to hospital while in custody.
According to the Romanian news channel Antena 3 CNN, one of them was taken to see a doctor after a "routine medical check".
They reportedly told a medic about a pre-existing health issue before they were taken to a hospital in the Romanian capital of Bucharest.
But Andrew later shared a link to the article on Twitter with a cryptic message.
He wrote: "The Matrix has attacked me.
"But they misunderstand, you cannot kill an idea. Hard to kill."
Controversial Tate initially gained fame after a short-lived appearance on Big Brother.
He was dumped from the reality show after alleged footage of him beating a woman emerged online.
Since then he has sparked revulsion and outrage with a wave of content online.
Washington DC-born Tate was accused of spreading hate towards women as he built his profile.
The influencer was banned from Twitter in 2017 for violating its terms of service with his controversial comments.
He has previously referred to women as "property" and said they should bear "some responsibility" if they are sexually assaulted.
In August, Tate was banned from a range of other social media sites.
After being contacted by The Sun, Cameo listed Andrew Tate's profile as "temporarily unavailable".
Read More on The Sun
James Martin reveals why you should never store eggs in the fridge
I went to the UK's biggest Home Bargains – there was so much new stuff
A spokesperson The Sun: "Cameo does not endorse any individual talent or any talent's views. All talent on Cameo must adhere to our Terms and Community Guidelines.
"These help make our service safe for everyone by expressly prohibiting users from engaging in hate speech, the incitement of violence, harassment, illegal activity, and other restricted conduct on Cameo."

Source: Read Full Article