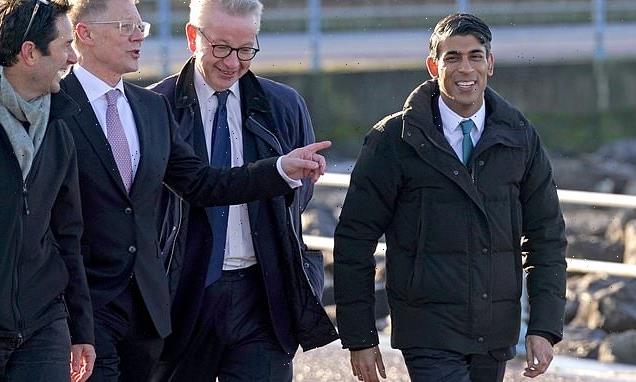 'Lend us 20 quid for my heating bill, Rishi': Watch as PM Sunak is heckled on Morecambe walkabout over cost-of-living crisis – as he suggests Tory MPs who want immediate tax cuts are 'idiots'
The Prime Minister was on a walkabout in Morecambe, Lancashire, this morning 
Local shouted 'lend us 20 quid for my heating bill, Rishi' in reference to costs
Later at Q&A session PM suggested anyone wanting rapid tax cuts were 'idiots'
 MPs including Iain Duncan-Smith and John Redwood called for cuts yesterday
Rishi Sunak was heckled over the cost-of-living crisis today – as he suggested Tory MPs who want immediate tax cuts to boost growth are 'idiots'
The Prime Minister was on a walkabout in Morecambe, Lancashire, when a local shouted 'lend us 20 quid for my heating bill, Rishi.'
He is facing pressure to help those struggling most to pay their bills, especially gas and electricity, as inflation remains above 10 per cent.
The Prime Minister did not respond to the shout, which was picked up by television cameras, and it was not clear if he heard it.
Later, at a PM Connect question and answer session with locals, Mr Sunak suggested the audience would understand why he cannot cut tax immediately because they are 'not idiots'. 
Asked when taxes would come down he said: 'When I was Chancellor I also really preferred it when the Prime Minister didn't comment on tax policy.
'I'm a Conservative, I want to cut your taxes … I wish I could do that tomorrow, quite frankly, but the reason we can't is because of all the reasons you know. You're not idiots, you know what's happened.'
The Prime Minister was on a walkabout in Morecambe, Lancashire, when a local shouted 'lend us 20 quid for my heating bill, Rishi.'
The Prime Minister did not respond to the shout, which was picked up by television cameras, and it was not clear if he heard it.
He said the pandemic and the war in Ukraine had left the public finances 'not where it needs to be'.
He said 'it takes a bit of work to get there' but he vowed to make the economy stronger so the NHS and schools can be funded, secure lower interest rates and get a 'grip of' inflation.
'Trust me, that's what I'm going to do for you this year, that's what we're going to do while I'm Prime Minister and if we do those things we will be able to cut your taxes,' he added.
The PM has faced calls from some of his own backbenchers to cut taxes as soon as possible to boost economic growth.
Sir Iain Duncan Smith has said the Conservatives will 'not have a hope' of winning the next election without tax cuts
GDP data has also been holding up marginally better than analysts had expected, potentially avoiding a technical recession in the last quarter of 2022
Inflation dropped slightly in December after spiralling to a 40-year high in October 
He and Chancellor Jeremy Hunt was warned last night that failure to cut taxes in the upcoming Budget will cost his party the next election.
Tory MPs reacted with alarm yesterday when Treasury insiders confirmed the Chancellor was planning a 'slimmed-down' statement on March 15, with no proposals for tax cuts.
Mr Hunt has warned ministers that the public finances will be no better in March than they were in November when he raised taxes to a post-war record – and cutting them now would prolong the pain of 'stubbornly high' inflation.
He is expected to unveil a plan for growth but sources said there was 'no money' for tax cuts to help kickstart the flagging economy.
The hardline stance triggered warnings from Conservative MPs that the Chancellor needed to return to the party's traditional tax-cutting agenda this year.
Former leader Sir Iain Duncan Smith said: 'We have got to get growth going. This Government will sink without trace if we don't get growth going by the middle of this year – we won't have a hope of winning the election. We are already over-taxed and it is quite clear we cannot tax ourselves out of a recession.'
Fellow Tory Sir John Redwood also warned tax cuts were essential – and said some could even boost overall revenues by triggering growth. He added: 'We cannot address the issue of growth without some tax cuts. They must be affordable, of course – but the best way to bring borrowing down and boost revenues is to grow the economy.'
Source: Read Full Article