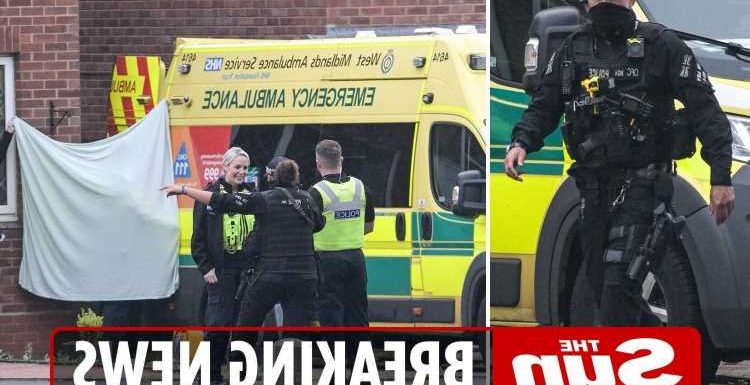 A NINE-DAY manhunt for a suspect accused of kidnapping and stabbing a woman has ended with an arrest tonight.
Detectives searching for Lee Martin have confirmed they've arrested the 41-year-old suspect after horror unfolded at a home in Solihull, West Mids.
The woman managed to escape after suffering injuries in the terrifying assault. 
Officers launched a huge search for Martin after he allegedly fled in a car during an attempt to arrest him the following day.
They told members of the public that he could be "dangerous", warning: "We urge anyone with information about his whereabouts not to approach him.
"We believe he is dangerous and could be armed."
Crimestoppers offered a £5,000 reward for information which led to an arrest.
And tonight, police confirmed their suspect – who is wanted for a string of alleged offences – has been arrested in Ladywood, Birmingham.
Armed police surrounded a home in the inner-city district at around 6pm.
The suspect was led into the back of a waiting ambulance outside the property.
PCs hid him from photographers with a sheet as he got into the back of the vehicle.
Marked cars then escorted the ambulance to hospital.
A spokesperson from West Mids Police said: "Police searching for wanted Lee Martin have arrested a 41-year-old man in Ladywood.
"The arrest followed a region-wide manhunt involving a large number of officers and widespread media and social media appeals.
"The 41-year-old will be taken into police custody for questioning."
We pay for your stories!
Do you have a story for The Sun news desk?
Email us at [email protected] or call 02077824104. You can WhatsApp us on 07423 720 250. We pay for videos too. Click here to upload yours
Click here to get The Sun newspaper delivered for FREE for the next six weeks.
Source: Read Full Article