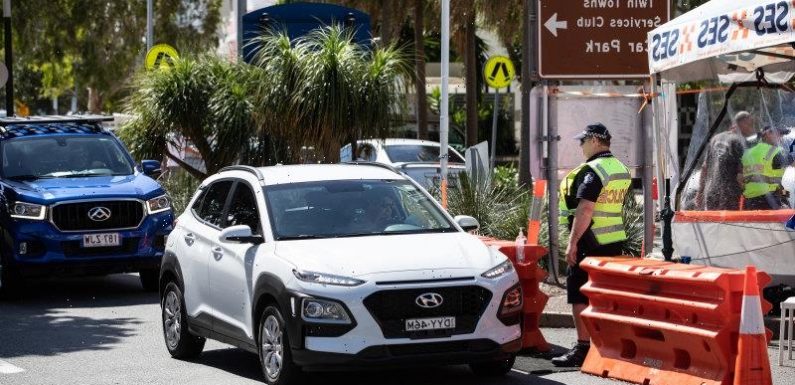 We have made our live coverage of the coronavirus pandemic free for all readers. Please consider supporting our journalism with a subscription.
Key posts
NSW nightclub outbreak grows to 24 including 'likely' Omicron cases, 680 close contacts
Tax cuts on cards as budget rebounds
'Cosmetic surgeon' title under review as states crackdown on cowboys
Booster dose timing changed due to evidence of waning immunity
This morning's headlines at a glance
NSW nightclub outbreak grows to 24 including 'likely' Omicron cases, 680 close contacts
Nearly 700 people have been deemed close contacts after attending a nightclub in Newcastle last Wednesday night, with their households also asked to get tested for COVID-19 and isolate.
In updated advice issued late last night, NSW Health said 24 people linked to The Argyle House nightclub in Newcastle had so far tested positive for COVID-19.
"A number of these cases are likely to be the Omicron variant," the department said.
The state government yesterday announced a public health investigation into transmission at the nightclub.
All 680 people who used the QR code to check in to the venue from 9pm to 3am AEDT on December 8 (through to December 9) are considered close contacts and must get tested and isolate for seven days.
"NSW Health is appealing for anyone who did not check in using the QR code to urgently get tested and isolate, and for the community to ensure other potential attendees are aware of this advice," the department said.
"Given the high transmission of COVID-19 at the venue, we ask household contacts of anyone who attended to also immediately get tested and isolate until the close contact tests negative."
On Facebook, The Argyle House said it had been notified by Hunter New England Health of multiple confirmed cases who had attended during the six-hour period while potentially infectious.
The nightclub is linked to an outbreak on a Sydney Harbour party boat cruise on December 3.
NSW Health has been asking people to remain vigilant this festive season and get tested if they display any coronavirus symptoms.
There have been 55 cases of the Omicron coronavirus variant recorded in NSW and one person has been admitted to hospital for treatment.
Tax cuts on cards as budget rebounds
A faster recovery in the federal deficit has given Prime Minister Scott Morrison more room to move in cutting taxes ahead of the next election as the government vows to use budget measures to boost job creation and put upward pressure on wages.
The swifter rebound is tipped to add $103 billion to the budget bottom line over the next four years, building a case inside the government for more generous tax cuts in early 2022 to improve household incomes when inflation is on the rise.
Prime Minister Scott Morrison in Sydney on Friday.Credit:Edwina Pickles
Treasurer Josh Frydenberg said the budget priorities would be to boost job creation while encouraging stronger wage growth as the unemployment rate fell to record lows.
"Fiscal discipline is key, and the key for us is to ensure that we're spending in the areas that are going to drive job creation and boost productivity," he said.
"And so we've got a very, very clear focus on where our spending priorities are."
Read more about the next federal budget here.
'Cosmetic surgeon' title under review as states crackdown on cowboys
The states and federal government has launched a landmark review aimed at overhauling laws into who can call themselves a cosmetic surgeon and increase the penalties for deceptive advertising and social media abuses.
Federal Health Minister Greg Hunt has asked state health ministers to make new laws a priority after a joint investigation by The Sydney Morning Herald, The Age and Four Corners uncovered a litany of disturbing practices at a network of clinics run by celebrity cosmetic surgeon Daniel Lanzer, including allegations of serious hygiene and safety breaches and botched surgeries that left some patients in extreme pain.
The states and Commonwealth have released a 108-page Regulation Impact Statement (RIS) into the use of the title surgeon and cosmetic surgeon.Credit:Nic Walker
Dr Lanzer, who marketed himself largely on TV and through social media, where he had millions of followers, has surrendered his registration and retired amid an investigation by AHPRA (the Australian Health Practitioner Regulation Agency).
His senior associate Dr Daniel Aronov, who was the most followed cosmetic surgeon in the world on TikTok with more than 13 million followers, was banned from practising cosmetic surgery last month and ordered to remove his social media posts.
More on the developments here.
Booster dose timing changed due to evidence of waning immunity
A decision to bring forward booster shots by a month has been made after laboratory testing showed coronavirus immunity waned within six months after two doses, as the country's expert vaccine group says it will continue to monitor emerging data on the Omicron variant.
The federal government will also launch a booster campaign in the lead-up to Christmas after a further 1.5 million people became eligible for booster doses on Sunday, when the country's expert vaccination group shortened the wait time for third shots to five months.
Health Minister Greg Hunt received his COVID-19 booster shot on Sunday.Credit:Nine News
Department of Health Secretary Professor Brendan Murphy said although the Australian Technical Advisory Group on Immunisation (ATAGI) decided earlier this month to keep the interval between second doses and boosters at six months, emerging data meant that needed to be shortened.
Read the full story here.
This morning's headlines at a glance
Good morning and thanks for your company.
It's Monday, December 13. I'm Broede Carmody and I'll bring you some of the day's biggest stories as they unfold.
Here's everything you need to know before we start our live coverage.
Queensland has reopened its road borders to all interstate travellers. There are long queues along roads into the Gold Coast this morning, while 20 or so flights are expected to arrive in Queensland from other states today. Fully vaccinated travellers are allowed into the Sunshine State now that 80 per cent of residents aged 16 and up are fully vaccinated against COVID-19. It comes after more than four months of road closures.
The Queensland border yesterday morning. Credit:Paul Harris
In NSW, a coronavirus outbreak at a Newcastle nightclub has grown to 24 cases. Authorities say cases of the new Omicron variant are "likely". NSW recorded 485 cases of COVID-19 yesterday and two deaths. The state's first Omicron case has also been admitted to hospital.
NSW Premier Dominic Perrottet says people should remain calm and his government is sticking to the reopening plan. Credit:Janie Barrett
Thousands of anti-vaccine mandate protesters marched in Melbourne yesterday, although the crowd was smaller compared to previous rallies. Victoria recorded 1069 cases of COVID-19 yesterday and two deaths.
Like his NSW counterpart, Victorian Premier Daniel Andrews says there won't be changes to the state's road map even if Omicron takes hold. Credit:Justin McManus
In federal politics, booster shots have been brought forward from six to five months after the second dose. The decision was made after Australia's vaccine experts reviewed additional laboratory tests and continue to keep an eye on the Omicron variant. And as David Crowe reports, the Morrison government is mulling additional tax cuts after a faster-than-expected budget recovery.
Josh Frydenberg says his focus is on job creation. Credit:Luis Enrique Ascui
Elsewhere, the bushfire in Western Australia's Margaret River region has been downgraded (but experts believe it was deliberately lit). And the ACT recorded just one new case of COVID-19 yesterday.
Canberra continues to lead the nation when it comes to vaccination rates. Credit:Louie Douvis
And in international news, Britain has raised the country's official coronavirus threat level amid a rise in coronavirus cases. The alert level has been raised from three to four on a 5-point scale. A threat level of five means the nation's health system is expected to be overwhelmed.
Most Viewed in National
Source: Read Full Article