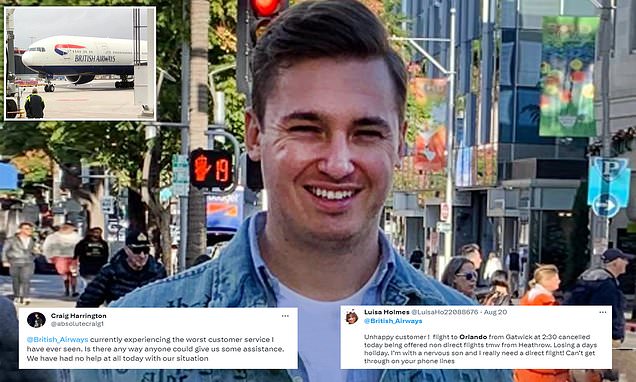 EXCLUSIVE: British Airways passengers face summer holiday travel chaos as families with young children are stranded in America for three days due to cancelled flights
Read more: British Airways' premium economy deal is rated worst in poll
Passengers travelling with British Airways faced absolute mayhem as holidaygoers were left stranded overseas for more than three days due to cancelled flights. 
Families travelling with young children from Orlando, Florida, to the UK complained how no BA representatives were present to answer questions and they were left with no idea how to get home.  
One father said his family 'experienced the worst customer service of our lives' and called the airline a 'disgrace'.
George Pope, 29, who is from Essex and works in the TV industry, had three flights from Orlando airport to London cancelled and was forced to sleep on a friend's sofa for three nights.
He said: 'I can't believe that BA would just abandon me like this? They have cancelled my flight three times and every time I try to speak to customer service I am told I am more than 50th in line and that the waiting time is over two hours.
George Pope, 29, said he has 'missed a close friend's engagement party and a number of important work meetings' after he had three flights home cancelled
Passengers were quick to share their fury at the situation on social media 
'I did finally manage to speak to someone at BA's "Helpme" number, who told me she couldn't help me.
'I have missed a close friend's engagement party and a number of important work meetings set up for Monday and Tuesday.'
The 29-year-old, who was visiting Florida to see some friends and play golf, added: 'I have had to crash at a friend's place for the last three nights but the worst part of this is that I still don't know when I'm coming home?
'I can't make any plans. I just think they are going to cancel me again?'
The father who said he experienced the 'worst customer service' he has ever seen pleaded with British Airways numerous times on social media saying: 'Is there any way anyone could give us some assistance?'
He added: 'We have had no help at all today with our situation. We had our flight diverted back to Gatwick yesterday due to an emergency.
'Staff were awful in the situation. Upon arrival back not one staff member or any information was supplied to anyone.
'Our flight was rebooked for today from Heathrow instead of Gatwick. We had to then drag our disappointed children through the airport, rush to a coach all whilst being drop fed information. The rebooked flight was an absolute joke.
'Instead of a direct flight to Orlando which was offered to some passengers, or an earlier flight again which was offered to some. We were given with 2 infants travelling with us, a flight to Dallas with a connection to Orlando. 12.5 hours of flying.
George (pictured second on the right) was visiting Florida to see friends and play golf 
A British Airways spokesperson said they were 'sorry for the disruption' caused
Another person wrote on social media complaining: '@BritishAirways could you please advise what is happening as I'm stuck at Orlando terminal C with two kids under five with no flight as you decided to cancel it and no [one is] working your desk!! #Shockingservice.'
A third also added: "@BritishAirways we're on route to Orlando airport. I noted our flight is cancelled BA2036. We're a party of 8 traveling with disabled peeps, please can you advise us of what to do?'
Another said: 'What an absolute joke of a business. Family flights booked over 12 months ago to Orlando, cancelled in the middle of the night by email. Don't answer phones and clearly don't give a s***. #NeverAgain.'
A fifth also wrote on Twitter: 'Unhappy customer! Flight to Orlando from Gatwick at 2:30 cancelled today being offered non direct flights [tomorrow] from Heathrow. 
'Losing a days holiday. I'm with a nervous son and I really need a direct flight! Can't get through on your phone lines.'
Responding to Mr Pope who had three cancelled flights, a spokesperson for British Airways said: 'We are extremely sorry for the disruption that our customer has faced returning from Orlando. 
'Our teams are in touch to apologise for their experience.'
Source: Read Full Article