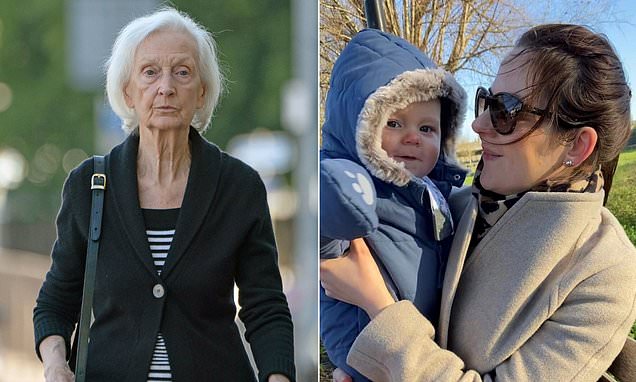 Five-month-old baby died from 'catastrophic brain injury' after car driven by 74-year-old woman with undiagnosed Alzheimer's veered into its path, inquest hears
The incident occurred in Waterbeach, Cambridge on January 22, 2021

Louis Thorold was in pram with his mother as the driver slammed into the pair 
A pre-inquest review hearing took place at Peterborough Town Hall today 
A five-month-old baby died from 'catastrophic brain injury' when a van driven by 74-year-old woman with undiagnosed Alzheimer's drove into the path of an oncoming van, an inquest has heard.
An pre-inquest hearing at Peterborough Town Hall today heard how Louis Thorold died after a van came off an A-road in Waterbeach, Cambridge, and hit both him and his mother, 36-year-old mother Rachel.
The collision tragically killed baby Louis and threw his mother into the air, leaving her with serious injuries.
The vehicle, a grey Mazda 2, was being driven by a 74-year-old driver with undiagnosed and undetected Alzheimer's disease.
Shelagh Robertson was driving home from a shopping trip on January 22, 2021, when she drove into the path of an oncoming van that fateful afternoon on the A10. 
This forced a Renault Master van to veer off course and onto the pavement where Rachael and Louis were.
Five month-old baby Louis Thorold pictured with his mother Rachael hours before he was killed when a van went on to the pavement and collided with his pushchair
Baby Louis, who was born through IVF after Rachael had struggled to get pregnant for five years, died instantly in the accident
An inquest hearing is due to take place later this year. Pictured is Shelagh Robertson outside Cambridge Crown Court in 2022
Sadly, Louis was pronounced dead at 5.15pm in Addenbrooke's Hospital.
A pre-trial inquest into the incident opened today, where Peterborough Town Hall Simon Milburn, Cambs, heard that the 'initial hospital referral suggested Louis died of a catastrophic brain injury.'
Speaking directly to Louis' family, Mr Milburn said: 'This is the first time I have had the chance to speak to family members and I pass my condolences for your loss.'
The tragic case was heard in Cambridge Crown Court last August. It found the 74-year-old driver not guilty by reason of insanity.
The jury found she had driven carelessly causing the death of Louis due to her atypical Alzheimer's, which had gone undetected and untreated during the Covid pandemic, and had affected her driving.
The 74-year-old suffered slight injuries and stayed at the scene.
Meanwhile, the devastated parents of Louis, Chris and Rachael, spoke out about how 'beautiful' their son was, saying: 'Louis was the sweetest, happiest, joyful and most beautiful baby.
'Louis had his future and all his potential stolen. A life sentence for us, his family, our community, and everyone who hears this story.'
Louis's parents Chris and Rachael Thorold (pictured outside court in 2022) said they must 'now look forward' and ensure their son's legacy lives on
Louis was described as 'the sweetest, happiest, joyful, and most beautiful baby' by his heartbroken parents
In July 2021, Cambridgeshire County Council confirmed the speed limit on the A10 where baby Louis was killed would be reduced from 50 to 40mph
The tot's parents, who had tried for a baby for five years before they eventually conceived Louis through IVF, also wrote in a joint statement: 'We must now look forward. Louis wouldn't want us to be sad or give up.
'Louis will live on. His legacy, that one day no one will have to deal with the death of a child on Britain's roads.
'Please, if you are in any doubt of your ability, don't get in the car.
'If you have any doubts about your parents, relatives or love ones' ability to drive then please talk to them.
'The consequences are serious, real, and they last forever; having a simple conversation can literally save someone's life.'
Following the tragic incident, in July 2021, Cambridgeshire County Council confirmed the speed limit on the A10 where baby Louis was killed would be reduced from 50 to 40mph.
Detective Sergeant Mark Dollard, from the road policing unit at Cambridgeshire Constabulary said: 'This was an extremely tragic and sad incident and our deepest condolences go out to Louis' family.
'We carried out a thorough and exhaustive inquiry.
'Regardless of the verdict nothing will ever bring Louis back and his family will have to live with that for the rest of their lives.
'It is however, a stark reminder of how important it is for anyone who gets behind the wheel of a vehicle to be competent and capable of driving safely.
'I would urge anyone who is concerned about a family member or friend and their ability to drive to speak up and discuss your concerns with your loved one.
'Alternatively speak to your GP who can submit their concerns to the DVLA.'
An inquest hearing is due to take place later this year. 
Source: Read Full Article