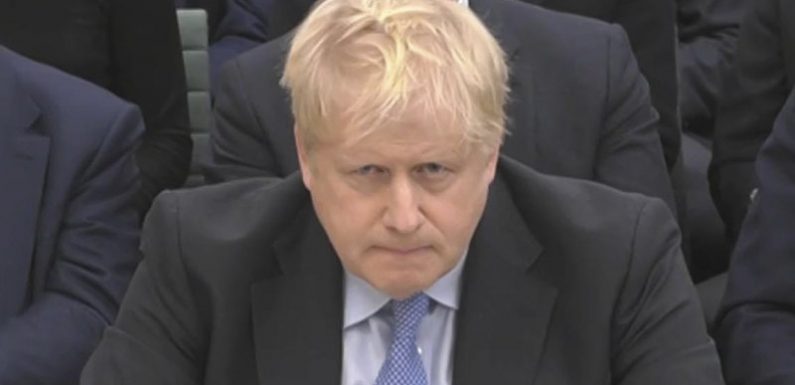 London: Boris Johnson, having been handed just enough rope by his parliamentary colleagues, may have finally ended any chance of rehabilitation and potentially his political career.
The former British prime minister lost his cool during a lengthy grilling by the House of Commons Privileges Committee on Wednesday as he accused its members of "complete nonsense".
A protester near the British Parliament on Wednesday.Credit:AP
He was in the dock to fight for his future over the so-called partygate saga, which this time last year had engulfed his leadership and triggered a downward spiral that eventually ended it.
Having already been subject to a police inquiry, an independent probe, and the judgement of his cabinet colleagues, Johnson's temper flared in response to a suggestion from senior Tory backbencher Sir Bernard Jenkin that he did not seek proper advice before telling MPs that no parties had taken place in Downing Street during lockdown.
"This is complete nonsense, I mean, complete nonsense," he said. "I asked the relevant people. They were senior people. They had been working very hard. [Then Downing Street director of Communications] Jack Doyle gave me a clear account of what had happened."
Johnson had previously said a gathering he attended during the second national lockdown was "absolutely essential for work". He insisted "hand on heart, I did not lie to the House" shortly after swearing on the Bible.
The inquiry into whether he deliberately misled parliament over partygate is likely to end any faint hope he may have of a political comeback. It could result in him being suspended for 10 days, or, worst-case scenario, result in him facing a byelection and losing his seat in the Commons altogether.
The committee began its inquiry on June 29 last year, and has assessed a range of evidence, including 46 WhatsApp messages between Johnson and government officials, photographs and input from the former prime minister's legal team. While Johnson's supporters have dismissed the committee as a "kangaroo court", the panel of seven MPs is made up of four Conservative members, two Labour and one from the Scottish National Party.
Johnson told the committee that "people will judge for themselves" whether he lied to the House over his statements that social distancing guidance had been followed at several functions in his office, staged when the country was in lockdown during the peak of the coronavirus pandemic.
"If this committee were to find me in contempt of parliament having come and done something so utterly insane and contrary to my beliefs and principles as to come here, to come to parliament and wittingly lie, I think that would not only be unfair, but I think it would be wrong," he said.
People sit in the Red Lion pub as former prime minister Boris Johnson giving evidence on partygate is shown on the TV.Credit:Getty
Asked if he would characterise it as a "witch hunt", he said: "I will wait to see how you proceed with the evidence you have. I will study your conclusions from the evidence. I deprecate the terms that you have used, I don't want to see good colleagues feeling that they're under pressure either way.
"I believe if you study this evidence impartially, you will come to the conclusion that I've given."
Speaking at the start of a four-hour hearing, Johnson issued an apology "for what happened on my watch". But he said that the committee had found "nothing to show" that he had been warned about illegal parties during coronavirus lockdowns. He said that Dominic Cummings, his former adviser who claimed he told him an event was illegal, "has every motive to lie".
Johnson rejected the characterisation that officials were "partying in lockdown", when questioned over a gathering in the Downing Street garden on May 20, 2020.
"It was not a large social gathering," he said. "My purpose there was to thank staff and motivate them in what had been a very difficult time, on what was also a very difficult day in which the cabinet secretary had just resigned."
On a day when his replacement, Rishi Sunak, saw off a rebellion from a group of Conservative hardliners – including Johnson – over his Northern Ireland Brexit deal, the one-time political phenomenon now looks like a busted flush. Even if he survives the worst of the penalties on offer, Britons show no longing for a return to the Boris circus of old. Four hours in the dock was a timely reminder of the chaos.
Get a note directly from our foreign correspondents on what's making headlines around the world. Sign up for the weekly What in the World newsletter here.
Most Viewed in World
From our partners
Source: Read Full Article