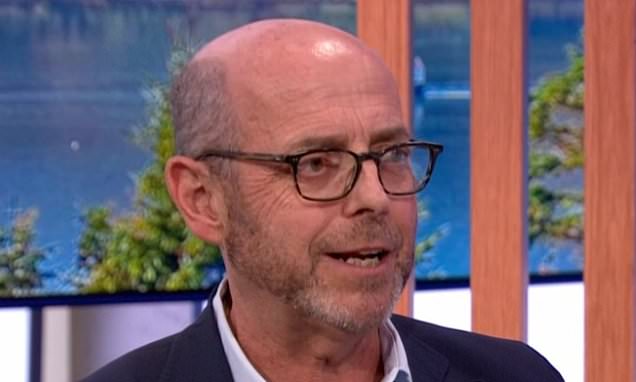 BBC is accused of bias after Nick Robinson wrongly claims Lee Anderson suggested asylum seekers should 'F-off home' when he actually said 'they should f*** off back to France'
About an hour after the interview, Nick Robinson clarified his earlier error
A Tory MP said the host sounded like he was 'talking for the metropolitan elites'
The BBC faces fresh bias allegations after presenter Nick Robinson wrongly claimed the Conservative Party deputy chairman had suggested asylum seekers should 'F-off home'.
Mr Robinson was interviewing the immigration minister on Wednesday's edition of the Today programme when he raised recent comments made by Lee Anderson.
Mr Anderson had earlier reacted to complaints about the use of the new barge to accommodate asylum seekers by saying: 'If they don't like barges they should f*** off back to France'.
But when the Today programme host raised the remarks with Robert Jenrick, he claimed Mr Anderson had said these people should 'F-off home'.
Tory MPs were critical of the host's comments yesterday, with one saying Robinson sounded like he was 'talking for the metropolitan elites', while another said the BBC should not 'misquote people' or else it creates a sense of 'bias'.
Nick Robinson (pictured) was interviewing the immigration minister on Wednesday's edition of the Today programme when he raised recent comments made by Lee Anderson
About an hour after the interview, the Today programme host clarified his earlier comments by admitting he had 'misquoted' the Tory party deputy chairman, this time giving the correct wording used in the interview that Mr Anderson, 56, had given to the Daily Express.
On the programme Mr Robinson, 59, asked Mr Jenrick, 41: 'How carefully was the deputy chairman of the Conservative Party choosing his language when he suggested that asylum seekers, and I quote, should 'F-off home' except I'm cleaning up that quote by saying 'F—off'.
Mr Jenrick said 'we all choose our own language' and that Anderson had been expressing the 'deep frustration' of a large part of the British public at the current situation.
Mr Robinson added: 'Well, he was expressing a prejudice, wasn't he? He was expressing a view that people who are trying to come here, who may well have a genuine claim, may well indeed be refugees, should, to quote, 'F—off home'.
Conservative MP, Peter Bone, said: 'Lee Anderson spoke for the vast majority of my constituents and I agree with him entirely, that if illegal migrants come across in small boats to this country and don't want to be put on a barge – well don't come across in the first place.
'That's the point. Nobody's forcing them to come here. And many people I speak to actually think all illegal migrants that come across should be given a nice cup of tea and put on a ferry back to France.
'He is speaking for the nation, Nick Robinson, sounds to be talking for the metropolitan elites and it wouldn't be the first time that the BBC and the Today programme are out of touch with reality.'
Deputy Chairman of the Conservative Party Lee Anderson speaking during Prime Minister's Questions in the House of Commons on July 19, 2023
Tory MP, Bill Cash, said: 'The BBC has an obligation to be accurate, they must therefore do the research properly, they must not misquote people and then create a clear evidence of bias.'
Mr Robinson in 2021 had sparked anger from Tories after he told then Prime Minister Boris Johnson to 'stop talking' during an interview on the show.
Then last year he came under fire from Conservative MPs over the way he had covered Johnson's apology to MPs for the Downing Street lockdown party, where he was accused of making a series of barbed comments.
Anderson, the Tory MP for Ashfield since 2019, became deputy chair of the party in February.
Source: Read Full Article