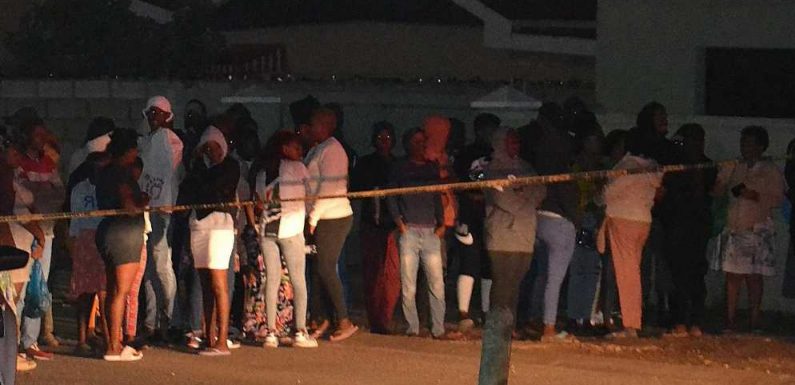 AT LEAST eight people were shot dead as gunmen opened fire at a crowded birthday celebration.
Cops have launched a manhunt for the two attackers after the "cold blooded" attack on the party in South Africa.
Eight people were killed and three were wounded in the attack at around 5.15pm local time on Sunday.
Police said then gunmen fled after the attack, and no arrests have been made after the killings in Gqeberha, formerly Port Elizabeth.
The homeowner and the person whose birthday was being celebrated are reportedly among the dead.
Detectives are working to establish the motive behind the massacre.
READ MORE ON WORLD NEWS
At least 32 dead after suicide bomber detonates vest inside Pakistan mosque
Brit scientist found dead in luxury hotel as family believe he was murdered
Pictures from the scene show a police cordon and forensics vans parked outside.
Cops said the gunmen entered the garden and started "randomly [shooting] at guests".
Nomthetheleli Mene, the provincial police chief for the Eastern Cape province, condemned the killings as "a blatant disregard for human life".
He said: "These victims were killed by criminals, and we will not rest until we find out what happened and who was responsible for (this) callous and cold-blooded attack on these unsuspecting victims."
Most read in The Sun
Boyfriend of schoolgirl, 15, fought to save her life after she was stabbed
24 actress Annie Wersching dies aged 45 after cancer battle
How Rod Stewart replied when I said 'Do you regret womanising & drug-taking?'
Huge BBC sitcom's future in doubt after 13 series
The latest incident follows a spate of mass shootings last year that shocked the nation. In July, gunmen killed 19 people in random shootings within hours of each other.
South Africa has one of the world's highest murder rates, with around 20,000 people killed every year out of a population of 60 million.
According to campaign group Gun Free South Africa, there are about 3 million guns registered in the country, though there are many more unregistered.
Police Minister Bheki Cele and SAPS National Commissioner Fannie Masemola are expected to visit the site of the latest outrage on Monday.
Read More on The Sun
Tesco fans rushing to buy 'amazing' self-heating mattress topper for just £20
Inside Stacey Solomon's last minute baby shower hosted in her kitchen
Source: Read Full Article