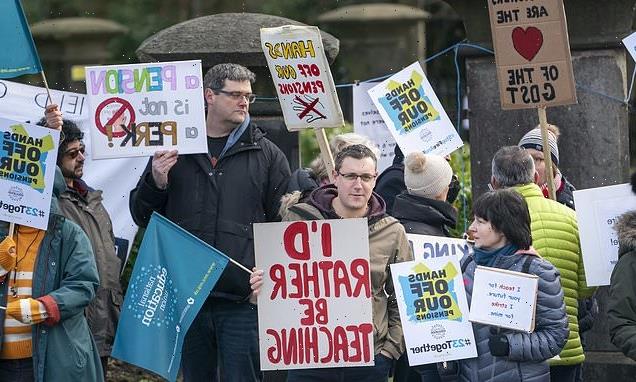 Will YOUR child's school shut due to teachers strike this week, can you get time off work as 'emergency leave' and will exams be cancelled? Q&A and full list of closures in England and Wales
Thousands of National Education Union (NEU) teachers will strike on Wednesday

It comes amid the ongoing pay dispute between the NEU and the Government
Schools across England and Wales will be forced to fully or partially close this week as teachers walkout of their jobs.
Members of the National Education Union (NEU) are set to go on strike on Wednesday, February 1, as part of their ongoing dispute with the Government over pay.
And while there are last ditch talks taking place this afternoon between the Department for Education (DfE) and the union to avert the industrial action that will bring chaos to thousands of families.
Parents and guardians up and down the country will be forced to juggle their plans and work commitments as their children spend the day away from the classroom.
Kevin Courtney and Mary Bousted, joint general secretaries of the National Education Union (NEU) speaking to the media outside the Department for Education in Westminster on January 9
Members of the NEU hold a picket outside Sheffield Girls' School during a strike of independent schools in February last year
Why are teachers striking? 
The strikes are the first in a wave of walkouts by the union that will take place in February and March after its members voted in favour of industrial action.
The NEU says pay for experienced teachers has 'fallen by one fifth in real terms since 2010' and has hit out at the Government's pay offer of five per cent.
When and where are the teachers strikes?
The National Education Union has said it will hold strikes on: 
Wednesday, February 1 (England and Wales), 
Tuesday, 14 February (just Wales) 
Tuesday, 28 February (Northern, North West, and Humber regions), 
Wednesday, 1 March (East Midlands, Western, Eastern regions) 
Thursday, 2 March (London, South East, South West regions) 
Wednesday, 15 March (England and Wales) 
Thursday, 16 March (England and Wales) 
It said: 'Long hours and poor pay are the main reasons teachers are leaving the profession in their droves. This Government is presiding over one of the worst recruitment and retention crises ever seen in education.
Children are losing out because there are not enough teachers. Even when there is a teacher in the classroom, increasingly they are not qualified in the subject they are teaching. 
'Parents and grandparents hear their children and grandchildren talking about 'new' teachers in the middle of the school year; of lessons being 'covered' by supply teachers, of teachers leaving. Lack of qualified teachers harms the education that children and young people receive.
'To save education, we must take action to ensure that educators get an inflation-plus pay increase.'
The Government says the strikes have come after a 'record funding increase for schools in the Autumn Statement' and the newly qualified starting salary for teachers will rise to £30,000.
It added that teachers 'receive annual pay rises through an independent pay review process, and many teachers also see greater uplifts by progressing up the pay scales'.
A spokesperson for the DfE said: 'Strike action is highly damaging to children's education, particularly following the disruption that children have experienced over the past two years.
'As part of our ongoing support to school leaders to do everything they can to keep as many children in school as possible we have requested information from schools to help inform this work.'
What if my child's school is closed?
Those looking after children will be entitled to time off work if their school has closed due to the strike. 
This is called 'dependant leave', and means you can take reasonable time off work to deal with unexpected problems or emergencies.
You can also take 'parental leave', which entitles you to up to 18 weeks off before your child turns 18. 
This only applies if you have been working for your employer for at least year, and they are able to cap this at four weeks off every year.
Employers are not allowed to refuse this time off, but it is up to them if they pay you for it. 
It may be possible to take the time off as holiday, but this is at the discretion of your employer.
Will my child's school be closed?
Schools that are set to be fully or partially closed will communicate this with parents and guardians. Many families will already have been informed whether their children will have to remain at home tomorrow.
The decision to close schools will be up to the headteacher, although in Wales this will also be done in consultation with local authorities.
If you have received no information from the school telling you that it is closed or that it cannot provide a place for your child, you still have a legal duty to send them to school unless they are ill. 
Will strikes affect nurseries, breakfast and after-school clubs and pre-schools?
Schools could still keep nurseries, breakfast and after-school clubs open even if the school is closed as a result of strikes.
Privately-run clubs may possibly not operate as usual, it would be best to ask the provider.
Will children on free school meals be supported?
Children who are eligible for benefits-related free school meals must be supported, even during strikes.
Schools may provide these resources through food parcels. 
In Scotland, some children were offered a packed lunch whilst some families were given money to cover the additional cost.
Will vulnerable children and key workers be prioritised?
English schools have been advised to remain open for at risk children, exam students, and those of key workers. 
Wales's education minister said head teachers will be doing 'whatever they can' to support those taking their exams, and vulnerable children.
Will exams go forward?
In light of the possible disruption strikes may cause, all schools and colleges should have contingency plans for exams.
Schools are required to do their best to put exams and formal assessments first on industrial action days, even if the school is only open for certain pupils. 
However, if they believe strikes could interfere with the exams, school leaders should ask for advice from exam boards, according to guidance for England, Wales and Northern Ireland.
Both parents and students will be informed by their school if there are any changes to the exam or venue.
How much do teachers earn? 
For teachers in England, the starting salary is expected to rise to £30,000 a year by September 2023.
In the 2021/22 school year, state school classroom teachers in England were paid an average of £38,982.
This contrast with £39,009 in Wales and £40,026 in Scotland. Northern Ireland did not provide a figure.
The average head teacher's salary in England for the same period was £74,095, and £57,117 for other senior leaders.
What are the pay demands by teachers currently?
As a result of inflation, union leaders want schools to receive additional cash to ensure pay rises do not come from existing budgets.
Most state-school teachers in England and Wales had a 5% rise in 2022.
In Northern Ireland many teachers were offered 3.2% for 2021/22 and 2022/23. 
In Scotland, teachers have rejected both a 5% increase and a more recent offer of up to 6.85%. 
These demands follow the fact that salaries for teachers in England fell by an average of 11% between 2010 and 2022, the Institute for Fiscal Studies says.
Education Secretary Gillian Keegan said the government has already agreed to provide an extra £2billion in school funding, 'which will take real-terms spending on schools to its highest level in history'.
Cornwall
A full list of school closures has not been circulated for Cornwall. 
A spokesman for the local authority told Cornwall Live: 'It's one for the individual schools to manage, who should be communicating with parents over any potential disruption.' 
Among the schools confirmed to be affected are:
Penrice Academy in St Austell
Poltair School in St Austell
Redruth School 
County Durham 
Bearpark Primary School
Cockton Hill Infant School
Crook Primary and Nursery School
Devon
A full list of school closures in Devon can be found here.
East Sussex
A full list of the schools which will be closed or partially open can be found here.
Essex
A full list of school closures in Essex can be found here.
Gloucestershire
A list of full and partial school closures in Gloucestershire can be found here. 
Hampshire
The Romsey School Academy – Partial closure – The school will remain open for Year 11 only
Test Valley School – Partial closure – School will remain open for Year 11 only
South Wonston Primary School – full closure
The Coppice Spring Academy – full closure
Netley Marsh Church of England Infant School – partially closure Year 2 class will be closed
The Mountbatten School – partial closure
Kings' School, Winchester – full closure
Kent
You can search to see if your child's school in Kent will be affected here. 
Lincolnshire
Grantham Kesteven and Grantham Girls' School has said it will be partially closed on February 1.
London
People living in Lodnon are advised to check the website of their local authority for school closures where they live.
These can be found here:
Barking and Dagenham
Barnet
Bexley
Brent
Bromley
Camden
City of London
Croydon
Ealing
Enfield
Greenwich
Hackney
Hammersmith & Fulham
Haringey
Harrow
Havering
Hillingdon
Hounslow
Islington
Kensington & Chelsea
Kingston upon Thames
Lambeth
Lewisham
Merton
Newham
Redbridge
Richmond upon Thames
Southwark
Sutton
Tower Hamlets
Waltham Forest
Wandsworth
Westminster
Merseyside
Archbishop Beck Catholic College – partially open to Year 11
Gateacre School – fully closed
Irby Primary School – fully closed
Kirkby High School – fully closed
Lawrence Community Primary School – only open o Nursery, Class 2M & Class 5B
The Liverpool Blue Coat School – fully closed
St Julie's Catholic High School – closed to students in Years 7, 8, 9 and 10
West Derby School – fully closed
Norfolk
A number of schools in the county have already confirmed they will be closed, while some have said they will merge classes in a bid to beat the teacher shortage.
Others will go back to remote learning or hold 'activity days' instead of curriculum-focused teach, the Eastern Daily Press reports. 
Nottinghamshire
James Peacock Infant and Nursery school – fully closed but provision will be made for vulnerable children
Toot Hill School – intends to stay open but has warned parents it may have to partially close
Sussex
Broadwater CE Primary School in Worthing (Fully closed)
Denton Primary School in Newhaven (Fully closed)
Ocklynge Junior School un Eastbourne (Fully closed)
Polegate School in Polegate (Fully closed)
St Nicolas and St Mary CE Primary School in Shoreham-by-Sea (Fully closed)
Yorkshire
Home Farm Primary School (Feb 1, partial closure)
The Calder Learning Trust (Feb 1)
Todmorden High School (Feb 1)
Newsome Academy (Feb 1, partial closure)
Shire Oak C of E Primary School
Broom Valley Community School (Feb 1, partial closure)
Minsthorpe Community College, A Specialist Science College (Feb 1, partial closure)
Kettlethorpe High School (Feb 1, partial closure)
Woodthorpe Primary School (Feb 1, partial closure)
Wales 
The following schools in Cardiff have all confirmed they will be impacted by the strikes: 
Adamsdown – closed to pupils
Albany Primary School – closed to pupils
All Saints' CIW Primary school – partial closure
Allensbank Primary School – closed to pupils
Baden Powell Primary School -closed to pupils
Birchgrove Primary School – partial closure
Bishop of Llandaff CiW High School – closed to pupils
Bryn Celyn Primary School – closed to pupils
Bryn Deri Primary School – partial closure
Cantonian High School – fully closed
Cardiff High School – fully closed
Cardiff West Community High Schooll – closed to pupils
Cathays High Schooll – closed to pupils
Coed Glas Primary Schooll – closed to pupils
Corpus Christi Catholic High Schooll – closed to pupils
Coryton Primary School – fully closed
Danescourt Primary School – fully closed
Eastern High School – closed to pupils
Ely and Caerau Children's Centre – partial closure
Fairwater Primary School – partial closure
Gabalfa Primary School – closed to pupils
Gladstone Primary School – partial closure
Glyncoed Primary – fully closed
Grangetown Nursery – fully closed
Grangetown Primary School – partial closure
Greenhill – partial closure
Greenway Primary School – closed to pupils
Gwaelod Y Garth – partial closure
Hawthorn Primary School – closed to pupils
Herbert Thompson Primary School – closed to pupils
Holy Family RC Primary School – partial closure
Howardian Primary School – partial closure
Hywel Dda Primary School – partial closure
Kitchener Primary School – closed to pupils
Lakeside Primary School – partial closure
Lansdowne Primary School – closed to pupils
Llandaff City CIW Primary School – fully closed
Llanedeyrn Primary School – fully closed
Llanishen High School – closed to pupils
Llysfaen Primary School – closed to pupils
Marlborough Primary School – partial closure
Mary Immaculate High School – closed to pupils
Meadowbank Primary School – partial closure
Meadowlane Primary School – partial closure
Millbank Primary School – partial closure
Moorland Primary School – closed to pupils
Mount Stuart Primary school – partial closure
Ninian Park Primary School – closed to pupils
Oakfield Primary School – closed to pupils
Pen Y Bryn Primary School – closed to pupils
Pencaerau Primary School – partial closure
Pentrbane – partial closure
Pentyrch Primary School – fully closed
Peter Lea Primary School – closed to pupils
Pontprennau Primary School – closed to pupils
Radnor Primary School – Closed to pupils
Radyr Comprehensive School – Closed to pupils
Radyr Primary School – Partial Closure
Rhiwbeina Primary School – Partial closure
Rhydypenau Primary School – Partial closure
Rumney Primary School – Partial Closure
Severn Primary School – Closed to pupils
Springwood Primary School – Closed to pupils
St Alban's Primary School – Closed to pupils
St Bernadette's Primary School – Partial Closure
St Cadoc's Catholic Primary School – Fully closed
St Cuthbert's Catholic Primary School – Closed to pupils
St Fagans Church in Wales Primary School – Fully closed
St Francis RC Primary School – Partial Closure
St Illtyd's High School\u0009 – Closed to pupils
St John Lloyd RC Primary School – Partial closure
St Joseph's RC Primary School – Partial closure
St Mary the Virgin Church in Wales Primary School – Closed to pupils
St Mary's Catholic Primary School – Partial Closure
St Mellons CIW Primary – Fully closed
St Monica's CW Primary School – Closed to pupils
St Patrick's RC Primary School – Partial closure
St Paul's C/W Primary School – Closed to pupils
St Peter's RC Primary School – Partial closure
St Philip Evans Primary School – Partial closure
St Teilo's Church in Wales High School – Closed to pupils
Stacey Primary School – Closed to pupils
The Court – Closed to pupils
Thornhill Primary School – Closed to pupils
Ton Yr Ywen Primary – Closed toall pupils
Trelai primary School – Partial closure
Tremorfa Nursery School – Closed to pupils
Trowbridge Primary School – Closed to pupils
Tongwynlais – Partial closure
Ty Gwyn – Closed to pupils
Whitchurch High School – Closed to pupils
Willowbrook Primary school – Partial closure
Willows High School – Closed to pupils
Windsor Clive Primary School – Closed to pupils
Woodlands – Closed to pupils
Ysgol Bro Eirwg – Partial Closure
Ysgol Coed Y Gof – Partial Closure
Ysgol Glan Ceubal – Partial Closure
Ysgol Glan Morfa – Partial Closure
Ysgol Glantaf – Partial Closure
Ysgol Gyfun Gymraeg Bro Edern – Partial Closure
Ysgol Gymraeg Nant Caerau – Partial closure
Ysgol Gymraeg Pen Y Groes – Partial Closure
Ysgol Gymraeg Pwll Coch – Partial Closure
Ysgol Gynradd Creigiau Primary School – Partial Closure
Ysgol Hamydryad – Fully closed
Ysgol Melin Gruffydd – Partial Closure
Ysgol Pen y Pîl – Partial closure
Ysgol Pencae – Closed to pupils
Ysgol Treganna – Partial closure
Ysgol y Berllan Deg – Partial closure
Ysgol y Wern – Partial closure
Source: Read Full Article