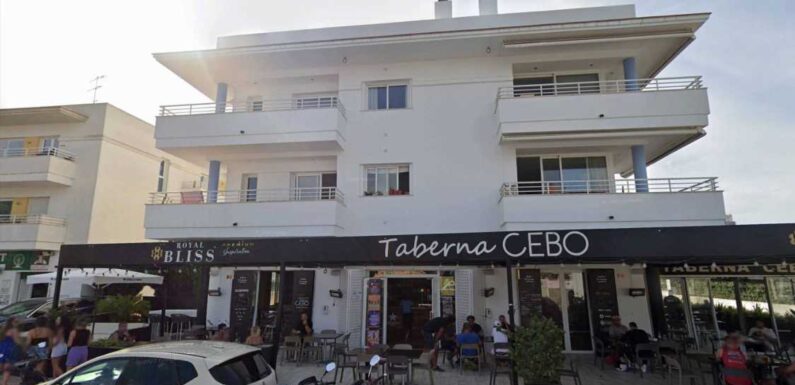 A BRITISH tourist has died after plunging from a second-floor balcony in Ibiza near Wayne Lineker's nightclub.
The 35-year-old died in the early hours of this morning at the party resort in San Antonio.
Emergency services rushed to the area but the man was pronounced dead at the scene.
Police have launched an investigation into his death.
Police sources said he had been on the balcony when he went over the edge after 3.15 am this morning.
The first 999 call that came in suggested he was lying on the floor below an apartment block near a British supermarket and a short walk from the seafront.
A spokesperson for a regional government-run emergency response coordination centre said: "We were alerted at 3.17am this morning.
"The initial reports were that a man was lying unconscious in the street.
"He was already dead by the time the first ambulance arrived and there was nothing they could do to save him."
Witnesses are understood to have told police and paramedics after they arrived that the man had plunged from a second-floor balcony.
Most read in The Sun
Amy Nuttall is BACK with love rat husband and issues seven rules he must obey
Capt Tom Moore's daughter 'used charity name to build spa complex at pad'
Moment man tries to smash into home after chasing woman he attacked inside
UK's richest TV presenter revealed with £18m fortune – and it isn't Ant or Dec
Some reports have described the building he plunged from as a hotel although it is understood to be an apartment block where holidaymakers stay.
A spokesman for the Civil Guard, after confirming the dead man was a British 35-year-old, said: "It is too early at this stage to say what happened.
The investigation is ongoing."
The spot where the man was discovered is very close to the famous O Beach Club in San Antonio, which is popular with footballers and celebs and is co-owned by Gary Lineker's brother Wayne.
Another Brit died near the same location last month after plunging from the third floor of a hotel.
The 22-year-old man was pronounced dead at the scene following the horror fall.
More to follow… For the latest news on this story keep checking back at The Sun Online.Thesun.co.uk is your go to destination for the best celebrity news, football news, real-life stories, jaw-dropping pictures and must-see video.
Like us on Facebook at www.facebook.com/thesun and follow us from our main Twitter account at @TheSun.
Source: Read Full Article