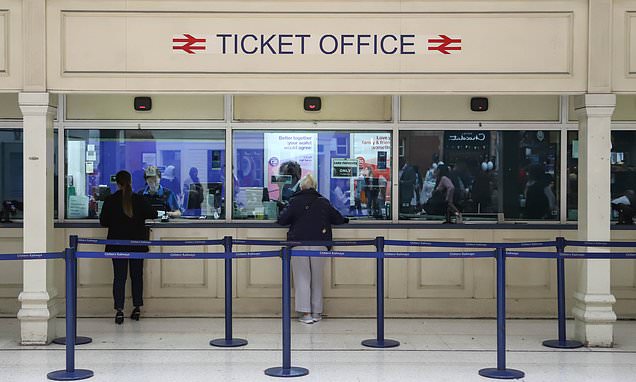 Nearly every rail station ticket office in England is set to close within three years under government plans that could spark more train strike chaos
Almost every railway ticket office in England is expected to close over the next three years under controversial Government plans set to be announced tomorrow.
The Rail Delivery Group is speeding up proposals to shut up to 1,000 offices in a move likely to prompt yet more strikes and further woe for passengers.
MailOnline understands a consultation on the closures will be announced tomorrow, and Transport Secretary Mark Harper will have to sign off the final plans.
Rail officials said ticket office sales have fallen from 85 per cent in 1995, when the rules on selling tickets were last reviewed, to 12 per cent on average today.
Ministers say they want to get ticket office staff onto concourses – but critics warn it will make life harder for the disabled and elderly, and could result in job losses.
Customers are served at the ticket office at London Marylebone railway station (file picture)
Rail passengers use ticket machines at Reading train station during strike action in January
Britons will instead have to go to train operators' apps or websites to buy tickets, use the self-service machines at stations or 'tap in' with contactless or Oyster cards.
The Association of British Commuters claimed that Mr Harper had 'pressed go' on the closure plans – and that ministers 'want ticket offices closed by Christmas'. 
Conservative Greg Smith MP, chair of the Transport Committee, told The Sun: 'We need to have a realistic conversation about ticket offices, especially those that are simply not used.
'But when unions are unleashing maximum disruption, having this debate on ticket offices now is putting a rocket under union anger and will only bring more disruption for travellers.'
Last month the Financial Times reported on June 26 that rail operators were believed to be drawing up plans to potentially close most ticket offices in England.
The issue between operators and unions has been part of the year-long dispute over pay, jobs and conditions, with employers arguing that ticket office staff would be able to serve customers better if they were on station concourses.
A Rail Delivery Group spokesman told MailOnline today: 'The industry has always been open and honest about the need for the railway to evolve with its customers so it can better meet their needs, and secure a thriving long-term future for an economically vital service.
'For over a year it has been negotiating a package with the RMT on those reforms, which include moving staff from ticket offices to concourses where, with extra training, they will be better able to help more customers, not just with buying tickets, but also offering travel advice and helping those with accessibility needs.'
The spokesman said talks had 'stalled' because of the union executive's 'repeated refusal to put an offer of up to 13 per cent over two years for the lowest paid – alongside job guarantees – to its membership to a vote'.
He continued: 'The railway is too vital to those who depend on it for negotiations to continue to go round in circles with a union seemingly intent on prolonging the current dispute.
'While the industry is now looking at how to move forward, any changes would be subject to employee and public consultations.
'Staff always remain front of mind so as you would expect from a responsible employer, if and when the time comes for proposals on ticket offices to be published, they will be the first to know.'
It comes as disruption to rail journeys is expected in many parts of Britain this week as train drivers refuse to work overtime for six days.
Aslef announced last month that its members will withdraw non-contractual overtime, known as rest-day working, with 16 of the country's 35 rail operators from July 3 to July 8.
The action could impact visitors to the first week of the Wimbledon tennis tournament.
Train companies affected are: Avanti West Coast; Chiltern Railways; Cross Country; East Midlands Railway; Greater Anglia; GWR; GTR Great Northern Thameslink; Island Line; LNER; Northern Trains; Southeastern; Southern/Gatwick Express; South Western Railway; TransPennine Express; and West Midlands Trains.
It is understood that there have been no negotiations between the union and the rail operators since the action was announced on June 19.
The RMT has also called three strike dates this month, on July 20, 22 and 29.
Source: Read Full Article