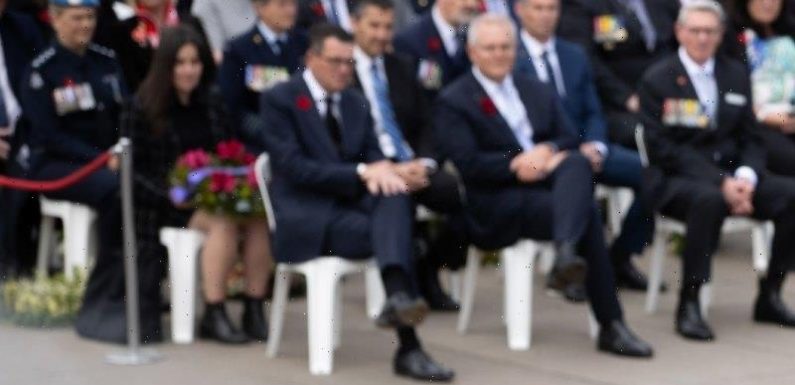 When the war is over/Got to get away/Pack my bag to no place/In no time, no day.
As a minute's silence fell upon Melbourne's Shrine of Remembrance at 11am on November 11, with the Last Post's final notes still ringing out, the scent of burning eucalyptus mingled with cannon smoke.
Uncle Mik Edwards (right) and Uncle Shane Clarke (left) during the smoking ceremony.Credit:Simon Schluter
On Thursday, several thousand observers gathered to pay their respects to more than 102,000 Australians who lost their lives to wars, conflicts and peacekeeping operations since Federation. It was the first large crowd to gather at the Shrine in many long months.
Bunurong elders Uncle Shane Clarke and Uncle Mik Edwards performed a smoking ceremony and offered a Welcome to Country, lighting eucalyptus leaves and other native flora from the eternal flame in the Shrine's forecourt before bathing guests and grounds in cleansing smoke.
It was a coming together of experiences; the first time either ceremony had been held during Remembrance Day commemorations at the Shrine.
Uncle Mik welcomed the gathered crowd.
Deputy Prime Minister Barnaby Joyce, Prime Minister Scott Morrison and Victorian Opposition Leader Matthew Guy were among those to pay their respects.Credit:Simon Schluter
"I pay my deepest respects to all elders here today, no matter which family tree you come from, no matter which part of Mother Earth you come from," he said.
At this place designed to honour the more recent past, Uncle Mik urged all Australians to remember the First Nations people who came from earlier times, and to be aware of the history beneath their feet.
Prime Minister Scott Morrison, Deputy Prime Minister Barnaby Joyce, Premier Daniel Andrews, lord mayor Sally Capp and state Opposition Leader Matthew Guy were among leaders there to lay wreaths.
Making up the bulk of the crowd were veterans from conflicts including Vietnam, Korea, the Gulf and Afghanistan and their families.
David Purvis, 94, who served as a captain in Vietnam.Credit:Simon Schluter
One of them, 94-year-old Captain David Purvis, served in Vietnam with the 4th/19th Prince of Wales's Light Horse Regiment after 15 years in the Army Reserve.
He was laden with his own medals on the left of his jacket and those of his late brother, Commodore Ian Purvis, who served in Korea, on the right.
Captain Purvis, who turns 95 in two weeks, never missed a Remembrance Day service before the pandemic, and was pleased to do so again.
"I'm doing well," he smiled. "I expect to be here next year."
Near the end of the ceremony, the RAAF Band performed Cold Chisel's often-covered hit When the War is Over.
While opinions vary whether the ballad is an ode to romantic love gone wrong, or a soldier returning to war, there's little doubt as to the power of its lyrics.
Ain't nobody gonna steal this heart away…
Fascinating answers to perplexing questions delivered to your inbox every week. Sign up to get our new Explainer newsletter here.
Most Viewed in National
From our partners
Source: Read Full Article