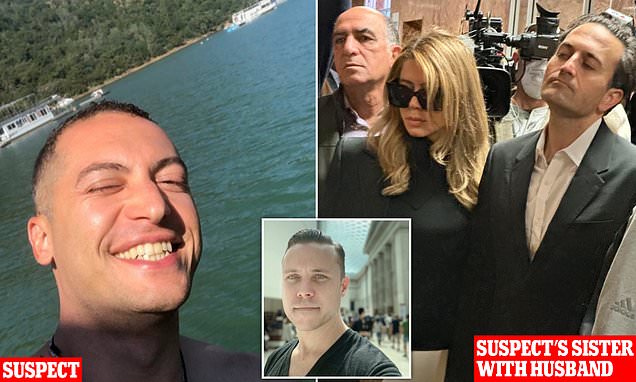 Tech exec appears in court charged with knifing to death Cash App founder Bob Lee – as his sister who introduced the pair shows up in support with her famous plastic surgeon husband
The man suspected of killing Cash App founder Bob Lee was due in court Friday
Nima Momeni is facing murder charges for allegedly stabbing the tech mogul
Momeni's hearing was postponed until April 25th soon after he arrived 
The man suspected of killing Cash App founder Bob Lee on the streets of San Francisco was set to appear in court Friday before his hearing was postponed at the last minute. 
Nima Momeni was arrested at his home in the early hours of Thursday morning, and is facing murder charges for allegedly stabbing the tech mogul. 
He was flashed a heart sign from a relative in the public gallery as he entered the courthouse, before his arraignment was dramatically postponed because one of the prosecutors was on vacation. 
Momeni is now set to appear back in court on April 25.  
The 38-year-old is the owner of Expand IT, a tech business in the Bay Area, and describes himself online as a start-up entrepreneur.
Nima Momeni, 38, briefly appeared in court Friday following his arrest for the stabbing murder of Cash App founder Bob Lee 
Cash App founder Bob Lee was stabbed to death in San Francisco on April 4 
San Francisco District Attorney Brooke Jenkins has charged Momeni with murder, alongside a further charge of special enhancement for using a knife. 
In a news conference Thursday, the DA's office said they are seeking to hold Momeni without bail, arguing he represents a danger to the community. 
Nima appeared at the courthouse Friday with a shaved head and wearing an orange jail issued sweatshirt, pants and sandals, but he was not shackled. 
Several of his relatives were spotted sitting behind his defense table, with a gray-haired woman seen putting her hands over her head in a heart shape as he arrived. 
Momeni's motive for the alleged attack has not been revealed, but police have confirmed that the pair knew each other. 
The tech entrepreneur was also joined in the courthouse by his glamorous sister Khazar Momeni, who is said to have introduced the pair and owns property both near where Lee was stabbed and the suburb where he lived last year.  
Momeni was joined in the courthouse by several of his relatives, including his glamorous sister Khazar, left, and her famous plastic surgeon husband
https://youtube.com/watch?v=mSYh_qWa6DU%3Frel%3D0%26showinfo%3D1%26hl%3Den-US
Bob Lee, 43, was stabbed in the street in the early hours of April 4 while visiting San Francisco from Miami, where he lived.
It is unclear if Momeni attended the same tech conference Lee was in town for, but the pair were seen in Momeni's car together at around 2.30am, moments before the stabbing. 
They had some kind of confrontation that led to the attack, according to police sources. 
Bob Lee's ex-wife Krista told local site Fox News 2 that she remains perplexed at the suspect's motive, but confirmed the pair knew each other.
Shocking surveillance footage caught the moments following the stabbing, where Lee somehow staggered out of the car before leaving a trail of blood as he struggled to walk through the street.  
The harrowing images show Lee stumbling through the city after being stabbed in the chest. He died in the hospital later that morning.
Lee with his ex-wife Krista. She said the arrest of Momeni was the 'first step towards justice' but still does not explain his death 
Lee was stabbed to death on April 4 while visiting San Francisco. Above, his final movements 
Lee had recently moved his family from San Francisco to Miami. Although he and his wife Krista were no longer together, she too relocated to Florida to remain close with their children. 
Tributes have poured in for the tech entrepreneur after his death, with his father, Rick, describing him as his 'best friend'. 
'I just lost my best friend, my son Bob Lee when he lost his life on the street in San Francisco.
'I moved to Mill Valley, CA with Bob after his mother died in 2019 and we recently relocated to Miami in Oct 2022.
'Life has been an adventure with two bachelors living together, and I'm so happy that we were able to become so close these last years.
'Bob would give you the shirt off his back. He would never look down on anyone and adhered to a strict no-judgment philosophy. 
'Bobby worked harder than anyone and was the smartest person I have ever known.
'He will be missed by all those that knew him. Thank you to those who have reached out in support,' he said.
Source: Read Full Article