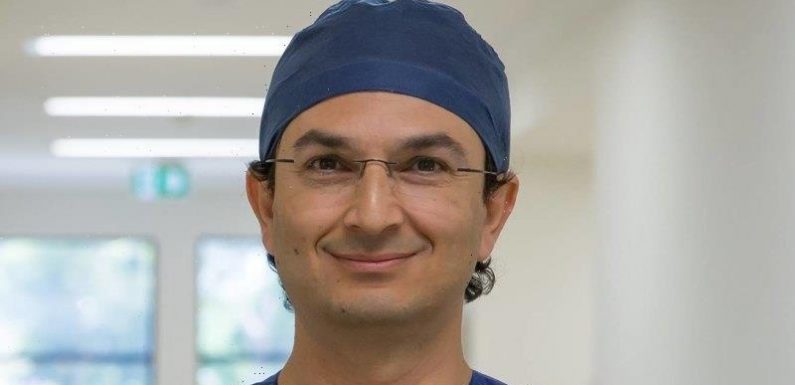 The professional body for orthopaedic surgeons has denied celebrity doctor Munjed Al Muderis's application for a training fellowship following a media investigation revealing concerns about his surgical practice.
As part of legal action taken by Al Muderis against The Age, Sydney Morning Herald and 60 Minutes, the surgeon's lawyers confirmed the Australian Orthopaedic Association had denied Al Muderis' application for a fellowship that provides doctors with training in lower-limb deformity reconstruction surgeries.
Munjed Al Muderis.
Al Muderis took the defamation action against the media organisations after a joint investigation revealed alleged deficiencies in his approach to post-operative care and infection management.
Al Muderis has three fellowships registered with the Australian Orthopaedic Association, a professional body that receives and distributes money from pharmaceutical companies with education budgets. Five surgeons, who spoke on the condition of anonymity, raised concerns about Al Muderis's use of these fellowships to operate multiple theatres at once to maximise the number of surgeries he completes.
One orthopaedic surgeon from Macquarie University Hospital, who could not be named because they were not authorised to speak publicly, said most training fellowships were set up for altruistic reasons, but claimed Al Muderis had treated trainees as "workhorses".
"They run three rooms at once," the surgeon said. "It means they can churn through a large volume of patients. Once you're doing it at that level, you're looking at pecuniary interest."
Lynda Holden says she did not provide consent for trainee doctors to participate in her medical treatment. Credit:Flavio Brancaleone
The surgeon said informing patients about the level of involvement of trainee doctors was crucial, especially for private patients where a contract is between the patient and surgeon.
Al Muderis completed a total knee replacement on University of Western Sydney law lecturer Lynda Holden in 2016. She paid $5063 for the procedure under a contract that stated trainee doctors might be present in the operating theatre "conducting research".
However, when her knee was not healing as quickly as it should, Holden – who has a background in medicolegal expertise – began investigating her own treatment. She discovered that the trainee doctors were not only researching, but actively participating in her treatment, to which she claims she did not consent.
According to medical files, Iraq-trained Dr Shakib Al-Jawazneh was the surgical assistant for her operation and inserted the urinary catheter. He was on a 12-month limited registration at the time, meaning he required supervision by specifically approved staff.
Three days after the surgery, US surgeon Solon Rosenblatt visited Holden for a check-up, where he noted the wound was oozing and prescribed ongoing physiotherapy, according to medical files. At the time, limits on Rosenblatt's medical registration also required him to be supervised.
Holden's condition worsened to the point where she was admitted to hospital, and spent a number of days on an antibiotic drip. She continued to investigate her treatment and discovered robotic technology had been used, which at the time was not approved by the Therapeutic Goods Administration, according to correspondence sent to Holden.
Robotic technology is increasingly being used in joint-replacement surgery to improve precision and reduce risks, but there is a lack of research on long-term outcomes. Holden says she would have liked to have been informed about what type of surgery she was given, so she complained to both the hospital and medical regulator. Both complaints were dismissed.
The Healthcare Complaints Commission sought input from Al Muderis, his staff and the hospital, and ultimately found there was insufficient evidence for disciplinary action, and no risk to public health and safety had been identified.
"Dr Al Muderis notes that he does not regard Dr Rosenblatt's participation in a fellowship program administered by AIMS [the Australian Institute of Musculoskeletal Research] as a matter requiring disclosure," the regulator said.
Holden considered launching legal action for a breach of contract, but ultimately decided against it so she could speak about her treatment.
"Private patients are used as guinea pigs for overseas-trained doctors to get practical experience using robotics. There's nothing in the hospital documents you sign that says you are consenting to overseas-trained doctors practising on you," she said.
Holden's case was not the first complaint about Al Muderis' training fellowships. Around 2018, Norwest Hospital nurse Reece Shepherd filed a complaint to hospital management after he witnessed an unregistered Texan surgeon operate on Al Muderis' patients without supervision, which is illegal, according to a number of sources.
Shepherd's complaint was escalated to Norwest's medical advisory board, which referred the matter to the medical regulator, the Australian Health Practitioner Regulation Agency, although there is no record of action taken, according to Al Muderis' AHPRA profile.
"It was big, at the time. It's totally inappropriate," said one official involved in assessing the complaint. "Munjed has had a constant stream of people from overseas who have been his lackeys and have operated to a certain extent."
Since the joint media investigation was published, surgeons and patients have submitted written complaints to the Australian Orthopaedic Association about Al Muderis' medical practice, including concerns over his use of multiple theatres at once. These surgeons have pushed for the association to conduct an ethics investigation into Al Muderis.
A spokesman for the association would not comment on the decision to reject Al Muderis' application for the fellowship. He said the organisation was "committed to ensuring the highest possible standard of orthopaedic care" but was not a regulator.
"If a formal complaint is lodged through our feedback channels, that complaint is escalated to AHPRA as the body responsible for licensing medical practitioners," he said.
Al Muderis declined to comment.
The Morning Edition newsletter is our guide to the day's most important and interesting stories, analysis and insights. Sign up here.
Most Viewed in National
From our partners
Source: Read Full Article