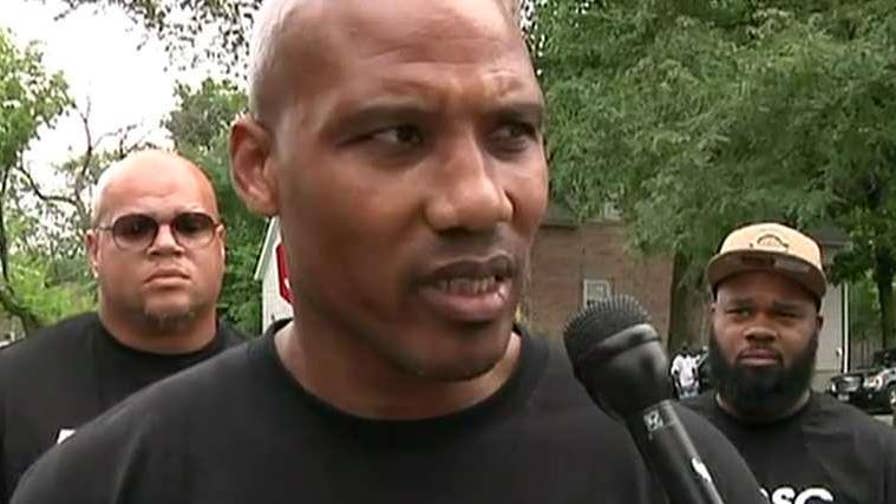 What's driving the wave of violence in Chicago?
Fox News political analyst Gianno Caldwell meets with residents, gang members from Chicago's worst hit communities.
Sixteen-year-old Damarcus Wilson was the first to die. Nine days after the new year, Wilson was walking with his 17-year-old friend on a frigid and foggy Chicago night. It was around 8:30 p.m. when someone in a dark-colored vehicle opened fire. A single bullet hit the teenager in the back – ending his life within minutes.
A month later, Larenzo Smith, 15, was walking in his south Chicago neighborhood around 5:20 p.m. when someone approached him and started shooting. Smith was hit in the chest and taken to Comer Children's Hospital where he was pronounced dead less than an hour later.
As Chicago's crime rates live up to their national notoriety, a closer look at the problem reveals an alarming number of minors are being shot or killed in the crossfire. Grieving families and fractured communities often feel like they've been forgotten by authorities when investigations dry up and no one is held accountable for the violence. Hurt siblings, relatives and friends, unable to cope, sometimes turn toward crime themselves as the cycle continues.
"We can't survive another year of mayhem," Rep. Danny K. Davis, D-Ill., told Fox News. "The stress and strain of it is so great. Everyone seems to be on different pages and there are constant crosses and difficult situations to bear."
Each month this calendar year, at least one minor has been shot and killed in Chicago. In every month, there have been multiple shootings.
According to data compiled by The Chicago Tribune, since September 2011 at least 174 people under the age of 17 have been killed while 1,665 kids have been shot.
Lavontay White Jr, (left) was shot dead on Valentine's Day in 2017 and is one of the youngest victims of Chicago's gun violence; Kenwon Parker (right) was shot dead earlier this week, one day before his 16th birthday by a gun-toting 13-year-old
(Handout)
In 2017 alone, 246 kids under the age of 17 were shot. One of the youngest victims was two-year-old Lavontay White Jr., who was shot dead on Valentine's Day along with his uncle, Lazaric Collins, 26 in a gang attack. Collins was the intended target, police said at the time.
MAN, TWO KIDS FOUND DEAD IN CHICAGO MURDER-SUICIDE, POLICE SAY
The violence, police say, is primarily fueled by gangs. The shootings, residents counter, are a byproduct of individuals facing and normalizing poverty as well as a lack of resources.
Locals also say they are frustrated with the pace of progress in criminal investigations.
What remains is a breeding ground for mistrust that fosters ill will, hostility and suspicion on both sides.
"It's disheartening," Davis, who moved to Chicago in 1961, said. "It seems as though over a period of time, the population has lost a great deal of hope. Kids are shooting one another out there on the streets."
Larenzo Smith, 15, (left) was walking in his south Chicago neighborhood when he was shot in the chest in February; a month earlier, Damarcus Wilson, 16, was hit by a single bullet in the back from someone who shot at him from a dark-colored vehicle on a foggy night
(Handout)
That's what happened when Kenwon Parker attended a community basketball game in Chicago's Garfield Park. One day before his 16th birthday, Parker and another 14-year-old were shot by a gun-toting 13-year-old assailant.
CHICAGO RIDE-SHARE PASSENGERS BEING TARGETED BY ARMED ROBBERS, COPS WARN
"They took my baby! They took my baby," Parker's mother Keyoner Westbrook screamed as family members and friends had to keep her from sinking to her knees on the sidewalk. "I've got to bury my son…I've got to bury my son instead of celebrating his birthday!"
On July 25, a three-year-old girl was walking down the street with her father when a man came up to them and started shooting. The toddler was shot twice in the leg. Her father, a documented gang member and purported target of the violent encounter, was also hit.
"We heard gun shots and I saw the little girl drop, so I ran towards her for first aid," witness Jamie Perez told reporters at the scene.
Is violence driving Chicago to the breaking point?
Neighbor Veronica Shirley lamented: "It's sad because children aren't allowed to be children. They're not allowed to walk with their parents, they're not allowed to enjoy their life. You know, they're in the middle of what's going on out here in this world. These innocent babies have nothing to do with it."
THREE PEOPLE KILLED, 11 OTHERS WOUNDED IN SHOOTINGS IN CHICAGO
The violence has gotten so bad that state Rep. Melissa Conyears-Ervin says she doesn't allow her two-year-old daughter to ride her bike outdoors.
The majority of Chicago shootings take place in the city's south and west sides – areas not only marked by deteriorating neighborhoods but that also lack quick, efficient emergency care. Shooting victims are often shuttled to larger hospitals but some, like Comer Children's Hospital, have adapted their trauma centers to accommodate Chicago's combat-zone like conditions.
After a particularly bloody weekend in early August, Mt. Sinai's emergency room was shut down for several hours after an overload of bodies were brought in. At least 75 people were shot – 12 killed –including four juveniles, ages 17, 14, 13 and 11. The same hospital went into lockdown in May after a riot broke out in its lobby.
Chicago Mayor Rahm Emanuel, who is up for reelection in February and facing strong criticism over his handling of crime, visited the hospital to thank doctors and nurses. Despite the gesture, community activists say the bloodletting will only stop when there is real, meaningful change. That includes restoring broken families, bringing jobs to the area and building the tattered relationship with authorities.
For its part, Chicago Police spokesman Anthony Guglielmi says the department plans to hire an additional 300 homicide detectives by the end of 2018.
"We have been making considerable investments," he said.
For now though, it seems the bitterness is still there.
Of the 75 people who were shot during the early August bloodbath, only one person has been charged in connection to any of the shootings.
"(Chicago police) don't care about us," resident Angie Johnson told Fox News. "They could start by solving these shootings and showing they give a s***."
Source: Read Full Article