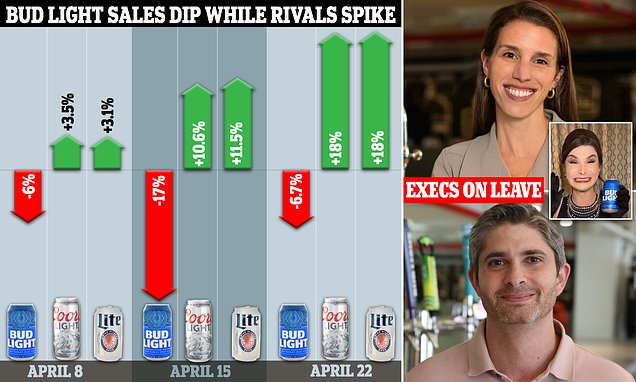 Bud Light's hangover gets worse: Rivals Coors Light and Miller Lite sales SPIKE 18% in wake of Dylan Mulvaney debacle as flagship brand suffers a 17% dip and industry insiders call crisis 'an extremely difficult scenario'
 Coors Light and Miller Lite have seen a huge rise in their sales following the backlash against the American flagship brand
Two senior members of the Anheuser-Busch team have been placed on leave following the controversy

Between April 2 and April 15, overall volume of sales of Bud Light at bars and restaurants dropped by 34.7 percent
Bud Light has suffered another blow in the fallout from its Dylan Mulvaney partnership as its rivals' sales have spiked while its seen huge losses.
Coors Light and Miller Lite both saw bumps to sales while the Anheuser-Busch-owned brewer saw them plunge.
The flagship American brand has suffered a 'staggering' hit, which resulted in two senior members of the team being placed on leave.
Bud Light's VP of marketing, Alissa Heinerscheid, took a leave of absence while the VP for Mainstream Brand, Daniel Blake, stepped down some days after.
The pair have faced the brunt of the criticism, with a report from Insights Express, a beer-focused newsletter, saying it is an 'extremely difficult scenario' for the business – adding 'these numbers are staggering'.
Mulvaney (left) was sent a personalized beer can to mark 365 days since she transitioned. She documented her journey on TikTok and gained millions of online followers
In the week after the campaign launched, April 1, Bud Light dollar sales dipped 6 percent, as Coors Light rose 3.5 percent and Miller Lite 3.1 per cent.
As the backlash ramped up against Anheuser-Busch, with Kid Rock opening fire on several cases of the beer, their sales dropped 17 percent in the week of April 18.
By comparison, Coors Light saw sales rise by 10.6 percent, while Miller Lite scooped up even more profit with sales rising 11.5 percent.
Last week sales of Bud Light had risen slightly, with the company seeing just a 6.7 percent dip in sales, with both their rivals seeing a huge increase of 18 percent.
Bud Light is the largest beer brand in the US, but their decision to work with Mulvaney has seriously affected the company.
During the NCAA basketball tournament from March 18 to April 1, it was the clear leader of all Light beers, up 15 percent, according to Brewbound.
But following the Mulvaney campaign it trailed other beers by at least six percent in bars and restaurants.
Between April 2 and April 15, Beer Board says that their overall volume of sales at bars and restaurants dropped by 34.7 percent.
Bud Light has now declined into the fourth spot of the most popular draft beer during the second week of the controversy – losing out to Coors Light.
Alissa Heinerscheid, the brand's vice president of marketing, has taken a leave of absence, according to the company
Daniel Blake, who is the vice president for Anheuser-Busch's mainstream brands has stepped back from his job, after controversy about Bud Light's partnership with Dylan Mulvaney
VP of marketing Alissa Heinerscheid had been hired to overhaul Bud Light's marketing in June 2022 with the idea of freshening up its image.
She spoke out before the controversial campaign to say that the company had a 'fratty' image which needed to be changed.
Daniel Blake stepped down shortly after Heinerscheid, with both saying they were taking a 'leave of absence'.
The firm said both bosses 'decided' to temporarily step down, but their decisions were reportedly not voluntary.
'Given the circumstances, Alissa has decided to take a leave of absence which we support. Daniel has also decided to take a leave of absence,' the company said.
Blake is a nine-year veteran of Anheuser-Busch and oversaw marketing for both Bud Light and Budweiser.
A replacement wasn't immediately announced. Heinerscheid's job was taken over by Todd Allen, who recently served as global vice president of Budweiser.
The 26-yea-old transgender activist announced the partnership in a now viral post included the hashtag '#budlightpartner', and a caption that touted the cans as her 'most prized possession' 
Several former customers filmed themselves pouring the beer away – down the sink and toilet – while others emptied their fridge of the product into bins
Blake, who is based in New York, was promoted to group vice president of Anheuser-Busch's mainstream brands in May 2022, according to his LinkedIn page. Before that, he was group VP of marketing for Budweiser and value brands.
Mulvaney, 26, announced the partnership in a series of videos posted to social media at the start of April 2023 to coincide with the NCAA March Madness tournament.
In the six days that followed, Anheuser-Busch lost more than $6billion in market capitalization.
The beer giants stock roughly traded at just over five percent decrease in the total share value and the company's market capitalization stood at $113.33billion.
Mulvaney posted several videos and images on Instagram for the paid partnership, but it is unclear exactly how much she was paid. 
On March 30, Heinerschied gave an interview to a business podcast in which she said she wanted to make Bud Light less 'fratty' and more 'inclusive'.
Locals in Marietta, Georgia, where Travis Tritt is from,  have been switching from their usual drink of Bud Light to Coors Light, according to bartenders – who say the impact was 'immediate'
Fellow country singer John Rich became the latest celebrity to hit out at the brand, asking which beer he should use to replace Bud Light at his Nashville bar, Redneck Riviera
The company has been hit with a barrage of complaints, with many customers filming themselves pouring the liquid away  
Two days later, on April 1, Mulvaney – who began transitioning to a woman in 2021 – was unveiled as a brand partner.
Several famous faces have slammed the brand for their decision, after pro-Trump Kid Rock shot the cans and commented: 'F*** Bud Light, and f*** Anheuser-Busch. Have a terrific day.'
Country singer Travis Tritt also said he had removed all Anheuser-Busch products from his tour bus over the partnership.
John Rich also publicly denounced the brand, saying he would be removing it from his bar in Nashville.
Mulvaney has hit back at her critics over the Bud Light deal, telling Rosie O'Donnell on her podcast: 'The reason that I think I am so…I'm an easy target is because I'm so new to this.
'I think going after a trans woman that's been doing this for like 20 years is a lot more difficult. I think maybe they think that there's some sort of chance with me … But what is their goal?
Singer Kid Rock, 52, also showed his disdain by shooting several cases of the beer, saying 'F*** Bud Light, and f*** Anheuser-Busch. Have a terrific day'
CEO of Anheuser-Busch Brendan Whitworth issued this public statement two weeks into the controversy
'These people, they don't understand me, and anything that I do or say then somehow gets taken out of context and is used against me, and it's so sad because everything I try to put out is positive.
'It's trying to connect with others that maybe don't understand me. It's to make people laugh or to make a kid feel seen.'
In the turmoil that ensued after the announcement of the collaboration, Anheuser-Busch issued a statement saying it supported the brand's decision to work with Mulvaney.
They added:  'Anheuser-Busch works with hundreds of influencers across our brands as one of many ways to authentically connect with audiences across various demographics.
'From time to time, we produce unique commemorative cans for fans and for brand influencers, like Mulvaney. This commemorative can was a gift to celebrate a personal milestone and is not for sale to the general public.'
Since taking the gig in July, Heinerscheid has already rolled out several adverts as part of a push to empower women – one of which features a dancing Miles Teller and his wife
Bud Light then released a patriotic new advertisement for Budweiser featuring its iconic Clydesdale horses, in an apparent attempt to reset following the controversy.
The one-minute spot features shots of the iconic Clydesdales galloping across the country, in open fields, and past landmarks including the Lincoln Memorial and the New York City skyline.
However, online users slammed the ad as a pathetic attempt to right the ship that was permanently sent in the wrong direction with the Mulvaney partnership. 
On April 14, CEO Brendan Whitworth delivered an apology.
'We never intended to be part of a discussion that divides people. We are in the business of bringing people together over a beer,' he said in a statement.
He added: 'My time serving this country taught me the importance of accountability and the values upon which America was founded: freedom, hard work and respect from one another.'
'I care deeply about this country, this company, our brands and our partners,' he added. 
'I spend much of my time traveling across America, listening to and learning from our customers, distributors and others. Moving forward I will continue to work tirelessly to bring great beers to consumers across our nation.'
Source: Read Full Article