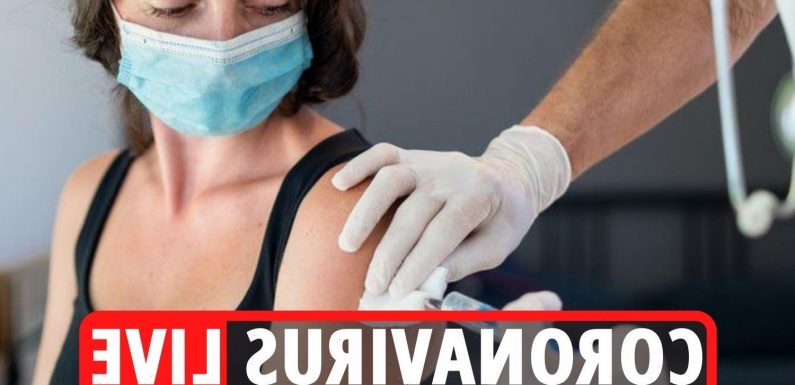 BRITAIN may be heading for a third Covid wave as home quarantines "are not working" as cases of the Indian variant continue to rise.
Professor Andrew Hayward, an infectious disease expert and Sage advisior told BBC Breakfast this morning he is "very concerned" about the spread of the B1.617.2 variant.
Asked if the UK is at the start of a third wave of Covid infections, he replied: "I think so."
Professor Hayward warned the mutation is likely to spread to other parts of the country, adding: "Obviously we're doing everything we can to contain the spread of that but it's likely that more generalised measures may start to be needed to control it."
The Indian B.1617.2 variant has already infected at least 3,000 people since it emerged in mid-April – and is believed to be the dominant strain across 23 areas in the UK, leading to a surge testing blitz.
Health Secretary Matt Hancock told a Downing Street press conference yesterday: "We are seeing the vast majority of cases, both of the existing variant and of the B1617.2 variant, amongst younger groups and unvaccinated people.
"On the one hand hand that is actually a good sign as it implies the vaccine is working effectively, but obviously we don't want to see a huge increase in the number of cases everywhere."
Read our coronavirus live blog below for the latest news and updates…
Caroline Mortimer

EASYJET BOSS SAYS GOVT MESSAGING ON AMBER LIST IS "CONFUSING"

EasyJet chief executive Johan Lundgren described the Government's messaging on whether people should go on holiday to amber list destinations as "very confusing to say the least".

Asked if easyJet customers were flying to amber countries for leisure despite Government guidance not to do so, he replied: "Yes, people are booking flights and they're going there on holidays.

"I think that the view was to apply common sense, and I think that there's a lot of people out there who have as a top priority coming through this pandemic to go on that holiday break.

"That is what people are doing."

Caroline Mortimer

COVID DROPS TO NINTH LEADING CAUSE OF DEATH IN ENGLAND

Covid-19 was the ninth leading cause of death in England last month, the lowest ranking since September 2020, new figures show.

A total of 941 deaths were due to coronavirus in April, the equivalent of 2.4% of all deaths registered in England, according to the Office for National Statistics (ONS).

The leading cause of death was ischaemic heart diseases (4,144 deaths), followed by dementia and Alzheimer's disease (4,018 deaths).

Covid-19 was the leading cause of death in England every month from November 2020 to February 2021.

In March it dropped from top spot to third place, before falling to ninth place in last month.

Caroline Mortimer

PUBLIC HEALTH ENGLAND SAYS AZ VACCINE UP TO 85-90% EFFECTIVE AGAINST COVID

Public Health England says its new analysis shows the AstraZeneca vaccine is between 85 and 90% effective against symptomatic disease.

It says up to 13,000 deaths have now been prevented in people aged over 60 up to 9 May
Caroline Mortimer

WATCH: HOLLY WILLOUGHBY SWOONS OVER PRINCE WILLIAM

This Morning's Holly Willoughby swoons over Prince William's 'bulging bicep' in jab snap saying 'he looks good'

Caroline Mortimer

VIRUS FIZZLES OUT

Nearly 90 per cent of 7,000 areas in England and Wales saw NO Covid deaths in April, new figures show.

The Office for National Statistics (ONS) data also revealed the virus is now the ninth cause of death in England – with more people dying of old age last month.

Data from the ONS is collected from Middle Layer Super Output Areas (MSOA) which helps experts gather data from smaller, local areas.

The data shows that there were a handful of areas that recorded three deaths each.

These included areas such as Hounslow in London – where the Indian variant has also been found and where extra measures will be rolled out.

The other areas include Castle Point, Warrington and Birmingham

Caroline Mortimer

BELGIAN ARMY JOINS HUNT FOR MAN WHO THREATENED COVID SCIENTIST

The Belgian army helped comb a forest on Thursday in search of a heavily armed soldier with far-right views who disappeared three days ago, authorities and media said.

The federal prosecutor said that 46-year-old Jurgen Conings went missing after he had made threats against Belgian institutions and celebrities, but did not give details.

The case has gripped Belgians and dominated headlines since weapons including anti-tank rocket launchers and ammunition taken from a military base were found in Conings' abandoned car near Dilsen in west Belgium.

Local media said the army deployed armoured vehicles and demining equipment to assist police already hunting him in the 12,000-hectare Hoge Kempen park of woodland, lakes and dunes.

A highway through the area was closed.

Caroline Mortimer

UK LAUNCHES CLINICAL TRIAL ON BOOSTER JABS

Hancock has announced the world's first clinical trial on booster jabs.

Seven existing vaccines are to be tested in the Cov-Boost trial to see which jabs could be used in any forthcoming autumn vaccination programme.

Some 2,886 people aged 30 and older are being recruited at 18 NHS sites from London to Glasgow, with the first booster jabs administered in early June.

The trial will cost £19.3million, backed by taxpayers' money.

Caroline Mortimer

PRINCE WILLIAM RECEIVES COVID VACCINE

Prince William, who contracted Covid-19 last year, revealed on Thursday he had received his first dose of a coronavirus vaccine.

William, 38, the grandson of Queen Elizabeth and second-in-line to the British throne, revealed on Twitter he had received the shot earlier this week, alongside a picture of the moment he had the injection at London's Science Museum.

"On Tuesday I received my first dose of the Covid-19 vaccine," he said. "To all those working on the vaccine rollout – thank you for everything you've done and continue to do."

William fell ill with the disease last April, at about the same time as his father, heir-to-the-throne Prince Charles, although he kept the news secret until November.

Media reports said he had not wanted to alarm anyone and he had been hit pretty badly by the virus.

Caroline Mortimer

No 10 DENIES THERE WAS A DELAY IN NOTIFYING LOCAL COUNCILS ABOUT INDIAN VARIANT CASES

Downing Street has denied that a NHS Test and Trace delay in alerting local authorities in hotspot areas to positive cases helped contribute to the spread of the Indian variant.

It follows a report by the BBC that for three weeks in April and May, eight local authorities in England – including Blackburn with Darwen – did not have access to the full data on positive tests in their area, meaning more than 700 cases were not reported and traced locally.

Surge testing and vaccinating has been taking place in Blackburn in Lancashire, along with a number of other impacted areas in the UK, after cases of the B1617.2 mutation increased.

The BBC said a report into the reporting glitch at one of the councils affected concluded that the rapid spread of Indian strain within its boundary was "exacerbated by the sporadic failure of the national Test and Trace system".

Labour said the suggestion that local public health officials had been "left in the dark" over their case numbers "beggars belief".
Caroline Mortimer

BAHRAIN BLOCKS ACCESS TO PUBLIC VENUES FOR UNVACCINATED

Bahrain said on Thursday it would restrict access to most public venues to immunized people only after coronavirus cases hit a record high in the Gulf state which has seen an influx of visitors from Saudi Arabia after a causeway reopened this week.

Health Ministry Undersecretary Waleed Al Manea attributed the spike to large gatherings at home during the Muslim fasting month of Ramadan and Eid holidays as well as increased testing.

As of May 21, only people aged above 18 who have completed 14 days since their second vaccine dose or who have recovered from the virus will be allowed at commercial centres, with the exception of supermarkets, banks, pharmacies and hospitals.

The restrictions, which apply to shopping malls, restaurants, salons and cinemas as well as offices providing government services, will last until June 3.

The island nation of 1.7 million people on Wednesday registered 2,354 new Covid-19 infections and eight deaths to bring its total to 206,878 cases with 773 deaths. On May 15, authorities had recorded around 1,300 infections.

Caroline Mortimer

CHINA GIVING VACCINES TO 40 AFRICAN COUNTRIES

China said Thursday it is providing Covid-19 vaccines to nearly 40 African countries, describing its actions as purely altruistic in an apparent intensification of what has been described as "vaccine diplomacy."

The vaccines were donated or sold at "favorable prices," Foreign Ministry official Wu Peng told reporters.

Wu compared China's outreach to the actions of "some countries that have said they have to wait for their own people to finish the vaccination before they could supply the vaccines to foreign countries," in an apparent dig at the United States.

"We believe that it is, of course, necessary to ensure that the Chinese people get vaccinated as soon as possible, but for other countries in need, we also try our best to provide vaccine help," said Wu, who is director of the ministry's Africa department.

Caroline Mortimer

RETURN TO FULL FACE-TO-FACE GP APPOINTMENTS IN NORTHERN IRELAND 'UNLIKELY', SAYS DOCTOR

A leading doctor has said it is highly unlikely there will be a full return to face-to-face GP services for patients in Northern Ireland following the pandemic.

Dr Alan Stout, BMA Northern Ireland GP Committee chair, told the Stormont health committee of the pressures facing the primary care sector.

He said GP services have been using a phone-first system during the health crisis to enable patients to maintain contact with surgeries.

Dr Stout told the committee it was "astounding" that the pressures brought by Covid-19 had not led to GP surgeries closing in Northern Ireland.

He said: "The pressures that general practice has been experiencing for many years, and namely the ever-growing workload with a decreasing workforce and subject to limited funding, these issues are still there and have been exacerbated by the Covid-19 pandemic.

Caroline Mortimer

JAPAN APPROVES MODERNA AND ASTRAZENECA VACCINES

Japanese regulators recommended the approval of Covid-19 vaccines developed by Moderna Inc and AstraZeneca PLC on Thursday, paving the way for the country to speed up its slow-moving vaccination campaign.

The recommendations by a health ministry panel precede official approval by the government as early as Friday, health minister Norihisa Tamura said on Thursday.

Tamura likened the approval of the new vaccines to building extra railway tracks, telling reporters: "It means that the vaccination roll-out will be smoother."

Supplies of the Moderna doses have already been imported and are planned for use at mass vaccination centres in Tokyo and Osaka from next week.

Takeda Pharmaceutical Co, Japan's biggest drugmaker, is handling imports of about 50 million doses of the Moderna shot, or enough for 25 million people. That amount could be doubled, Takeda said this month.

Caroline Mortimer

COVID DROPS TO NINTH LEADING CAUSE OF DEATH IN ENGLAND

Covid-19 was the ninth leading cause of death in England last month, the lowest ranking since September 2020, new figures show.

A total of 941 deaths were due to coronavirus in April, the equivalent of 2.4% of all deaths registered in England, according to the Office for National Statistics (ONS).

The leading cause of death was ischaemic heart diseases (4,144 deaths), followed by dementia and Alzheimer's disease (4,018 deaths).

Covid-19 was the leading cause of death in England every month from November 2020 to February 2021.

In March it dropped from top spot to third place, before falling to ninth place in last month.

Caroline Mortimer

WATCH: DENISE WELCH BREAKS DOWN ON LOOSE WOMEN TALKING ABOUT THE EMOTIONAL TOLL OF THE PANDEMIC

Denise Welch breaks down in tears on Loose Women saying 'I can't bear it any more' during Covid debate
Caroline Mortimer

SWEDEN REGISTERS OVER 3,000 NEW CASES AND TWO DEATHS

Sweden registered 3,411 new Covid-19 cases on Thursday, health agency statistics showed, continuing a downward trend in new infections evident in recent weeks.

The country of 10 million inhabitants registered 2 new deaths, taking the total to 14,351. The deaths registered have occurred over several days and sometimes weeks.

Sweden has been an outlier in the fight against the pandemic and has opted against lockdowns, instead relying on mostly voluntary measures. The death toll has been higher than in other Nordic countries but lower than in most European countries that opted for lockdowns.

Joseph Gamp

VACCINE BOOSTER TRIAL LOOKING FOR RECRUITS IN SCOTLAND

A health board has started its appeal to recruit 185 volunteers for a world-first clinical trial to see whether a booster vaccine dose could protect people against Covid-19 and its variants.

NHS Greater Glasgow and Clyde (NHSGGC) is the only area in Scotland taking part in the trial, which will be run at Glasgow Clinical Research Facility.

In total, 2,886 people aged 30 and older are being recruited at 18 NHS sites across the UK for the trial, with the first booster jabs administered in early June.

Scientists want people who received their first dose of either the Pfizer or AstraZeneca jab in December or January to sign up, and hope people aged 75 and over will also come forward.

The trial will look at seven Covid-19 vaccines as potential boosters, given at least 10 to 12 weeks after a second dose as part of the ongoing vaccination programme.

Joseph Gamp

CHINA GIVING VACCINES TO 40 AFRICAN COUNTRIES

China said Thursday it is providing Covid-19 vaccines to nearly 40 African countries, describing its actions as purely altruistic in an apparent intensification of what has been described as "vaccine diplomacy."

The vaccines were donated or sold at "favorable prices," Foreign Ministry official Wu Peng told reporters.

Wu compared China's outreach to the actions of "some countries that have said they have to wait for their own people to finish the vaccination before they could supply the vaccines to foreign countries," in an apparent dig at the United States.

"We believe that it is, of course, necessary to ensure that the Chinese people get vaccinated as soon as possible, but for other countries in need, we also try our best to provide vaccine help," said Wu, who is director of the ministry's Africa department.

Joseph Gamp

UPDATED COVID-19 DEATH TOLL

 The Government said a further five people had died within 28 days of testing positive for Covid-19 as of Monday, bringing the UK total to 127,684.

Separate figures published by the UK's statistics agencies show there have been 152,000 deaths registered in the UK where Covid-19 was mentioned on the death certificate.

The Government also said that, as of 9am on Monday, there had been a further 1,979 lab-confirmed cases in the UK.

Joseph Gamp

LABOUR FAILS IN BID TO MAKE MINISTERS PUBLISH COVID-19 INTERNAL REVIEW

Conservative MPs have rejected attempts to make the Government publish its internal review of its handling of the Covid-19 crisis.

Labour argued that publishing the document would ensure better scrutiny of the Government's response to the Indian Covid-19 variant.

But the Opposition's Queen's Speech amendment seeking the release of the review was rejected in the Commons by 367 to 264, majority 103.

The failed bid came as a separate report by the National Audit Office (NAO) found that the pandemic had "laid bare existing fault lines within society and has exacerbated inequalities".

Shadow health secretary Jonathan Ashworth referenced Prime Minister Boris Johnson's former senior adviser as he told the Commons: "For the first time in my life I think I find myself agreeing with Mr Dominic Cummings."

Joseph Gamp

EASYJET BOSS SAYS GOVT MESSAGING ON AMBER LIST IS "CONFUSING"

EasyJet chief executive Johan Lundgren described the Government's messaging on whether people should go on holiday to amber list destinations as "very confusing to say the least".

Asked if easyJet customers were flying to amber countries for leisure despite Government guidance not to do so, he replied: "Yes, people are booking flights and they're going there on holidays.

"I think that the view was to apply common sense, and I think that there's a lot of people out there who have as a top priority coming through this pandemic to go on that holiday break.

"That is what people are doing."
Joseph Gamp

SPAIN WANTS BRIT TOURISTS WITHIN WEEKS

A senior Spanish government official says he expects British and other vacationers to return to Spain within weeks as the country races to revive its tourism industry amid the Covid-19 pandemic.

Deputy Minister for Tourism Fernando Valdes told The Associated Press on Wednesday that falling coronavirus incidence rates and accelerating vaccine rollouts in some countries will enable Spain to drop travel restrictions early next month.

Some people from countries outside the European Union will be able to come for example, from the United Kingdom, which is in a good epidemiological situation without any restrictions, Valdes said in an interview.

And we are going to begin to accept citizens that can present a vaccine certificate, he said.

In 2019, Britain sent 18 million people to Spain, the most of any country. Spain is one of the world's top tourism destinations.

Joseph Gamp

TRANSPORT SECRETARY WANTS MORE COUNTRIES TO BE ADDED TO THE GREEN LIST

Transport Secretary Grant Shapps said he wanted to see more countries added to the "green list" for travel.

He told BBC Radio 4's Today: "The amber list and the red list are not for holidaymakers, that's not the purpose of those lists at this time.

"We just think that after a year of lockdowns in this country, of people coming forward in record numbers to get their vaccines, we do not want to be in a position of taking risks at this stage about our unlock."

Asked if he was pushing for the green list to be extended he said: "Of course. The reason for that is we have ended up getting way ahead in terms of our vaccination programme in this country and we are just having to wait for other countries to catch up with us.

"That's going to gradually happen, obviously, you can see it's happening, so that list should expand."

Joseph Gamp

PLAY ALONG

Portugal has announced the new Covid rules for holidaymakers visiting the beach this summer – and rule-breakers face €100 (£86) fines.

Thousands of Brits have flocked to the country this week, with the holiday ban lifted on Monday and Portugal one of the few green list countries.

The new rules, according to local media, now mean that Brits face the steep fines if they don't wear a face mask while on the beach.

There will also be a traffic light system in place, with sunbathers banned from red areas – also facing fines if breaking the rules.

Beaches with capacity of more than 90 per cent will show a red light, meaning access is not allowed.

Joseph Gamp

DECISION MADE ON JUNE 14 OVER FINAL STAGE OF REMOVING LOCKDOWN RESTRICTIONS

Hancock said a decision about removing the final stage of lockdown restrictions, in light of the India variant, will be made on June 14.

"Every day we're getting more information," he said. "We look every day at the data … Until then, it is too early to say."

Jonathan Van Tam added: "I think scientists are sure that this virus is more transmissible than the strain it is beginning to replace."
Source: Read Full Article