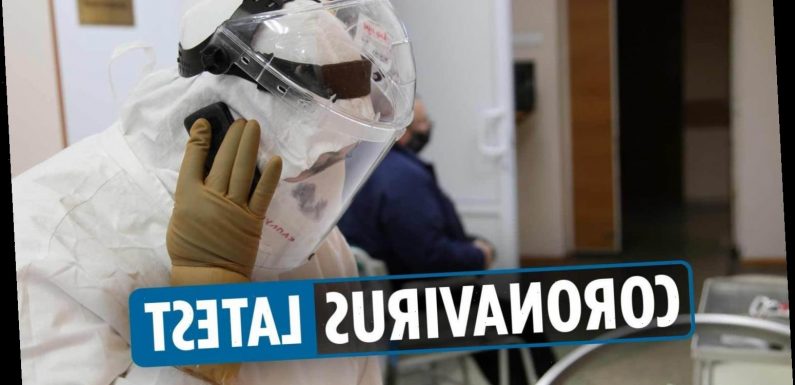 THE UK is set to meet its target to vaccinate those who are most vulnerable, as the Government unveiled its plan to escape lockdown by summer.
The 47-page plan, revealed this afternoon, explains how millions of Brits will get the vaccine in the coming weeks and months.
Health secretary Matt Hancock said today: "Vaccines are important and I care about them because I want our country to get back to normal as fast as possible.
"I want us to have that great British summer – my team and I are working fast to deliver this as soon as possible."
The number of daily cases of people who tested positive for coronavirus increased by 46,169 and an additional 32,294 people have been hospitalised with the virus – a 22% increase on this time last week.
The NHS has also revealed it is currently operating at 50% higher patient capacity than it was during the peak of the first covid wave last April.
Follow the very latest news, updates and analysis of the coronavirus crisis in our live blog below.
Joseph Gamp

CHINA REPORTS 55 NEW COVID CASES

China reported 55 new Covid-19 cases on Jan. 11, down from 103 cases a day earlier, the national health authority said on Tuesday.

The National Health Commission said in a statement that 40 of the 42 local infections were in Hebei, the province surrounding Beijing and the worst-hit region in the latest spike in new cases.

The number of new asymptomatic cases, which China does not classify as confirmed cases, rose to 81 from 76 cases a day earlier.

Joseph Gamp

WATCH: UK HAS GIVEN MORE COVID VACCINES THAN REST OF EUROPE COMBINED

UK has given more Covid vaccine doses than rest of Europe COMBINED as 2.6m jabs handed out

Joseph Gamp

CONTINUED

Superintendent Mike Walker said: "This couple were incredibly fortunate to have come through this experience without injury and be able to tell the tale.

"We very clearly advised members of the public this weekend to stay at home and when taking exercise, stay local to stop the spread of Covid.

"Quite simply driving miles and miles, out of your village, town or city to visit an open space is not a necessary journey and is not acceptable.

"Neither is arriving at a challenging walking location, inexperienced and unprepared in treacherous weather conditions.

"By making an irresponsible and ill-informed decision, the safety of others, such as the Cave Rescue Organisation volunteers, is also put in jeopardy and if any injury resulted, pressure upon already stretched NHS resources."
Joseph Gamp

POLICE URGE PUBLIC TO 'CONSIDER THEIR ACTIONS' AFTER WEEKEND OF COVID BREACHES

Police have urged people to "really consider their actions" after one force handed out more than 70 fines for Covid regulation breaches and rescued two "ill-equipped" walkers from a mountain summit.

North Yorkshire Police said the couple, a man and a woman from Rochdale in Greater Manchester, were "incredibly fortunate" not to have been injured after they got into difficulty in poor weather at the summit of Ingleborough on Sunday.

The force said officers also had to turn away numerous out-of-area visitors who had come "for a drive" or "to look at the snow", were called to several house parties and handed out dozens of fixed penalty notices.

A spokesman said the pair contacted police at 4.30pm on Sunday after they lost their way due to failing light and low-lying fog, ice and snow and were brought to safety by the Cave Rescue Organisation.

Joseph Gamp

GRAPH: UK COVID-19 CASES AND DEATHS PER DAY

 

 

Claudia Aoraha

SIR DAVID ATTENBOROUGH GETS COVID VACCINE

Sir David Attenborough has received his Covid-19 vaccination, The Sun can reveal.

The 94-year-old TV legend had his jab last week, within days of the Queen who is the same age.

The Perfect Planet star is believed to have had the Oxford vaccine following its roll-out last Monday.

Last night a source said: "Sir David was always keen to get vaccinated, and support both the current programme and the NHS.

"Of course, as well as his family and loved ones, millions of animal fans across the globe will be delighted – this is brilliant news."

Claudia Aoraha

UK ECONOMY WILL 'GET WORSE BEFORE IT GETS BETTER' WARNS CHANCELLOR

Rishi Sunak has warned the UK economy will "get worse before it gets better" as businesses and households endure the latest lockdown measures to try to bring the coronavirus pandemic back under control.

"Even with the significant economic support we've provided, over 800,000 people have lost their job since February," the chancellor told the House of Commons on Monday.

 

Joseph Gamp

TWO GORILLAS AT SAN DIEGO ZOO TEST POSITIVE FOR CORONAVIRUS

Two captive gorillas at the San Diego Zoo have tested positive for COVID-19 after falling ill, and a third gorilla appears also to be symptomatic, California Governor Gavin Newsom said on Monday in an online update about the coronavirus pandemic.

Newsom said the source of infection is still being investigated to determine whether the virus was transmitted between animals or from humans to the apes.

Joseph Gamp

SAINSBURY'S WILL POST TRAINED SECURITY GUARDS AT SHOPS TO 'CHALLENGE' CUSTOMERS NOT WEARING MASKS

Sainsbury's has confirmed it will post trained security guards at shop entrances to "challenge" any customers not wearing a mask or shopping in groups.

Chief executive Simon Roberts said: "I've spent a lot of time in our stores reviewing the latest situation over the last few days and on behalf of all my colleagues, I am asking our customers to help us keep everyone safe.

"The vast majority of customers are shopping safely, but I have also seen some customers trying to shop without a mask and shopping in larger family groups.

"Please help us to keep all our colleagues and customers safe by always wearing a mask and by shopping alone. Everyone's care and consideration matters now more than ever."
Joseph Gamp

UAE REMOVED FROM UK TRAVEL CORRIDOR LIST

UAE has been removed from Britain's travel corridor list – meaning travellers will need to self-isolate on their return.

Bikini-clad influencers will now have to quarantine when they come back from Dubai after it was booted off the nation's safe list of destinations.

The middle eastern holiday hotspot, which has rammed full of celebrity influencers like Gabby Allen, Amber Gill and Molly-Mae Hague has seen a spike in cases – which have doubled in a week.

It was removed from the safe list tonight, meaning passengers returning need to self-isolate for 10 days on their return from Transport Secretary Grant Shapps said: "The LATEST data indicates we need to immediately remove the #UAE from the #TRAVELCORRIDOR list.

"From 0400 Tuesday 12 Jan anyone arriving from the UAE will need to SELF-ISOLATE."

Read more here.

Joseph Gamp

RULES IN ENGLAND DURING LOCKDOWN

Joseph Gamp

HANCOCK WARNS NHS UNDER 'SIGNIFICANT PRESSURE', ASKS PUBLIC TO FOLLOW RULES

Health Secretary Matt Hancock has pleaded with the public to follow coronavirus rules as new figures show nearly 2.3 million people in the UK have had a vaccine jab.

Mr Hancock said the new variant of coronavirus is "highly contagious and it is putting the NHS under very significant pressure" as he addressed a Downing Street briefing.

He echoed comments made earlier by England's chief medical officer, Professor Chris Whitty, saying "we're at the worst point in this pandemic".

And he added: "The NHS, more than ever before, needs everybody to be doing something right now – and that something is to follow the rules. I know there has been speculation about more restrictions, and we don't rule out taking further action if it is needed, but it is your actions now that can make a difference.

"Stay at home, and please reduce all social contact that is not absolutely strictly necessary. That's what is needed: act like you have the virus."

Joseph Gamp

CUTTING IT FINE

The two women who were slapped with a £200 fine each for driving five miles to go for a walk in a park have had their penalty notices dropped, it has been reported.

Last week, Jessica Allen and Eliza Moore told how they were "surrounded by cops" and that the drinks they had with them – two peppermint teas from Starbucks – were classed "as a picnic."

Read more here.

Joseph Gamp

GRAPHIC: HOW THE VACCINE WORKS

Joseph Gamp

CORONAVIRUS RECAP: WHAT'S HAPPENED TODAY?

Boris Johnson warns he may have to tighten lockdown AGAIN as he reveals 2.4million Covid jabs given out
NHS facing 'worst weeks of Covid' storm, warns Chris Whitty as he urges Brits to 'stay at home
The truth behind videos of 'empty' hospitals shared by coronavirus sceptics and anti-lockdown activists
Working from home WON'T become the new normal and people will return to offices, Rishi Sunak vows
NHS chief reveals a quarter of all Covid patients are under 55 as he urges everyone to take virus 'extremely seriously'

Joseph Gamp

BREAKING: UK COVID-19 CASES JUMP BY 46,169 IN 24 HOURS AS DEATHS RISE BY 529

Coronavirus cases in the UK today jumped by 46,169 as deaths rose by 529 in the last 24 hours.

There has now been 3,118,518 people infected with the disease in the UK, and the total death toll has reached 81,960.

Read more here.

Joseph Gamp

WATCH: MATT HANCOCK TRIES TO CLARIFY LOCKDOWN RULES ON PARK WALKS AND EXERCISE

Health Secretary Matt Hancock tries to clarify Covid-19 restrictions on park walks and exercise

 

Joseph Gamp

MAPPED: ENGLAND'S MASS VACCINATION CENTRES REVEALED

Joseph Gamp

HANCOCK: SUPPORT BUBBLES WILL REMAIN

"I know how important they are to people, and they are an important part of the system we have go to support people," Hancock said during the press conference.

"The bubbles are there for individual specific people…if there is someone in your bubble, you are essentially part of the same household."

Joseph Gamp

HANCOCK APPLAUDS SUPERMARKET CHAIN FOR ENFORCING WEARING OF FACE MASK

The health secretary applauded supermarket chain Morrisons' decision to enforce the wearing of masks by its customers, unless they have a medical reason.

He added: "I want to see all parts of society playing their part in this."

Joseph Gamp

HANCOCK: WE WILL TIGHTEN RULES IF NECESSARY

Mr Hancock says: "We keep these things under review and we have demonstrated that we're willing to tighten the rules if they need to be tightened.

"But the thing that really matters right here, right now is that everybody follows the rules as they are today.

"And everybody can play their part in doing that."

Joseph Gamp

HALF A MILLION LAPTOPS BEING DELIVERED TO SUPPORT PUPILS LEARNING AT HOME

Asked about support for pupils learning from home Mr Hancock said: "My colleague, Gavin Williamson, the Education Secretary, is sending out over half a million laptops, and making sure, as much as is possible, that those laptops get to the people who need them."

Joseph Gamp

HANCOCK: I'M CONFIDENT FOUR PRIORITY GROUPS WILL RECEIVE VACCINE BY MID FEBRUARY DEADLINE

Matt Hancock said he was "confident" that the first four priority groups would receive their coronavirus vaccine by the middle of next month.

The Health Secretary said: "We are on track to meet that target – it's not going to be easy, but we are going to get there."

Professor Stephen Powis said he too was confident that the target would be met.

Joseph Gamp

NOW 13,000 MORE COVID HOSPITAL ADMISSIONS THAN ON XMAS DAY

There are now 13,000 more Covid-19 patients in hospital than there were on Christmas Day, the National Medical Director for England has said.

Professor Stephen Powis said: "Less than a fortnight into 2021 the number of people in hospital with Covid has already gone up by a third, a rise of around 8,000."

He said that infection and death rates remain "stubbornly high" with hospitals under "significant and sustained" pressure.

He said that even the South West has more people in hospital now than the entire country combined did at the end of September, and the country has still not seen the full impact of the Christmas loosening of restrictions.

He urged everyone to stick to the rules and "keep focus and resilience" as a country.

Joseph Gamp

A 'SPRINT AND MARATHON' BEFORE OTHER AGE GROUPS RECEIVE VACCINE BY AUTUMN – PROFESSOR POWIS

The National Medical Director for England has said that seven vaccination hubs and more than 1,000 pharmacies are gearing up to start delivering Covid-19 jabs.

Speaking at the Downing Street press briefing, Professor Stephen Powis said that 1,200 pharmacies in England alone will join the vaccination roll-out.

"We will then kick off another sprint up to April as we get the rest of the vulnerable groups protected and finally a marathon to the autumn as we deliver vaccination to everyone else," he said.

He added that, apart from social distancing and Covid-19 safety measures, "these vaccines are the best line of defence that we have as we continue this battle against coronavirus".

Source: Read Full Article