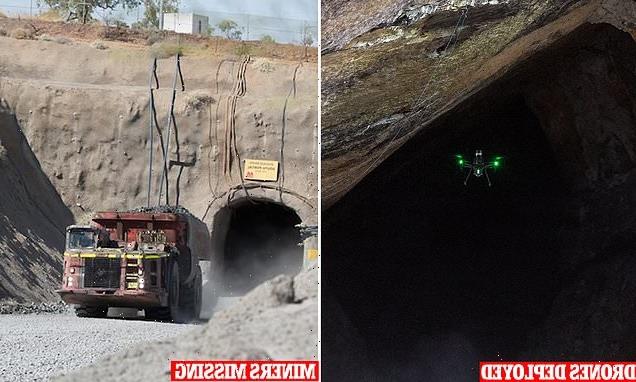 Desperate rescue effort continues for two missing miners who fell into a pit at an underground mine as their ute is found in the deep void late last night: 'Praying for miracle'
Two miners trapped after earth collapses underneath them
They fell 125m into the mine and have not been heard from 
Specialised drones found the ute  in the mining pit
There are grave fears for two miners who are still missing more than a day after they plummeted 125m into a remote underground pit.  
The incident occurred at the Dugald River zinc mine, about 70km from Cloncurry in Queensland's remote northwest, after a drill rig fell into the mine pit just before 9am Wednesday morning.
The two men were laying explosive charges when they fell and became trapped inside a stope, a hole used to excavate minerals from the mine.
Rescuers deployed underground drones overnight to try and find the wreckage and discovered the ute in a deep void on Thursday. 
The miners have reportedly not responded over radio and it is not clear if they survived the incident. 
'Rescue efforts continued overnight as Barminco worked closely with MMG and relevant authorities to undertake and progress the search and rescue operation,' the mine's parent company Perenti said. 
Two miners are trapped in the Dugald River zinc mine in rural northwest Queensland (pictured, a map of where the mine is located)
'The rescue team have employed the use of drones, void scanning technology and video imagery and this has enabled them to locate the light vehicle that we believe the two missing employees were driving.'
'The rescue team have been working throughout the night including with the use of heavy underground mining equipment to gain access to the vehicle.'
Cloncurry Shire Mayor Greg Campbell said he hoped the men were safe. 
'These will be highly trained people that are in that mine rescue team, but hopefully when they are doing those sort of jobs, they hope to never have to do it,' Mr Campbell told the Today Show on Thursday morning.
'But at Dugald River, they will be putting those skills to they will be putting those skills to the test for real today.
'As a community [we have] to put our thoughts and prayers for these people and their families and also with the mine rescue teams and the other emergency services teams who are going to rescue them. 
'We are thinking of all of the families of the two people involved and of those rescuers and hope that we can still see a good, positive outcome.
'It is going to be difficult, underground spaces are confined, so it's going to be a challenge and we're got to just hope for the best.' 
It's understood the two Dugald River mine (above) workers were reported missing after a drill rig fell into a stope, a hole used to excavate minerals from the mine
MMG Limited earlier said in a statement the mine had halted all operations. 
'Two Barminco employees working at MMG's Dugald River mine in Queensland were this morning involved in an incident and currently remain unaccounted for,' it said.
'The site's emergency response has been activated and is working closely with Barminco and authorities to assist in search and rescue efforts.
'Operations at Dugald River have been halted while the search is underway.
'MMG has extended all available resources and support to Barminco and the Dugald River mine.'
Barminco is a hard rock mining service owned by Perenti, a global mining group.
Source: Read Full Article