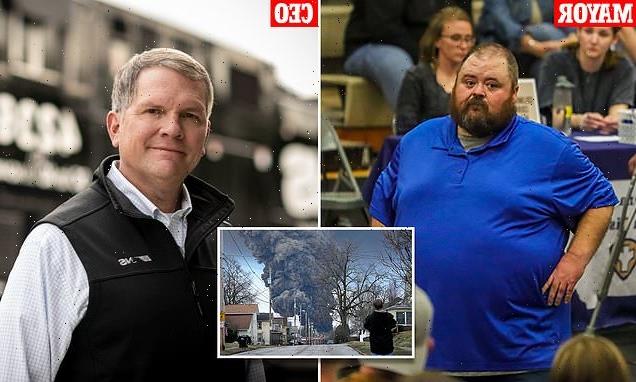 'The people want answers!' Furious mayor tears into Ohio rail crash company Norfolk Southern as it runs scared of East Palestine town hall meeting because officials 'were afraid for their safety' – as state now threatens to sue
A train carrying toxic fuel from Madison, Illinois to Conway, Pennsylvania derailed on February 3 in Ohio, near the town of East Palestine
Residents are reporting respiratory infections and rashes and saying their livestock are dying
On Wednesday night a town hall was held to try and get answers, but the train operating company, Norfolk Southern, did not show up 
Rail company Norfolk Southern ran scared of a town hall meeting in East Palestine tonight because officials 'were afraid for their safety' following the chemical train derailment disaster.
Representatives were due to attend to help explain what happened and how they could repair the devastation – and soothe fears of potential long term health problems including cancer.
But the town's mayor Trent Conaway revealed just before the packed meeting at the local high school: 'The people want answers. I want answers.
'Norfolk Southern didn't show up.'
Asked why, he said: 'Because they are scared for their safety.'
Trent Conaway, the mayor of East Palestine, is pictured on Wednesday night updating his town on the train derailment
A meeting was called on Wednesday night, but representatives from Norfolk Southern failed to show up
Residents poured into the town hall meeting in East Palestine to demand answers from train company Norfolk Southern – who did not send a representative over fears for their safety
In a statement, Norfolk Southern said: 'Unfortunately, after consulting with community leaders, we have become increasingly concerned about the growing physical threat to our employees and members of the community around this event stemming from the increasing likelihood of the participation of outside parties.'
The meeting came amid rising concerns about the huge plumes of smoke that ballooned over East Palestine after the crash, along with persisting odors, questions over potential threats to pets and wild animals, any potential impact on drinking water and plans for the cleanup.
Alan Shaw, the CEO of Norfolk Southern railway
Even as school resumed and trains were rolling again, people were worried.
Ohio Attorney General Dave Yost advised Norfolk Southern on Wednesday that his office is considering legal action against the rail operator.
'The pollution, which continues to contaminate the area around East Palestine, created a nuisance, damage to natural resources and caused environmental harm,' Yost said in a letter sent to the company.
The state's Environmental Protection Agency said Wednesday that the latest tests show water from five wells supplying the village's drinking water are free from contaminants. 
But the EPA also is recommending testing for private water wells because they are closer to the surface.
The Ohio Department of Natural Resources estimates the spill affected more than seven miles of streams and killed some 3,500 fish, mostly small ones such as minnows and darters.
The toxic train derailed in a fiery crash on February 3, leading authorities to evacuate the surrounding East Palestine, Ohio area 
Conaway, the mayor, said he was dismayed by Norfolk Southern's decision not to attend
Angry locals are seen demanding answers as to what is happening in their town
East Palestine residents came out in their droves for the town hall meeting on Wednesday
Conaway launched into a passionate speech to reporters as hundreds thronged into the hall demanding answers and explanations, at one point picking up a megaphone to project his message to the throngs of residents and press.
He was clearly unhappy by the way the meeting was shaping up, with angry locals at first appearing to be cheated of their right to make their voices heard.
He said: 'This isn't the way it's supposed to go. We will have everybody in the stands and ask questions.
'I just hope this stays civil. If not we will end it.
'I have been working behind the scenes to get our elected officials to help us out.'
And he expressed his frustration at dealing with major authorities.
'I am a mayor of a town of 47 hundred people. If you think I can fight against a railroad or fight against the EPA you're crazy,' he told reporters.
And he admitted: 'I don't feel safe in my town. I tell everybody they're safe, think our citizens are safe, I think our drinking water is safe.
'Everybody is concerned. I'm concerned.
'It's not Norfolk Southern here, it's the EPA trying to get our citizens back into their homes safe.
'That's what we need right now. We need our citizens to feel safe in their own homes.
'I'm very frustrated.'
A giant plume of smoke from the aftermath of the incident could be seen from miles away
East Palestine mayor Trent Conaway was swamped by the media at the town hall meeting on Wednesday
Conaway launched into a passionate speech to reporters as hundreds thronged into the hall demanding answers and explanations
Referring to one report in one news outlet saying he 'nuked' the town, he said: 'We didn't nuke our town.
'There were two options. We either detonate those tanks or they detonate themselves. This option, yes powerful chemicals went in the air.
'I'm truly sorry but that is the only option we had.
'If we didn't do that then they would blow up and there would be shrapnel all across this town.
'I live two blocks from here. I live two blocks from the train tracks.'
Of Norfolk Southern he said: 'I speak with them every day.
'They have been working with us. They should. They are the ones who screwed this up.
'By God we are going to get some answers for people.'
Of the EPA he said: 'I need help. I'm not ready for this. I wasn't built for this. I have the village on my back and I will do whatever it takes, however it takes to make this right.'
He vowed: 'I'm not leaving. I'm not going anywhere. I'm not going to sell my house, I'm not going to move my kids out of the school. I'm here to stay.
'They are going to make it right. I'm done playing games. They screwed up our town, they're going to fix it.'
He also attacked some elements on social media for terrifying locals.
'We're getting good information out but we're getting a lot of bad information too. It's scaring the hell out of our residents. 
'Quite frankly I'm sick and tired of it. We don't need homegrown chemists,' he said.
On Tuesday, Erin Brockovich urged those living near the Ohio site to prioritize their own safety, telling them to be skeptical of EPA assurances that the site is safe.
Brockovich, an environmental lawyer and consultant, whose work battling Pacific Gas & Electric was turned into the 2000 film starring Julia Roberts, said she was deeply concerned about the reports emerging from East Palestine.
'After 30 years of what I've been through, and what this community is going through – come on,' she said, when asked if she believed EPA statements claiming the site was safe.
'It's vinyl chloride, it's in the air, the fish are dying.
'Does that give you comfort that maybe I should be in this area? Probably not.'
Erin Brockovich told NewsNation on Tuesday that those living near the Ohio train wreck should take care of themselves as a priority, and not trust government assurances
Fish are seen washed up on the shore near the site of the February 3 crash
Brockovich, 62, told NewsNation that those living near the site needed to take care of themselves, and trust their gut instincts.
She also stressed the importance of recording what they saw and felt.
'I need the community to act for themselves,' she told the network.
'If you feel unsafe, then please – get out of harm's way. If you feel unsafe, stay sheltered in place. If you're questioning if it's all clear, and you think it isn't, listen to that voice.
'Document what's happening to your own health. Document or videotape the fish that are dying, as you move about your community.
'I think it will be critical.'
Brockovich said people in the local community could not rely on the government to tell them what to do and how to act.
She said they likely were yet to understand the full extent of the damage.
'You will have to protect and defend yourself at this moment because I don't think all the answers are there,' she said.
'They will be. But they're not.
'So, for the moment, please, use your own instincts: keep yourself safe, ask questions, if you're uncertain get to safety, and if you see something, say something, and document it.'
On Tuesday, the governor of Pennsylvania – where the train was heading, having departed Madison, Illinois – wrote to the operators of the train to demand answers.
Josh Shapiro told Norfolk Southern the company 'can be assured that PA will hold [it] accountable for any and all impacts to our Commonwealth.'
The train derailed just over the state line.
Brockovich said that people had been flooding her office with calls, but as yet she had been unable to find a legal firm willing to investigate.
'I don't know why. It could be a whole host of reasons,' she said.
'My guess would be that there's no affirmative answer yet. We know it's vinyl chloride. What the levels are, the EPA is saying everything is safe.
'So they may just be following the safe thing to do until we know.'
Norfolk Southern announced Tuesday that it is creating a $1 million fund to help the community of some 4,700 people while continuing remediation work, including removing spilled contaminants from the ground and streams and monitoring air quality.
It also will expand how many residents can be reimbursed for their evacuation costs, covering the entire village and surrounding area.
'We will be judged by our actions,' Norfolk Southern President and CEO Alan Shaw said in a statement. 
'We are cleaning up the site in an environmentally responsible way, reimbursing residents affected by the derailment, and working with members of the community to identify what is needed to help East Palestine recover and thrive.'
Source: Read Full Article