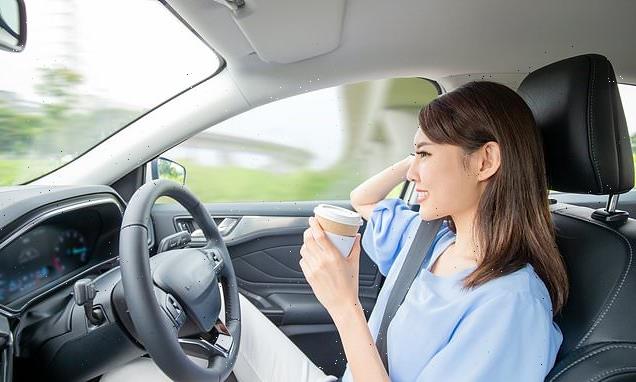 Drivers could face double the level of congestion on the roads if self-driving cars grow in popularity, report warns
Delays may rise by up to 85 per cent from 2025 to 2060 with self-driving cars
Analyses was based on autonomous vehicles making up half of cars by 2047 
In 2022, UK drivers lost averagely 80 hours due to congestion, other data shows
Motorists could be stuck in congestion twice as bad as current levels if self-driving cars become common, a Government report warns.
Delays may rise by up to 85 per cent from 2025 to 2060 in that scenario, according to Department for Transport traffic projections.
The analysis is based on autonomous vehicles making up half of the car fleet by 2047, along with a 'fast uptake' of electric cars.
This would lead to more traffic by 'increasing the mobility of the elderly and those who do not hold a driving licence', according to the report, published last month.
Delays may rise by up to 85 per cent from 2025 to 2060 with self-driving cars (file image)
It claims 'the ability to work or relax while travelling in a self-driving car' means occupants will be 'more amenable to sitting in traffic'. RAC Foundation director Steve Gooding said: 'There are 5.9million licence holders aged 70 or over in Britain, so we know the demand for mobility is there among those of a senior age. In the foreseeable future, automated vehicles offer the tantalising prospect of independence for the many millions more people who fall into the older age group but for whatever reason – cost, medical impairment – don't currently drive.'
Mr Gooding said the way autonomous technology is deployed will be significant. He said: 'If we are prepared to… forego personal ownership then we could have a win-win situation: quieter roads, fewer cars shared by the many and cheaper transport.'
Recent analysis by traffic information supplier Inrix found that UK drivers lost an average of 80 hours last year due to congestion, a seven-hour increase from 2021. In London, drivers spent an average of 156 hours sitting in traffic.
Fully driverless cars are not legally permitted in the UK but autonomous features are being developed by car makers.
In August last year the DfT said it expected self-driving vehicles to be available for use by 2025.
Source: Read Full Article