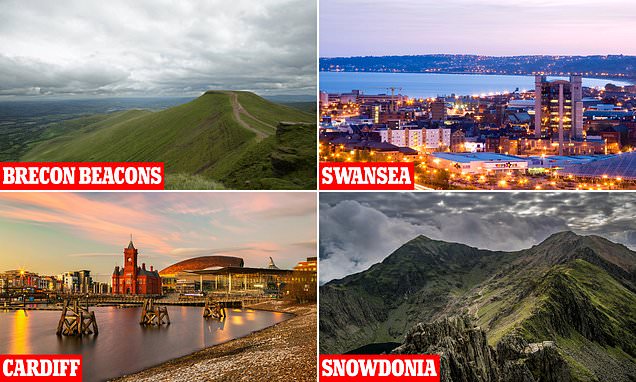 The end of Cardiff, Swansea, Newport and Wrexham?: English place names could be BANNED in Wales as language extremist bids to stop cities being called by 'culturally oppressive' names
The Brecon Beacons were renamed Bannau Brycheiniog after an online petition

Its creator is calling for an end to using English version of Welsh place names
All English place names could be erased from Wales under a campaign launched by a language extremist.
Emboldened by the controversial renaming of beauty spots Snowdonia and the Brecon Beacons, branded 'bonkers' by critics, language purists now claim the continuing use of non-Welsh place names and spellings highlights the 'cultural oppression historically inflicted on Wales'.
Their radical proposal would see the names of the nation's biggest cities outlawed, including Cardiff, Swansea, Newport and Wrexham.
Instead Cardiff would be officially known just as Caerdydd, Swansea as Abertawe, Newport as Casnewydd and Wrexham as Wrecsam – with all English signs banned.
University worker Mihangel ap Rhisiart has won backing for his online petition after the Brecon Beacons was officially switched to Bannau Brycheiniog by national park chiefs.
Cardiff would officially be known just as Caerdydd if the wishes of the petitioners were put into place. Pictured: Cardiff Bay
The Brecon Beacons have already been officially renamed Bannau Brycheiniog by national park chiefs. Pictured: Pen y Fan, the highest mountain in the national park
Renaming Swansea would not be straight forward as historians say its name could stem from the time of the Vikings, meaning Sweyn's island in Old Norse. Pictured: Swansea marina
Snowdonia was officially rebranded as Eryri last year. Pictured: Mount Snowdon, Wales's highest mountain
The move came after Snowdonia was officially rebranded as Eryri last year.
READ MORE HERE: MPs lead backlash against 'bonkers' decision to drop Brecon Beacons national park's English name because its Welsh one is more 'eco-friendly'
Mr ap Rhisiart, who is a researcher at Cardiff University, said the petition – which has attracted over 1,000 signatories after Downing Street stepped into the row over the Brecon Beacons – was in the 'spirit of respect for Wales as its own nation'.
'I do think there is an issue of colonialism, no matter how many centuries it might be since Wales was conquered and then subsequently made legally part of England,' he added.
Rejecting accusations that the proposed move would cause pronunciation difficulties, he said outsiders struggled with how to say English place names such as Worcester and Loughborough.
Managers of the Brecon Beacons National Park said the name was being scrapped because it implied a link to wood-burning, carbon-emitting blazing beacons – which are not eco-friendly.
The move sparked a ferocious backlash, with Conservative MP David Davis branding it 'virtue signalling' and 'one of the more bonkers ideas I've heard in some time'.
The Prime Minister's official spokesman said he expected people to carry on using the Brecon Beacons name and that actions 'rather than nomenclature' were the key to tackling climate change.
While the majority of place names in Wales have Welsh origins, historians say identifying the source of those which don't is not straightforward.
Swansea for example may stem from the time of the Vikings, meaning Sweyn's island in Old Norse.
The Brecon Beacons National Park (left) has changed its name to the Welsh one of Bannau Brycheiniog National Park (right) – pronounced Ban-eye Bruck-ein-iog – or the Bannau for short
All English signs could be banned if the aims of campaigners are put into place. Pictured: A Welsh and English language road sign in Newport
The online petition, pictured, has won backing after the Brecon Beacons had its name changed
Slamming the proposal to outlaw English place names, Andrew RT Davies, Leader of the Welsh Conservatives, said: 'Wales has a rich and valuable culture that we should celebrate.
'Many places rightly embrace their Welsh language names, but I do not support change for change's sake.
'Out of touch Labour ministers in the Senedd are presiding over longer NHS waiting lists than England, slower ambulance response times, smaller pay packets and worse education results.
'Fixing this must be the priority, not pet projects to please their nationalist coalition partners.'
Source: Read Full Article