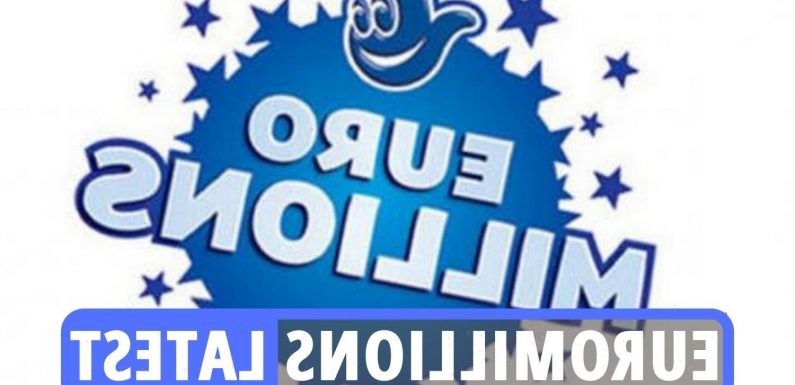 EUROMILLIONS returns tonight with another eye watering top prize of £137m waiting to be won – an amount of money that could change your life forever.
There were no jackpot winners following Tuesday's draw – meaning tonight's jackpot is a rollover.
Remember, the deadline for buying tickets into the draw closes at 7.30pm sharp.
And The National Lottery's Thunderball game also takes place at 8pm, offering Brits a chance to bag a cool £500,000 jackpot.
Please gamble responsibly.
Read our EuroMillions live blog below for the latest updates…
Louis Allwood




20 Minutes left

Just 20 minutes left until entries close for both the Euromillions and the Thunderball draw tonight.

There is less than an hour until the Thunderball draw gets underway.

Make sure you stay tuned for tonight's results.

Louis Allwood




Not long now

There is just under an hour until entries close for tonight's mega Euromillions Jackpot draw.

Go get them tickets, this is not one you want to miss.

Louis Allwood




Unclaimed money goes a long way

Any cash that isn't claimed after a total of 180 days from a game played in the UK goes to National Lottery projects across the country.

Folks in Ireland have just half that time to claim too, with only 90 days before the prize money is off the table.

Once the claim period is over, the ticket officially expires and the owner of the lottery ticket will no longer be able to claim any of their winnings.

But after that time has expired, any unclaimed prizes, plus any interest they might have accumulated in that time, are allocated to the National Lottery's Good Causes fund instead.

This will usually then go on to help fund things like sport programmes or local community buildings or other projects.
Louis Allwood




Easy steps for tonight's EuroMillions

Pick 5 numbers from 1-50 and two Lucky Stars from 1-12. Or try a Lucky Dip for randomly selected numbers.
Choose to play on a Tuesday or Friday – or both, then the number of weeks you'd like to play.
You can play up to seven lines of numbers and buy up to 10 play slips at a time.
You're all good to go!

Louis Allwood




Tonight's win would make you richer than Gary Barlow

The lucky Brit who pockets Friday's Euromillions jackpot would immediately storm into fifth place on the National Lottery's Rich List.

The largest win was handed to an anonymous ticket-holder who banked £170million in October 2019.

And this jackpot is up for grabs just in time for Christmas – making it the ideal take-home for someone looking to celebrate the festive season in style this year.

The lucky Brit would be better off than Chris Martin – whose net worth is £15million, Gary Barlow on £90million, and Stormzy, on £24million.

Louis Allwood




How long has the Euromillions been running for?

EuroMillions was launched on February 7, 2004, by lotteries in France, Spain and the UK – with the first draw being held in Paris six days later.

In October of that year, Austria, Belgium, Ireland, Luxembourg, Portugal and Switzerland joined.

Draws are held every Tuesday and Friday evening, with them all taking place in Paris at 8.45pm local time – 7.45pm in the UK.

You will choose five main numbers and then two lucky stars (numbers), with prizes ranging from around £2.50 up to the jackpot.

The prize values vary depending on ticket sales and the number of winners in each prize tier.

Milica Cosic




The loneliest number

These are the numbers are the ones drawn the LEAST:

1st – 50, drawn just 22 times

2nd – 53, drawn just 23 times

3rd – 26, drawn just 24 times

=3rd – 48, drawn just 24 times

=3rd – 51, drawn just 24 times

4th – 57, drawn just 25 times

Milica Cosic




Explained: What happens if no one claims a prize?

If no UK players come forward within 180 days then the prize money, plus all the interest it has generated while it is held in trust, goes to National Lottery-funded projects across the UK.

The National Lottery have said: "Our players change the lives of individuals as well as communities by raising, on average, over £33 million for National Lottery-funded projects every week."

Milica Cosic




'When you're told you're a millionaire, it feels limitless'

Roger Griffiths and his wife Lara netted £1.8million on the National Lottery in 2005.

He had worked as an IT manager and she as a performing arts teacher but both quit their jobs.

The couple enjoyed the high life and went on a lavish spending spree splashing £800,000 on a barn conversion in Yorkshire, flash cars and five-star holidays in Dubai, New York and Monaco.

Wannabe rock star Roger also spent £25,000 making a record with his old band from Lancaster University.

The couple invested in property and a beauty salon but the housing crash saw the value of their portfolio plummet.

By 2013 the money had gone and the couple had split up, each blaming each other for the reversal in their fortunes.

Roger said: "When you're told you're a millionaire, it feels limitless. We had played the Lottery for years – when I found out I'd won, it was overwhelming."

Lara has revealed she has to sell her collection of designer handbags now to get by.
Milica Cosic




Explained: What draw is on tonight?

Tonight's draw is the HUGE Euromillions.

Because of Tuesday's rollover, this means that there is a whopping £137 million up for grabs.

Players also have the Thunderball draw tonight, which has a jackpot of £500k.

Milica Cosic




The biggest Euromillions winners in history

Your chances to win may be remote but if you do you could win big.

Here are some of the record prizes one by UK winners in the past:

Milica Cosic




'I still shop in Primark despite winning £1.8m'

A NATIONAL Lottery winning dinner lady still lives in her council house, shops in Primark and drives a Kia despite bagging £1.8million.

Trish Emson, 51, explained money or her millionaire status did not change her or her partner Graham Norton, also 51, who still works as a decorator.

The down-to-earth pair have even managed to keep their teenage son Benjamin, 17, in check – and don't even give him pocket money.

The modest mum, from Rotherham, South Yorkshire, said: "Being rich doesn't make you posh or a better person.

"I don't like showing off and bragging about money and I can't be posh anyway.

"To look at me you wouldn't think I was a millionaire, but if I have to dress up I feel fake, I prefer my jeans," she told The Mirror.

Read the article in full here.

Milica Cosic




Explained: What's next?

Here's a timetable for all UK lottery games including Lotto, EuroMillions and Set For Life.

There is a draw 6 nights a week.

Tonight see's the return of the Lotto and the Thunderball.

The draws will be at 8pm and 8.15pm.

Milica Cosic




Money doesn't buy happiness

Martyn and Kay Tott got the shock of their lives when they realised they'd won £3million back in 2001 – six months after buying the ticket.

By the time they saw an appeal for the winner to come forward, they couldn't find the ticket.

After 45 agonising days of deliberating, Camelot told the devastated couple that they weren't going to receive the cash.

"Having that money taken away was torture," Martyn told the Mail on Sunday.

"For a long time I lost sight of who I was and what I believed in. But I can honestly say I'm glad I didn't get the £3million now.

"There is no guarantee it would have brought me happiness."

Milica Cosic




Is yours the luckiest city in the UK?

The following map shows the top 10 luckiest lottery areas in the UK.

Lottery data shows the areas with the cities and towns with the highest number per capita of high-tier winners to scoop £50,000 or more on the National Lottery.

The National Lottery has now made over 6,100 millionaires in the UK.

Data taken from the launch of the lottery in 1994 until Sept 2019 reveals the luckiest regions.
Milica Cosic




Top tips for playing

Have you ever wondered the secrets to winning big in the lottery? Is it pure luck or is there a system to it…?

Avoid computer picks. It lowers your odds of winning.
On scratchcards, try buying 10 of one ticket instead of several different tickets.
Mix up your numbers.
Even it out – Don't pick all odd or all even numbers.
Split from the crowd, so don't play patterns.
Apparently, you should avoid anniversaries, birthday's and dates.
Avoid playing winning numbers that have been drawn before, because every combination has a chance of coming up once every half a million drawings.

Milica Cosic




How to play the EuroMillions for tonight

Pick 5 numbers from 1-50 and two Lucky Stars from 1-12. Or try a Lucky Dip for randomly selected numbers.
Choose to play on a Tuesday or Friday – or both, then the number of weeks you'd like to play.
You can play up to seven lines of numbers and buy up to 10 play slips at a time.
You're all good to go!

Milica Cosic




Explained: The world's luckiest number?

The six luckiest numbers globally are: 6, 7, 33, 38, 40, and 49.

These numbers come from data collected from draws that happened in Spain, Canada, Germany, Poland, the UK, Greece, and South Africa.

The data is an aggregation – so it will be different for different draws depending on where you play.

Milica Cosic




Written in the stars

According to the stars, it seems that some of us are much more likely to win than others.

Before we get to the big reveal of which sign is most likely to pick the right balls and become a millionaire, let's take a look at some of the other lucky stars in the zodiac.

Where do the Lottery funds go towards?

In the year ending 31 March 2021, the funds were shared as follows:

Health, education, environment and charitable causes – 40%
Sport – 20%
Arts – 20%
Heritage – 20%

Explained: Where does the unclaimed money go?

Any cash that isn't claimed after a total of 180 days from a game played in the UK goes to National Lottery projects across the country.

Folks in Ireland have just half that time to claim too, with only 90 days before the prize money is off the table.

Once the claim period is over, the ticket officially expires and the owner of the lottery ticket will no longer be able to claim any of their winnings.

But after that time has expired, any unclaimed prizes, plus any interest they might have accumulated in that time, are allocated to the National Lottery's Good Causes fund instead.

This will usually then go on to help fund things like sport programmes or local community buildings or other projects.

Milica Cosic




Life-changing money

A £115million jackpot is probably enough to not just change your life, but the lives of everyone you've ever cared about too.

Which is probably why Frances and Patrick Connolly decided to give over half of their winnings to 175 people.

"We won £114,969,775.70 and we have given away more than half," Frances said last year.

"That's £60million-worth of love. And the thing that makes me even happier is that every single person we gave money to has passed some of it on to other people. I can't think of a day since winning the Lottery that I haven't smiled."

Read more here.

Louis Allwood




What draws are on Tonight?

Tonight we will have a huge draw in the Euromillions.

There is a whopping £137 million up for grabs following Tuesday's roll over.

We also have the Thunderball which has a jackpot of £500k.

Louis Allwood




$10million lotto winner fatally injected with painkillers by husband

A LOTTERY winner was killed by her doctor husband who injected her with painkillers after he accused her of squandering the cash.

Joseph Roncaioli, 72, was found guilty of the manslaughter of his wife Ibi who won $10 million she split with her friend.

Prosecutors told his trial he may have been have been upset his wife squandered the couple's fortune leaving them with little money for retirement, the Toronto Star reported.

Passing sentence, the trial judge said his crime "more resembles a murder than an accidental killing".

"It was intentional, not spontaneous," said Justice Jane Ferguson.

Hungarian-born Ibi and her friend won $10 million on the lottery in Canada back in 1991 and the pair split the winnings.

Her husband's trial heard that she gave away $2 million on a son whose existence was a secret from her other two boys.

Louis Allwood




List: National Lottery stats

Stats from the National Lottery

Six Millionaires are made every week
The luckiest postcode is Birmingham with 119 millionaires
The luckiest profession is building
There are 6 million winners a week
£56 billion paid out in prizes
Over £34 million goes to National Lottery Projects every week
Most Millionaires celebrate with a cup of tea

Source: Read Full Article