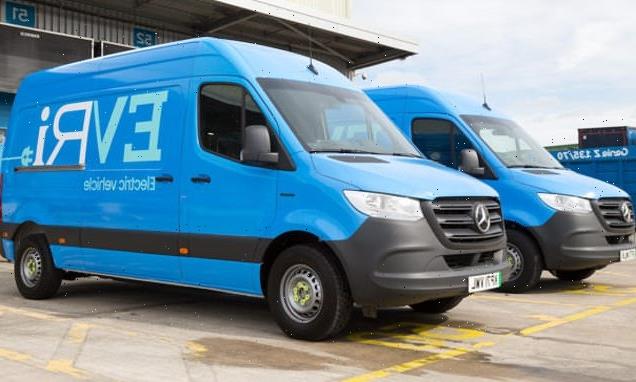 Evri apologises for Christmas parcel chaos as it blames Royal Mail strikes, bad weather and staff shortages after customers' parcels went missing, were stolen of doorsteps – or sold at car boot sales
Evri apologies for delays after companies were accused of 'ruining Christmas' 
Missing packages from delivery firm reportedly appeared at car boot sale 
Ofcom has put industry on notice and warned it may take enforcement action 
Delivery giant Evri has apologised for festive delays amid evidence of wider chaos across the courier network and Royal Mail.
The number of late deliveries between Black Friday and Christmas was up by around one third on the same period the year before, according to new evidence.
Delivery companies have been accused of 'ruining Christmas' after customers' parcels went missing, were stolen, and even sold off at a car boot sale.
HAVE YOU SUFFERED DELAYS TO YOUR EVRI DELIVERIES? Email [email protected] to share your story 
The postal regulator Ofcom has put the industry on notice that customer service around late and missing items is so bad that it is considering taking enforcement action.
Evri used to be called Hermes but changed its name earlier this year after suffering several scandals 
Strikes at Royal Mail saw a number of retailers divert deliveries to Evri, previously known as Hermes, and DPD, which struggled to cope.
One mother told the Daily Mail that her Evri parcel was found more than 60 miles away from her Great Yarmouth home after a delivery driver's wife took packages to sell at a car boot sale.
The 38-year-old mother of two, who wishes to remain anonymous, ordered clothes from the second-hand website Vinted which were posted with Evri in November.
Two weeks later, she received a message from a stranger on Facebook with a picture of her parcel sitting with a pile of other deliveries at a car boot sale in Mildenhall, Suffolk.
She said: 'I got a Facebook message from a stranger asking me to contact them about my Evri parcel. I thought it might be the driver, so my husband phoned him and he said he was at a car boot sale in Suffolk and my parcel still in its packaging with my name and address on is being sold.'
The woman was left gobsmacked as when she checked the delivery status of the parcel, it was listed by Evri as still 'in transit'.
Evri is used by numerous reputable high street shops including John Lewis, Marks & Spencer, and Ted Baker.
Darren Hilton, 51, from Essex, said that as many as 12 of the parcels he was expecting, worth £800 in total, were missing with Evri at one point. These were mainly presents for his wife, including a bag worth £110.
He complained the situation had 'ruined Christmas' and added: 'there's got to be people thieving'.
Dr Richard Frenneaux, from Porth, south Wales, captured video footage of an Evri driver delivering an item to his doorstep and taking a picture, before returning to steal it. The driver was sacked and the incident was reported to the police.
Evri said it is still working to clear a backlog of parcels that built up after it took on extra work because of the impact of strikes at Royal Mail
Evri said it is still working to clear a backlog of parcels that built up after it took on extra work because of the impact of strikes at Royal Mail.
It apologised to customers and added: 'Despite incredible efforts from all of our people, our service has not been as good as we would have liked, and we are committed to redoubling our efforts this year.'
Research by courier experts parcelLab found the number of items listed as late rose by 33 per cent over the festive period compared to the year before.
It put the total at 1.38m for the period from Black Friday to Christmas Day, which equates to 47 per cent of items in the courier system.
The organisation said this was indicative of a problem across the year with over 14m UK deliveries arriving late in 2022 compared to just 5.2 million in 2021.
Regulator Ofcom said the customer service some people experience when a delivery goes wrong 'simply isn't good enough'.
It added: 'If we don't see significant improvements in customer service, we'll consider enforcement action or tighten regulations further.'
Source: Read Full Article