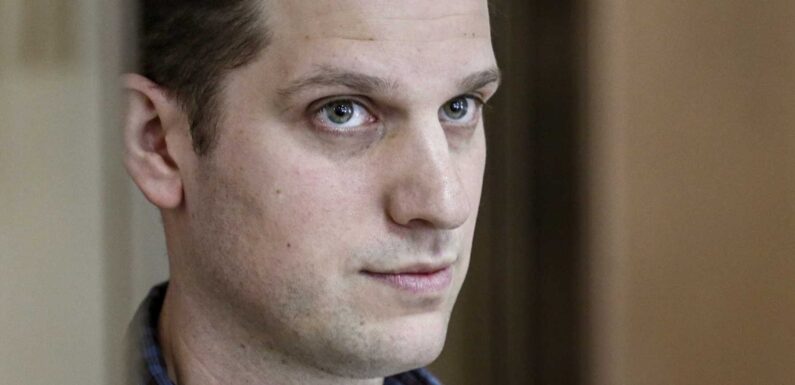 WALL Street Journal reporter Evan Gershkovich has had his appeal for freedom denied once again after being locked up on bogus spy charges.
The 31-year-old American will now remain in custody at a notorious Moscow jail until at least the end of Autumn.
The journalist had lodged an appeal against a Moscow court judge's earlier decision to extend his pretrial detention into late November.
But today, the judge rejected his bid for freedom.
"The decision of the Lefortovo Court of Moscow is left unchanged, the appeal is not satisfied," the judge stated at a closed hearing attended by US embassy officials.
He will now suffer behind bars in the notorious Lefortovo prison until at least November 30.
read more on evan
PHONEY ARREST
WSJ reporter Evan jailed on trumped up charges in Russia has appeal blocked
HOPE FOR EVAN
Biden says he's 'serious' about prisoner swap for WSJ reporter held in Russia
Gershkovich bravely smiled from behind the defendant's glass cage in a blue shirt and white t-shirt as the ruling was announced.
The reporter was detained by the Federal Security Service (FSB) on March 29 in the Urals city of Yekaterinburg on trumped up charges of espionage.
Washington has called the charges "ridiculous" and President Joe Biden has said Gershkovich's detention is "totally illegal".
The WSJ denies the charges and has called for his immediate release, as has his family.
Most read in The Sun
a winter romance?
Sammy Root spotted cosying up to Love Island star just days after split
PARKED OFF
Our cars kept mysteriously getting sabotaged – we were stunned to find culprit
FINAL ACT
Hero couple save twin boys by hiding them from Hamas – but die fighting them off
GAZ'S MEGA PAY DAY
Gary Neville gets huge pay day as huge pop star hires his entire hotel
Russian officials have not yet provided any evidence publicly to back up their allegations.
No date has been officially set for his trial, however Putin's spooks continue to extend his detention – which today reached 195 days.
The WSJ's Moscow correspondent's pretrial detention was originally supposed to expire on May 29 – but appeals for his release have been repeatedly denied.
This expiration was pushed back to August 30, and was then extended into late November.
He has failed in two previous appeals, in April and June.
Under Moscow's criminal law, the 31-year-old could face a pretrial extension of up to 12 months.
Putin's arrest of Evan has previously been branded internationally as a "cowardly act" as the despot desperately tries to escape accountability over his war in Ukraine.
His arrest marked an increasingly ferocious crackdown on media freedom in Russia.
It is the first time Russia has brought a spy case against an overseas journalist since the end of the Cold War, and he faces a jail term of up to 20 years if convicted.
His employers called the arrest "a vicious affront to a free press" that "should spur outrage in all free people and governments throughout the world".
"No reporter should ever be detained for simply doing their job," The Journal added.
The White House continues to state that the charges against Gershkovich are bogus and baseless and has demanded his immediate release.
Read More on The Sun
TIME OUT
How to take 55 days' holiday in 2024 by booking just 25 days of annual leave
MARKED DOWN
Mark Wright and Michelle Keegan home-shamed as they reveal decor at mansion
They have deplored his "wrongful detention" as a method of "hostage diplomacy" designed to give Russia leverage at the bargaining table at a time when relations between the two countries have plunged to their lowest point in more than 60 years.
US officials said in July that there was still no clear "pathway" to getting him home, despite high-level talks.
Source: Read Full Article