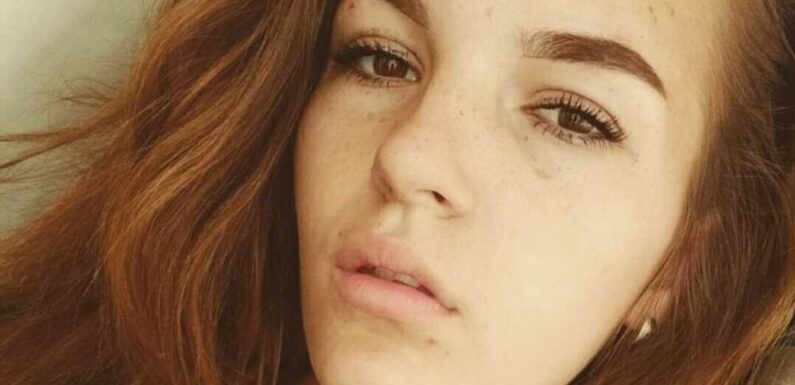 A TWISTED boyfriend whose girlfriend took her own life after she was "absolutely destroyed" by him has been jailed.
Marc Masterton, 26, waged a "despicable" campaign of abuse against Chloe Holland that "significantly contributed" to her death.
The monster isolated the 23-year-old from her friends and family and regularly beat and belittled her.
Masterton deliberately gave Chloe black eyes so she could not see her baby son, ordered her to self harm with a knife and told her to kill herself.
Tragically, Chloe hanged herself on February 1 this year following the "utterly unforgivable" ordeal.
Masterton has now been jailed for 45 months after he admitted coercive and controlling behaviour and aggravated vehicle taking.
Read more news
COUPLE TRAGEDY
Mum 'murdered alongside husband by their daughter' was stabbed to death
ASHLEY'S FEARS
Murdered Ashley Dale feared worst after gang 'feud' was sparked at Glasto
Portsmouth Crown Court heard the "physical and psychological impact of the abuse significantly contributed to the demise of Chloe's mental health".
The brute regularly attacked Chloe at his home and at hotels and on public transport across Hampshire.
He battered the mum with a dumbbell and told her to "say goodbye" to her son after beating Chloe savagely at a Travelodge.
Masterton also controlled what Chloe wore and tracked her phone so when she managed to escape his clutches, he could "suck her back in to his cycle of abuse".
Most read in The Sun
a winter romance?
Sammy Root spotted cosying up to Love Island star just days after split
PARKED OFF
Our cars kept mysteriously getting sabotaged – we were stunned to find culprit
FINAL ACT
Hero couple save twin boys by hiding them from Hamas – but die fighting them off
GAZ'S MEGA PAY DAY
Gary Neville gets huge pay day as huge pop star hires his entire hotel
Just two days before her death, he ordered Chloe to steal a car with him, which he then crashed.
The fiend also made her use a stolen bank card so she would be caught on CCTV and not him.
Sadly, Chloe followed his orders "due to fear of extreme violence if she did not comply", the court heard.
She bravely reported the horror to police, with her evidence used posthumously to convict Masterton.
Police Staff Investigator Nikki Brogan said her courage had helped put a domestic abuser behind bars so other women will be safe.
She added: "This is one of the most appalling and heartbreaking cases of domestic abuse I have ever come across.
"The violence, control, and psychological abuse suffered by this poor young woman absolutely destroyed her life.
"She felt there was no escape from her abuser.
"Her family said that during the times she was away from Masterton she seemed positive, but when he drew her back into his web of abuse she simply disappeared – becoming withdrawn and unable to eat.
"This man is pure evil. What he did was utterly unforgivable, and the judge remarked that he is clearly a danger to women before sending him to prison.
"Sadly, the victim in this case was unable to see justice served, but I want it to be known that she was so brave, and it was because of her evidence, her strength, her courage that this despicable man is now behind bars."
How you can get help
Women's Aid has this advice for victims and their families:
Always keep your phone nearby.
Get in touch with charities for help, including the Women's Aid live chat helpline and services such as SupportLine.
If you are in danger, call 999.
Familiarise yourself with the Silent Solution, reporting abuse without speaking down the phone, instead dialing "55".
Always keep some money on you, including change for a pay phone or bus fare.
If you suspect your partner is about to attack you, try to go to a lower-risk area of the house – for example, where there is a way out and access to a telephone.
Avoid the kitchen and garage, where there are likely to be knives or other weapons. Avoid rooms where you might become trapped, such as the bathroom, or where you might be shut into a cupboard or other small space.
If you are a ­victim of domestic abuse, SupportLine is open Tuesday, Wednesday and Thursday from 6pm to 8pm on 01708 765200. The charity's email support ­service is open weekdays and weekends during the crisis – [email protected].
Women's Aid provides a live chat service – available weekdays from 8am-6pm and weekends 10am-6pm.
You can also call the freephone 24-hour ­National Domestic Abuse Helpline on 0808 2000 247.
Chloe's devastated family said they would be "scarred forever" following her death.
A GoFundMe launched after the tragedy said her death had been a "huge shock to everyone".
It added: "Chloe was a much loved Mummy, Daughter, Sister, Aunty and a loving friend to so many.
"So many people feel so much pain for the loss of such a fun, outgoing, bubbly, outspoken, beautiful young lady.
"If you were fortunate enough to have been in Chloe's company, ever, you'd understand the immediate positive impact she had on those around her. There was never a dull moment or a moment of silence in Chloe's presence.
"Unfortunately, Chloe took her own life due to domestic violence.
Read More on The Sun
TIME OUT
How to take 55 days' holiday in 2024 by booking just 25 days of annual leave
MARKED DOWN
Mark Wright and Michelle Keegan home-shamed as they reveal decor at mansion
"The pain this has caused her family and friends is immense however it is important that people know the truth and the seriousness and damage that domestic violence causes."
You're Not Alone
EVERY 90 minutes in the UK a life is lost to suicide.
It doesn't discriminate, touching the lives of people in every corner of society – from the homeless and unemployed to builders and doctors, reality stars and footballers.
It's the biggest killer of people under the age of 35, more deadly than cancer and car crashes.
And men are three times more likely to take their own life than women.
Yet it's rarely spoken of, a taboo that threatens to continue its deadly rampage unless we all stop and take notice, now.
That is why The Sun launched the You're Not Alone campaign.
The aim is that by sharing practical advice, raising awareness and breaking down the barriers people face when talking about their mental health, we can all do our bit to help save lives.
Let's all vow to ask for help when we need it, and listen out for others… You're Not Alone.
If you, or anyone you know, needs help dealing with mental health problems, the following organisations provide support:
CALM, www.thecalmzone.net, 0800 585 858
Heads Together, www.headstogether.org.uk
Mind, www.mind.org.uk, 0300 123 3393
Papyrus, www.papyrus-uk.org, 0800 068 41 41
Samaritans, www.samaritans.org, 116 123
Movember, www.uk.movember.com
Anxiety UK www.anxietyuk.org.uk, 03444 775 774 Monday-Friday 9.30am-10pm, Saturday/Sunday 10am-8pm
Source: Read Full Article