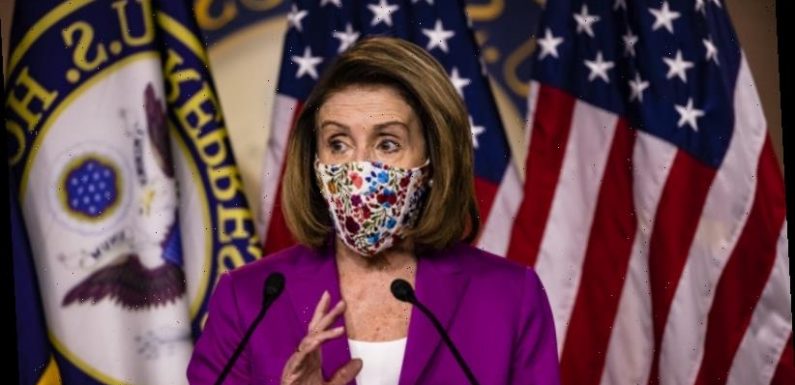 Harrisburg: Federal authorities are looking for a woman whose former romantic partner says she took a laptop from House Speaker Nancy Pelosi's office during the riot at the Capitol earlier this month.
The FBI said in an arrest warrant, however, that 22-year-old Riley June Williams hasn't been charged with theft but only with illegally entering the Capitol and with disorderly conduct.
Trump supporter Richard Barnett made himself at home at Nancy Pelosi's desk during the riots, but FBI are looking for a woman who they say took her laptop. Credit:AFP
FBI officials said a caller claiming to be an ex of Williams said friends of hers showed him a video of her taking a laptop computer or hard drive from Pelosi's office. The caller alleged that she intended to send the device to a friend in Russia who planned to sell it to that country's foreign intelligence service, but that plan fell through and she either has the device or destroyed it. The FBI says the matter remains under investigation.
Pelosi's deputy chief of staff, Drew Hammill, confirmed on January 8 that a laptop was taken from a conference room but said "it was a laptop that was only used for presentations".
Williams' mother, who lives with her in Harrisburg, told ITV reporters that her daughter had taken a sudden interest in President Donald Trump's politics and "far-right message boards". Her father, who lives in Camp Hill, told local law enforcement that he and his daughter went to Washington on the day of the protest but didn't stay together, meeting up later to return to Harrisburg, the FBI said.
FBI officials said they believe Williams "has fled". Her mother told local law enforcement that she packed a bag and left, saying she would be gone for a couple of weeks. She also changed her phone number and deleted a number of social media accounts, the FBI said. Court documents don't list a lawyer for her.
But the FBI have arrested a heavy metal guitarist who is accused of spraying police officers with a pepper-based bear spray irritant.
Jon Schaffer, guitarist with heavy metal band Iced Earth, turned himself in after seeing his face on a wanted poster.
Jon Ryan Schaffer turned himself in Sunday after he was featured on an FBI poster seeking the public's help in identifying rioters, said Chris Bavender, a spokeswoman for the FBI's Indianapolis office. He has been charged with several felony counts, including engaging in an act of physical violence and knowingly entering or remaining in any restricted building or grounds without lawful entry.
It wasn't immediately known if Schaffer, a member of the band Iced Earth, had a lawyer who could speak on his behalf and online federal court records Monday didn't yet list his case.
The Indianapolis Star reported that Schaffer had been sought after, according to a federal statement about his case, he was seen in photographs and on video "engaging in verbal altercations with Capitol Police inside the Capitol building" and holding a container of bear spray.
Schaffer is a supporter of President Donald Trump and has voiced various conspiracy theories, once telling a German news station that a shadowy criminal enterprise is trying to run the world under a communist agenda and that he and others are prepared to fight with violence.
According to a statement filed in federal court by an FBI agent, Schaffer "has long held far-right extremist views". The statement said that: "During an interview in 2017, Schaffer … referred to the federal government as a 'criminal enterprise'. During that same interview, Schaffer stated that the 2016 presidential election was 'rigged.'"
Four of Schaffer's "Iced Earth" bandmates put out a statement on Instagram and Facebook condemning the violence that rioters were involved in, saying: "We hope that all those involved that day are brought to justice to be investigated and answer for their actions."
Federal charges of assault, destruction of government property and obstruction were also laid against 24-year-old Colorado man Robert Gieswein, who is alleged to have attacked US Capitol police with a spray cannister and a baseball bat.
Gieswein appears affiliated with a radical militia group known as the Three Percenters, which advocates for resistance to government policies it believes infringe on individual rights, according to the affidavit, and runs a private paramilitary training group he calls the Woodland Wild Dogs.
AP, Bloomberg
Most Viewed in World
Source: Read Full Article