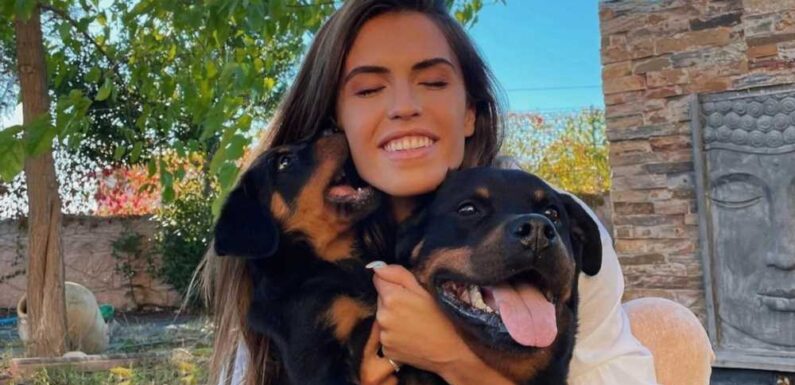 A FORMER Spanish Big Brother winner suffered serious facial injuries after being mauled by her pet Rottweiler.
Sofia Suescun, 26, was attacked by the vicious dog, named Marco, this week and has been left with scars from the dangerous "mishap".
Sofia has taken to Instagram to tell her one million followers of the nightmare ordeal she suffered after being attacked by her pet dog.
She wrote "Se ha liado", which roughly translates to "Things have got messy" followed by a crying emoji.
After her followers expressed their concern, Sofia, from Pamplona, left them in suspense until she explained what had happened the following day.
She said: "I apologise for the worry, but mine is greater right now.
read more on dangerous dogs
Dad facing jail after husky used for dog racing mauled baby daughter to death
Thug on the run after German shepherd mauls seven-year-old child
"Last night, I had a small mishap with Marco (unintentionally) and he caused a fairly deep cut on my face (just from grazing me with his tooth)."
She shared several images of her injuries, including one next to her right eyebrow.
In a video of her in pain and crying, her partner Kiko Jimenez applies gauze soaked in disinfectant to the wound before putting a plaster over it.
Sofia then asked her followers: "Do you think disinfecting and using a plaster is enough?
Most read in The Sun
Alison Hammond sobs over Schofield scandal & says 'what he did was wrong'
If it hadn't been for daughters I wouldn't be here, says Phillip Schofield
Holly, I'm so sorry I lied to you, says Phil – as he admits pair don't speak
Phil Schofield reveals reason he & Holly grew apart – & it wasn't Queuegate
"I need to find a way to minimise the big scar that I'm going to have."
The 26-year-old also queried whether she should go to the hospital or whether plasters are enough to deal with her wounds.
It is not the first mishap Sofia has had with her aggressive pet.
In February, the Rottweiler accidentally headbutted her, causing her eyelid to swell.
In August last year, Kiko was the victim when Marco viciously bit his arm.
Following the latest mauling, the celebrity couple have decided to take the Rottweiler to a dog trainer in order to prevent another attack.
Sofia hopes that Marco will become "the most obedient, educated and protective dog in the world".
The Spanish influencer won the 16th season of Gran Hermano (the Spanish version of Big Brother) in 2015 when she was a 19-year-old psychology student.
Read More on The Sun
Fans spot spooky moment that predicted Phil's fate after Jennifer Anison show
ITV drama with stellar cast axed after just one series
Her mum, bus driver Maite Galdeano, was also in the house with her but was the first to be evicted. 
Sofia took home a £250k prize for winning and then went onto win the hit Spanish show Supervivientes (Survivors) in 2018.

Source: Read Full Article