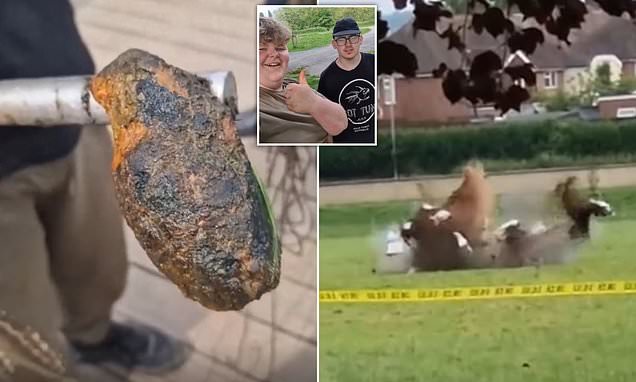 Dramatic moment teenagers pull a live WWII-era grenade from a river on their first ever magnet fishing outing – before it is detonated by the bomb squad
Alfie Rock and Zak Carroll, both 18, were at the River Wye in Hereford on Sunday
Two teenagers were left stunned when they pulled out a live grenade from a river on their first ever attempt at magnet fishing – and the device then had to be detonated by a bomb squad.
Alfie Rock and Zak Carroll were at Victoria Bridge in their local park in Hereford, Herefordshire, on Sunday and tried out magnet fishing in the River Wye.
The pair, both 18, were astonished when they reeled in their line with a large grenade hanging from the bottom of the magnet. 
They then called the bomb squad fearing what might happen next.
Video shows Alfie launching his magnet into the murky waters of the river in a first throw, closely followed by Zak who steps up and hurls his magnet into the water.
The clip then cuts to the pair staring in disbelief at a rusty grenade clinging precariously to one of the magnets.
Alfie and Zak launched their two magnets into the River Wye and out came a grenade (pictured)
Video captures the moment when the device explodes, sending shrapnel in several directions
Alfie tells viewers: 'We've only gone and pulled a grenade out of the River Wye. Mental'
The clip then cuts to a police officer standing in the middle of a cordoned-off field, with yellow crime scene tape wrapped around trees and fences to keep the public out.
The camera zooms in on a tree stump in the middle of the field – on top of which sits a black bucket holding the live grenade.
The two teenagers then flip the camera onto themselves with Alfie giving a thumbs up as they await the bomb squad.
The clip then shows the grenade buried beneath what appears to be several white sandbags as the boys wait eagerly.
Just seconds later the device explodes sending shrapnel in several directions as Alfie exclaims: 'F***ing hell, that was mint.'
Alfie shared the video to social media yesterday, writing: 'When you and your mate decide to take up magnet fishing and on the first outing pull up a live American WW2 hand grenade.'
The video received more than 24,000 likes and over 200 comments from users left stunned at the boys' find.
Pictured are the two boys, Alfie Rock (left) and pal Zak Carroll (right), close to where the grenade is detonated
One said: 'Wait, I didn't expect that to still be active, imagine a kid playing in it [the water], thinking it's a rock and throwing it.'
Another added: 'The fact that could have just decided to go off in your face is pretty worrying.'
A third commented: 'I would've thought it would never go off and went to clean it or something.'
Speaking today Alfie said: 'It was our first outing, I've been fishing since I was a baby.
'Magnet fishing consists of a magnet and some rope material so we used a 50 metre long paracord.
'Our first thoughts when we pulled it up was that it looked like a grenade but we were joking.
'As I went to pull it off the magnet I realised that it was far too alike to not be possible.
'When we realised, we were more worried about the safety of others as we knew what it really was, so we decided to walk it into the middle of the playing field..
'We called the police as soon as we found a time and place safe to do so and they advised us not to let anyone near the grenade.
'They arrived after about fifteen minutes and taped off the area before contacting the bomb squad to come down.
'The bomb squad then confirmed that we had found a live WW2 American grenade.
'I felt relieved really when they detonated the grenade, not only had we discovered what magnet fishers would dream of finding but we had also taken away a life threatening danger.
'We hope to go magnet fishing again soon as the exciting part is you never know what you're going to get.'
Magnet fishing is believed to have originated by boaters using magnets to retrieve fallen keys from the water.
Source: Read Full Article