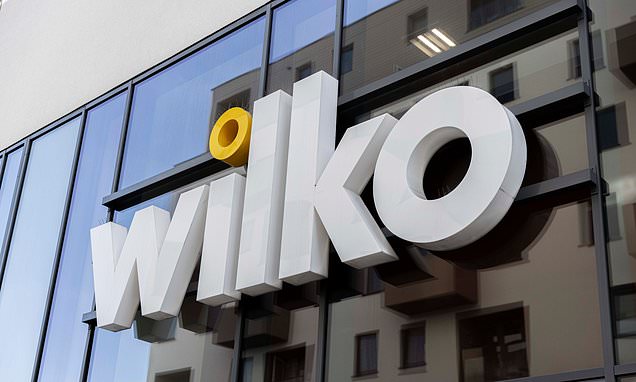 Full list of 52 Wilko stores set to close next week REVEALED… is YOUR local shop shutting?
Wilko administrators have revealed the 52 locations that are due to close next week.
It was confirmed that 24 branches will shut for good on September 12 and the remaining 28 will close two days later.
This will lead to around 1,016 job losses.
Administrators PricewaterhouseCoopers (PwC) have confirmed redundancies elsewhere in the company.
There will be another 299 job losses at two Wilko warehouses and 17 redundancies at its support centre.
Thousands of people are at the risk of losing their job because of the high-street store going administration
Edward Williams, joint administrator at PwC, said: 'In the absence of viable offers for the whole business, very sadly store closures and redundancies of team members from those stores are now necessary. The loss of these stores will be felt not only by the team members who served them with such dedication, including through the uncertainty of recent weeks, but also the communities which they have been a part of.
'We are enormously grateful for the support of team members during this difficult period and remain committed to doing all we can to help affected staff, assisting them with processing redundancy claims and working with relevant parties to help secure new employment as quickly as possible.'
On September 12, Wilko stores will close in:
Acton
Aldershot
Barking
Bishop Auckland
Bletchley FF
Brownhills
Camberley
Cardiff Bay Retail Park
Falmouth
Harpurhey
Irvine
Liverpool Edge Lane
Llandudno
Lowestoft
Morley
Nelson
Port Talbot
Putney
Stafford
Tunbridge Wells
Wakefield
Weston-super-Mare
Westwood Cross
Winsford
On September 14, the rest of the stores will close in:
Ashford
Avonmeads
Banbury
Barrow in Furness
Basildon
Belle Vale
Burnley (Relocation)
Clydebank
Cortonwood
Dagenham
Dewsbury
Eccles
Folkestone
Great Yarmouth
Hammersmith
Huddersfield
Morriston
New Malden
North Shields
Queen Street Cardiff
Rhyl
Southampton-West Quay
St Austell
Stockport
Truro
Uttoxeter
Walsall
Woking
Source: Read Full Article